Small business: why it pays to adapt
Entrepreneurs must be ready to change their minds about what works and what doesn't, and change their business model accordingly.
How much do you know about the Silicon Valley start-up Odeo? If the answer is "nothing", you're far from alone the company disappeared almost ten years ago. But you might be more familiar with its founders, Noah Glass and Evan Williams they helped to found Twitter. When Odeo, a podcasting company, saw its existence threatened by the dominance of Apple, its founders began to work with Jack Dorsey and Biz Stone to develop an internal text-messaging service for a wider audience. Twitter took off, while Odeo was quietly sold.
This is a classic example of a "pivot" a complete change of strategy for a business struggling to make its current model work. The term is often associated with tech firms, which may pivot several times as they struggle to find a purpose that resonates with customers, but it's a technique that anyone can embrace. Take William Wrigley, who founded the chewing-gum empire in the 1890s he started out selling soap and baking powder, offering free gum to attract customers. When buyers turned out to be more interested in the gum than the soap, Wrigley took the hint.
More recently, there's Groupon, which evolved out of a community action website whose administrators noticed that users were trying to organise themselves to secure bulk discounts on goods and services. The founders of gaming company Glitch have produced two successful ventures through pivoting: they launched Flickr out of a photo-sharing facility on one of their games; then they launched Slack after spotting the potential of their internal team-communications platform.
Subscribe to MoneyWeek
Subscribe to MoneyWeek today and get your first six magazine issues absolutely FREE
Get 6 issues free
Sign up to Money Morning
Don't miss the latest investment and personal finances news, market analysis, plus money-saving tips with our free twice-daily newsletter
Don't miss the latest investment and personal finances news, market analysis, plus money-saving tips with our free twice-daily newsletter
The key lesson is that entrepreneurs must be ready to change their minds about what works and what doesn't. It's all too easy to be pig-headed and stick to Plan A, even when your customers are telling you, by using your business for a different purpose to the one you'd envisaged, that Plan B would be better. Sometimes, a pivot may be forced on you if your existing marketplace becomes too competitive. In other cases, an opportunity may simply be too good to ignore. Either way, the key is to be open-minded about the future don't stick to pre-conceived notions of how your business will develop, because in the end it will be the customers who determine whether it succeeds or fails in its current form. Below, we look at warnings signs that you may need to pivot.
Six reasons to consider a pivot
If your business is experiencing any of the following, it may be time to look again at the business model is a pivot needed?
Sustained falling sales suggest that your business has a systemic problem if you can't arrest the decline, consider your options.
Falling profitability over time is a sign that your business has limited growth prospects as it stands, so be ready to think again.
If your customers are leaving because you are unable consistently to meet their demands, ask yourself what it is they really need.
Your product or service may become obsolete or irrelevant because of changing market circumstances; in which case, shift tack.
Changing demographics may spell disaster if your customer base changes, be prepared to change with it.
Don't fear failure.
A survey by the European Flash Barometer found that 43% of Britons believe a business should not be set up if there is a chance it may fail; only 19% of Americans felt that way. Successful pivots show that failure can sometimes be exactly what you need to generate future success.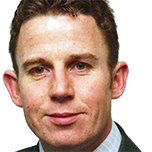 David Prosser is a regular MoneyWeek columnist, writing on small business and entrepreneurship, as well as pensions and other forms of tax-efficient savings and investments. David has been a financial journalist for almost 30 years, specialising initially in personal finance, and then in broader business coverage. He has worked for national newspaper groups including The Financial Times, The Guardian and Observer, Express Newspapers and, most recently, The Independent, where he served for more than three years as business editor.