21 August 1991: coup to oust Soviet leader Mikhail Gorbachev fails
Communist hardliners arrested Soviet leader Mikhail Gorbachev while he was on holiday, hastening the end of the USSR, on this day in 1991.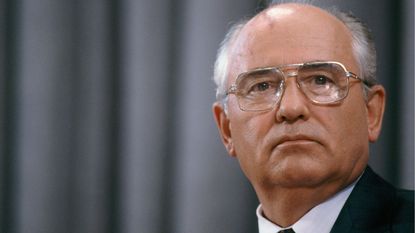 (Image credit: © Pascal Le Segretain/Sygma via Getty Images)
The Soviet Union's communist economic system was generally a failure. By the early 1980s, even exaggerated official data put the USSR's GDP per head at half that of Western Europe. There were long waiting lists for consumer goods, and even food and clothing shortages. So in 1985, new Soviet leader Mikhail Gorbachev instigated limited economic and political reforms – Perestroika and Glasnost – to boost growth and ease public discontent.
However, within five years he was trapped between popular demands for the end of communism and hardliners who opposed all change. Gorbachev reluctantly continued reforms, trying to encourage the USSR's survival as a looser federation, authorising limited crackdowns in Georgia and Azerbaijan. This satisfied no one. And on 19 August 1991, the hardliners attempted a coup. While Gorbachev was on holiday,senior officials arrested him at his villa.
They declared a state of emergency, sending troops into Moscow's streets. But the coup unravelled when protesters blockaded the main government building, aiming to protect the president, Boris Yeltsin. Facing possible bloodshed, and themselves divided, the army refused to fire on protesters. The conspirators resigned and released Gorbachev on 21 August.
Subscribe to MoneyWeek
Subscribe to MoneyWeek today and get your first six magazine issues absolutely FREE
Get 6 issues free
Sign up to Money Morning
Don't miss the latest investment and personal finances news, market analysis, plus money-saving tips with our free twice-daily newsletter
Don't miss the latest investment and personal finances news, market analysis, plus money-saving tips with our free twice-daily newsletter
However, the coup destroyed both his authority and that of the remaining hardliners, amid lingering suspicions that he had tacitly encouraged the coup as a way to get rid of Yeltsin. He resigned as Communist Party Secretary days later and the party was abolished on 29 August. He finally resigned as Soviet president on Christmas Day 1991, bringing the Soviet Union to an end the following day.
Matthew graduated from the University of Durham in 2004; he then gained an MSc, followed by a PhD at the London School of Economics.
He has previously written for a wide range of publications, including the Guardian and the Economist, and also helped to run a newsletter on terrorism. He has spent time at Lehman Brothers, Citigroup and the consultancy Lombard Street Research.
Matthew is the author of Superinvestors: Lessons from the greatest investors in history, published by Harriman House, which has been translated into several languages. His second book, Investing Explained: The Accessible Guide to Building an Investment Portfolio, is published by Kogan Page.
As senior writer, he writes the shares and politics & economics pages, as well as weekly Blowing It and Great Frauds in History columns He also writes a fortnightly reviews page and trading tips, as well as regular cover stories and multi-page investment focus features.
Follow Matthew on Twitter: @DrMatthewPartri