8 September 1888: First Football League matches played
After messing about with friendlies, 'Tests' and cup matches for the last couple of decades, football got serious today in 1888, with the start of the world's first football league.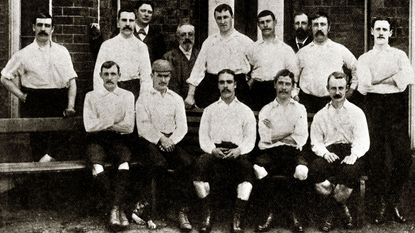 (Image credit: Preston North End, 1889 © Bob Thomas/Popperfoto via Getty Images/Getty Images)
For the first couple of decades after 1863, when the game was first codified, football was an amateur game, played by foppish toffs in public schools, with a penchant for calling the game "soccer" to distinguish it from "rugger".
Then northerners got in on the game – and they wanted paying. So, in 1885, the Football Association bowed to the inevitable, and legalised professionalism, after some of its biggest teams threatened to form their own breakaway association.
Clubs played in cup competitions and friendlies, but the organisation was chaotic – teams would often cancel games, or just not turn up. The professional teams wanted a reliable income, so in 1888 William McGregor, secretary of Aston Villa FC, sent a letter to four other clubs inviting them to form a league where "ten or twelve of the most prominent clubs in England" could "combine to arrange home-and-away fixtures each season", and asking for their suggestions for which other clubs to invite.
Subscribe to MoneyWeek
Subscribe to MoneyWeek today and get your first six magazine issues absolutely FREE
Get 6 issues free
Sign up to Money Morning
Don't miss the latest investment and personal finances news, market analysis, plus money-saving tips with our free twice-daily newsletter
Don't miss the latest investment and personal finances news, market analysis, plus money-saving tips with our free twice-daily newsletter
And so it was that Accrington, Aston Villa, Blackburn Rovers, Bolton Wanderers, Burnley, Derby County, Everton, Notts County, Preston North End, Stoke, West Bromwich Albion, and Wolverhampton Wanderers came together to form the Football League – the first national league in the world.
The first matches were played on this day in 1888. Over 10,000 spectators headed to Anfield – then home to Everton – to see their team beat Accrington 2-1. And at Wolverhampton Wanderers, Aston Villa's Gershom Cox scored the league's first own goal, with the game ending in a 1-1 draw.
Preston beat Burnley 5-2, and would end the season as champions, going unbeaten for 22 games – a feat that would not be repeated until 2003-2004, when Arsenal ended the season without defeat.
Stoke lost 2-0 to West Brom, and ended the season at the bottom of the table, but were re-elected for the following season. Bolton lost 3-6 to Derby, while Blackburn and Notts County wouldn't meet until the following week.
The league proved so successful that in 1892 it was expanded to 28 teams, and split in to a 16-team first division and a 12-team second division.
Ben studied modern languages at London University's Queen Mary College. After dabbling unhappily in local government finance for a while, he went to work for The Scotsman newspaper in Edinburgh. The launch of the paper's website, scotsman.com, in the early years of the dotcom craze, saw Ben move online to manage the Business and Motors channels before becoming deputy editor with responsibility for all aspects of online production for The Scotsman, Scotland on Sunday and the Edinburgh Evening News websites, along with the papers' Edinburgh Festivals website.
Ben joined MoneyWeek as website editor in 2008, just as the Great Financial Crisis was brewing. He has written extensively for the website and magazine, with a particular emphasis on alternative finance and fintech, including blockchain and bitcoin. As an early adopter of bitcoin, Ben bought when the price was under $200, but went on to spend it all on foolish fripperies.