22 July 1894: Paris to Rouen motor car competition
The Paris to Rouen motor car competition of 1894 pitted petrol cars against steam-powered vehicles in a thrilling 79-mile event.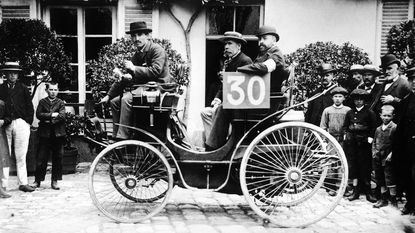 (Image credit: © Getty Images)
If you've ever negotiated the Periphrique around Paris, you'll know that wishing to see more cars around the French capital is masochistic. But that's exactly what Le Petit Journal set out to do on this day in 1894.
The previous December, the newspaper's editor, under the nom de plume of Jean sans Terre (real name Pierre Giffard), announced with fin-de-siecle pomp a "concours des voitures sans chevaux" from Paris to Rouen. This competition for cars without horses is often cited as the world's first motor race.
Only, it wasn't really a race at all. It was a competition for engineers both professional and amateur to showcase "the vehicles of the future".
Subscribe to MoneyWeek
Subscribe to MoneyWeek today and get your first six magazine issues absolutely FREE
Get 6 issues free
Sign up to Money Morning
Don't miss the latest investment and personal finances news, market analysis, plus money-saving tips with our free twice-daily newsletter
Don't miss the latest investment and personal finances news, market analysis, plus money-saving tips with our free twice-daily newsletter
Ten thousand gold francs were up for grabs, with 5,000 francs going to the car that was judged to be closest to the ideal standards set by the newspaper: not dangerous, easy to drive and cheap during the journey.
One hundred and two readers answered Le Petit Journal's challenge, of which only a handful made it to qualifying, each paying ten francs.
At one minute past eight on the morning of 22 July 1894, the 21 qualifiers set off on the 79-mile-trip to Rouen. Roland, the newspaper's reporter, waxed lyrical on the fine weather and the great crowds thronging the pavements and, much to the consternation of the police, the roads too.
Riding in the lead car, Roland noted the amazement on the faces of spectators as the cars left Paris, winding their way through the French countryside. Old men waved from windows, pretty girls threw flowers, whilst "braves paysans" came up to offer fruit to the drivers.
Averaging a blistering speed of 12mph, Jules-Albert de Dion was first to cross the line in his steam-powered car. But as his vehicle required a stoker, it wasn't deemed easy to drive, so he had to make do with second prize.
Five minutes later, Albert Lematre came pootling along in his petrol-powered Peugeot to claim the 5,000 francs, which was shared with Panhard today a maker of armoured cars.
Chris Carter spent three glorious years reading English literature on the beautiful Welsh coast at Aberystwyth University. Graduating in 2005, he left for the University of York to specialise in Renaissance literature for his MA, before returning to his native Twickenham, in southwest London. He joined a Richmond-based recruitment company, where he worked with several clients, including the Queen's bank, Coutts, as well as the super luxury, Dorchester-owned Coworth Park country house hotel, near Ascot in Berkshire.
Then, in 2011, Chris joined MoneyWeek. Initially working as part of the website production team, Chris soon rose to the lofty heights of wealth editor, overseeing MoneyWeek's Spending It lifestyle section. Chris travels the globe in pursuit of his work, soaking up the local culture and sampling the very finest in cuisine, hotels and resorts for the magazine's discerning readership. He also enjoys writing his fortnightly page on collectables, delving into the fascinating world of auctions and art, classic cars, coins, watches, wine and whisky investing.
You can follow Chris on Instagram.