Take a punt on housebuilder Bellway's solid foundations
Bellway will profit from the shift to remote working, and looks cheap. Matthew Partridge picks the best way to play it.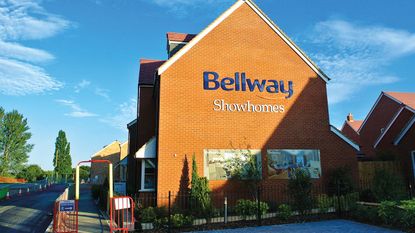 (Image credit: © Alamy)
Unlike the US stockmarket, the FTSE All-Share has only partly recovered from its March collapse. It is still in bear market territory (defined by a decline of 20%), down by nearly a quarter from its peak at the start of the year. Many stocks have barely recovered at all from the collapse seven months ago.
While the reason for this poor performance is obvious in some cases, in others low valuations are harder to explain. One company that falls into the latter category is the homebuilding firm Bellway (LSE:BWY), which is still down by more than 40% from the level at which we closed our long position just before the crisis. It has slid by 45% from its peak this year.
Lockdown restrictions hurt developers such as Bellway by both slowing construction and freezing demand, which is why revenue is expected to fall by about a third this year. However, the construction industry is now back to normal, while all the signs suggest demand is also bouncing back.
Subscribe to MoneyWeek
Subscribe to MoneyWeek today and get your first six magazine issues absolutely FREE
Get 6 issues free
Sign up to Money Morning
Don't miss the latest investment and personal finances news, market analysis, plus money-saving tips with our free twice-daily newsletter
Don't miss the latest investment and personal finances news, market analysis, plus money-saving tips with our free twice-daily newsletter
Meanwhile, the pandemic has made remote working more appealing, and the trend will encourage people to consider living further from their offices. There has already been an increase in the number of people who are thinking about moving out of the cities (especially London). If this trend holds up it should be good news for Bellway given that most of its current and future developments are outside the major cities.
Boost from planning changes
In the medium term, Bellway also stands to benefit from changes to planning regulations being implemented by the government. These should make it easier to get approval to build more houses, especially in rural areas and small towns. Of course, the extent of these changes has proved controversial with some MPs, especially those representing seats in the south-east of England, who argue that they go too far. However, since there is a general recognition across the political spectrum that more homes need to be built to meet demand, they are unlikely to be watered down too much.
Given this backdrop, Bellway's valuation looks even more attractive than when we tipped it last year. The developer trades at just under nine times 2021 earnings and is on a 9% discount to the value of its net assets. This is despite the fact that even if the expected fall in revenue this year materialises, sales will have grown by an annual average of 8% over the past six years, which is a solid track record.
Bellway has managed to use its resources efficiently, with a double-digit return on invested capital (a key gauge of profitability). Bellway also offers an impressive dividend of 4%. I suggest that you revisit Bellway by going long at the current price of 2,360p at £2 per 1p. Set a slightly looser stop-loss than usual at 1,760p, which gives you a potential downside of £1,200.
How my tips have fared
My four long tips have not fared especially well over the past fortnight, with three falling and one unchanged. Royal Dutch Shell's decision to slash oil and gas production saw its shares fall from 1,078p to 978p, which meant the position was automatically closed out at 1,000p.
Industrial and construction equipment company United Rentals slid from $178 to $176, while cruise operator Carnival Corporation declined from $16.50 to $15.10.
Media group ITV, however, remained at 65p. Overall, counting Royal Dutch Shell, my long positions are making a net profit of £1,022.
My short tips were much more of a mixed bag. Exercise bike manufacturer Peloton increased from $81 to $96, which means you would have closed your position at $90. Online retailer Wayfair rose to $300 from $270.
However, online insurance broker eHealth stayed steady at $75, while electric lorry manufacturer Nikola fell from $35 to $19.30 in the wake of fraud allegations.
Online education provider GSX Techedu appreciated from $91 to $98, although since I suggested that you wait until it falls below $70 before shorting, this won't have any impact on the overall profit and losses. Counting Peloton, profits on short tips fellto £646.
I now have four long tips (United Rentals, Carnival, ITV and Bellway) and three short ones (eHealth, Wayfair, Nikola and Peloton).
Since United Rentals continues to make a lot of money I'm not going to close it, though I will increase the stop-loss to $155 (from $150).
Given that the price of GSX Techedu is now substantially above the price at which I suggested you should start shorting it, I am close to suggesting that you should simply cancel the position.
Matthew graduated from the University of Durham in 2004; he then gained an MSc, followed by a PhD at the London School of Economics.
He has previously written for a wide range of publications, including the Guardian and the Economist, and also helped to run a newsletter on terrorism. He has spent time at Lehman Brothers, Citigroup and the consultancy Lombard Street Research.
Matthew is the author of Superinvestors: Lessons from the greatest investors in history, published by Harriman House, which has been translated into several languages. His second book, Investing Explained: The Accessible Guide to Building an Investment Portfolio, is published by Kogan Page.
As senior writer, he writes the shares and politics & economics pages, as well as weekly Blowing It and Great Frauds in History columns He also writes a fortnightly reviews page and trading tips, as well as regular cover stories and multi-page investment focus features.
Follow Matthew on Twitter: @DrMatthewPartri