Trading: time to throw out your Twitter shares
Twitter, the social network, faces both short and long-term headwinds, says Matthew Partridge. Here's how to play the shares.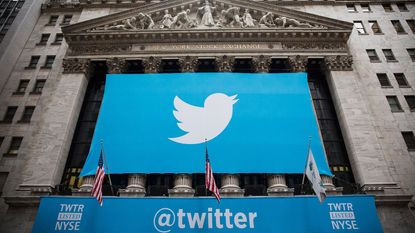 (Image credit: © Andrew Burton/Getty Images))
Social media and technology stocks have done extremely well this year thanks to central banks' liquidity and a sense that the pandemic may have fundamentally reshaped the global economy. One of the big winners has been Twitter (NYSE: TWTR). It fell in March but had returned to its pre-Covid-19 level by the summer. It then reached a peak of $50 in late October, its highest level in over six years. Even though it has fallen recently, it is still up by over 50% from the start of the year. However, there are good reasons to think that the latest slide may have further to go.
Under fire from both sides
In the weeks before the US presidential election Twitter was caught in the firing line between the two sides, with Democrats accusing it of turning a blind eye to the spread of disinformation while Republicans claimed that it was censoring them. As a result, there was talk of changing, or even repealing outright, section 230 of America's Communications Decency Act, which stops it from being sued in the US for either publishing or removing posts. The election result means that radical changes to Section 230 seem less likely. However, other more important regulatory risks that could hit Twitter's bottom line endure.
Like other technology companies, Twitter takes advantage of its global business model to minimise its tax bill, paying a tax rate as low as between 3% and 9% by some measures. However, with governments around the world, including the incoming Biden administration, seeking to raise revenue to cover the economic damage inflicted by Covid-19, there is a move to close these loopholes, both on a national and international level. Donald Trump's departure from the White House at the end of January should also spell the end to government by tweet and reduce the relative importance of Twitter as a source of news.
Subscribe to MoneyWeek
Subscribe to MoneyWeek today and get your first six magazine issues absolutely FREE
Get 6 issues free
Sign up to Money Morning
Don't miss the latest investment and personal finances news, market analysis, plus money-saving tips with our free twice-daily newsletter
Don't miss the latest investment and personal finances news, market analysis, plus money-saving tips with our free twice-daily newsletter
In the shorter term, the fact that the US election is over, in addition to the delivery of a vaccine next year and the prospect of a return to normality, should also hit user number growth, which had already started to slow over the past few years. Indeed, Twitter no longer reports the raw number of users; it just gives figures for what it refers to as "monetisable daily active usage" (ie, users who actually generate advertising revenue). This might be more relevant to Twitter's bottom line, but the fact that it has had to switch measurements hints that overall user growth has fallen. Given that Twitter trades at a huge valuation of 49 times 2021 earnings and ten times sales, its needs to keep growing at a fast rate, otherwise its shares will start to sink. With the stock now 19% down from its yearly highs, and below its 50-day moving average, this is a good time to bet against it. The current price is $42.20, so cover your position if the stock rises above $56.20, giving you a downside of £980 at £70 per $1.
Trading techniques: the effect of appointing a female CEO
Only 32 out of 500 companies in the US S&P 500, or 6.4%, have a female CEO. It's a similar story in the UK with 13 women running companies in the FTSE 350 (3.7%) and just 6 in the FTSE 100. Last year CEOs named Stephen in FTSE 100 outnumbered female bosses.
For traders, a key question is whether the appointment of a female CEO has any short-term impact on a company's share price. A 2019 study by François Longin and Estefania Santacreu-Vasut of France's ESSEC Business School found that female investors react more positively to a female CEO, while male investors react more positively when a company appoints a man.
Given that the majority of traders and portfolio managers are men, this would seem to suggest that appointing a female CEO should cause a company's share price to fall. However, a 2015 study by J. Christian Ola of Waynesburg University and Dennis Proffitt of Grand Canyon University finds no statistical difference between the stockmarket reaction to both the appointment and departure of male and female CEOs. But other studies suggest that things are a little more complicated. A 2016 study by Ned Smith of Kellogg School of Management looked at 8,179 CEO appointments at more than 2,500 publicly traded companies from 2000 to 2014. It found that while the average market reaction to appointing a female CEO was the same as that for appointing a man, the impact of a new female CEO differed depending on how much media coverage the move got. When a woman was appointed in a blaze of publicity, the company's share price fell; where there was little media reaction it rose.
How my tips have fared
Thanks to the announcement from Pfizer of very positive preliminary results from the final stage trails of its Covid-19 vaccine, which suggest that the pandemic will eventually be controlled, the market has surged, which means that all of my six long tips have made large gains.
Industrial and construction-equipment firm United Rentals jumped from $182 to $210. Media group and broadcaster ITV went up from 73p to 89p; Carnival Corporation from $14.03 to $19.25. Homebuilder Bellway rose from 2,435p to 2,831p and National Express from 152p to 218p. Even Mitchells & Butlers, the newest tip, went up from 163p to 215p.
While you might expect my short tips to do badly in the market surge, they actually did reasonably well, with two of three depreciating. Electric truck company Nikola fell from $20.91 to $18.63 thanks to the fact that it continues to lose money.
Online furniture retailer Wayfair fell from $271 to $235, presumably on the expectation that the end of lockdowns and social distancing in the near future will lead to Americans returning to shopping centres. Only online insurance broker eHealth went up slightly, rising from $73 to $74.
Overall, my long tips are making total profits of £6,934, while my shorts are also £2,124 in the black. My recommendations are therefore making combined profits of £9,058 – much more than my losses on closed positions.
To reduce the imbalance between the long and short positions, I suggest you take profits on United Rentals. I also think this is a good time to lock in some profits by raising the stop-losses on ITV to 75p, Carnival to $15, Bellway to 2,650p, and both National Express and Mitchells & Butlers to 175p.
Matthew graduated from the University of Durham in 2004; he then gained an MSc, followed by a PhD at the London School of Economics.
He has previously written for a wide range of publications, including the Guardian and the Economist, and also helped to run a newsletter on terrorism. He has spent time at Lehman Brothers, Citigroup and the consultancy Lombard Street Research.
Matthew is the author of Superinvestors: Lessons from the greatest investors in history, published by Harriman House, which has been translated into several languages. His second book, Investing Explained: The Accessible Guide to Building an Investment Portfolio, is published by Kogan Page.
As senior writer, he writes the shares and politics & economics pages, as well as weekly Blowing It and Great Frauds in History columns He also writes a fortnightly reviews page and trading tips, as well as regular cover stories and multi-page investment focus features.
Follow Matthew on Twitter: @DrMatthewPartri