Five stimulating city breaks
From a hotel-cum-art gallery in Naples to a cocktail sensation in Venice – Jasper Spires reports on five of the best city breaks to take now.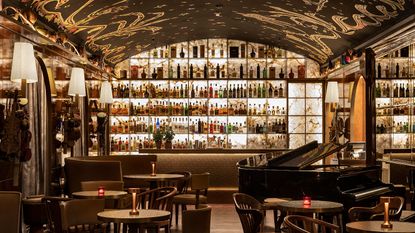 (Image credit: © Rui Teixeira)
Artistic flair in São Paulo
"There is no luxury without art and culture." So goes the ethos of the new Rosewood hotel in São Paulo, says Elise Taylor in Vogue. And the hotel itself rivals the city in which it's based for artistic flair. More than 57 local artists have been recruited to design the interiors, including everything from the carpets, to the walls and lifts. World-renowned artist Vik Muniz made the stained glass windows in the on-site chapel, and even the champagne flutes have been engraved with sketches by Jean Cocteau.
"Overall, the hotel has a gobsmacking 450 pieces of artwork ingrained into its very being." As well as being a feast for the eyes, the hotel excels at laying on the usual kind of repast, too – the notable Taraz restaurant is run by two-star Michelin chef Felipe Bronze, tempting guests to indulge in a "luxurious, lounging lunch of Latin American cuisine including pineapple and pork tacos and all sorts of ceviche". Rooms from R$3,750 (£533) a night, see rosewoodhotels.com
A cosy retreat in the heart of Naples
"Yes, it's rowdy. Yes, it's chaotic. It's also electric and layered with intrigue," says Julia Buckley in National Geographic. This has always been the appeal of Naples and, in the hotel-cum-art gallery Atelier Inès, tucked cosily away in the heart of the city, you can enjoy a comfortable retreat away from all the bustle and hustle... but remain right in the centre of it all.
Subscribe to MoneyWeek
Subscribe to MoneyWeek today and get your first six magazine issues absolutely FREE
Get 6 issues free
Sign up to Money Morning
Don't miss the latest investment and personal finances news, market analysis, plus money-saving tips with our free twice-daily newsletter
Don't miss the latest investment and personal finances news, market analysis, plus money-saving tips with our free twice-daily newsletter
Run by local jewellery maker Vincenzo Oste, Atelier Inès is packed with the works of his late father, Neapolitan sculptor Annibale Oste, which complement other features in the sumptiously designed space. The doors are modelled on vases found in ancient Greek tombs, and even the toilet brushes are designed on site and smelted in Oste's nearby foundry. The prestigious Museo di Capodimonte (dotted with Caravaggios) is on your doorstep, as it the acclaimed pizzeria Le Figlie di Iorio. Rooms from £146 a night, see atelierinesgallery.com
Alcoholic alchemy at the Palazzo Experimental
Il Palazzo Experimental in Venice is a gem for cocktail lovers, says Sarah James in Conde Nast Traveller. "In a city where aperitivo hour is built into the day, the diet and the dining experience, it was only a matter of time before the mixology masters at Experimental Cocktail Club brought their skills to the scene." Perched canalside in Venice's Dorsoduro district, the Experimental is a testament to the art of alcoholic alchemy. The hotel even has its entrance through the restaurant and bar rather than the lobby, "tempting those at check-in to peruse a menu before they've even picked up their room key". Once inside the Renaissance-era palace, guests can enjoy exceptional Venetian fare in Il Ristorante Adriatica, and a menagerie of bedrooms, styled after the Eighties' Memphis Design movement, with balconies that have positively picture-postcard views. Rooms from £166 a night, see palazzoexperimental.com
A base to explore Rome
"In an outdoor museum of a city like Rome the novelty lies in making discoveries," says Andrew Eames in The Sunday Times. Rome's Cavalieri Hotel might just be the surprise ardent city-break fans are looking for. This enchanting hotel is just north of Vatican City and the slopes of the Quartiere XV Della Vittoria, with sweeping views over the historic landscape of one of the world's oldest cities. It is also close to the city centre, making it a perfect base from which to explore. The hotel itself, though, is as attractive a destination as the city. It hosts four swimming pools, two tennis courts, the prestigious Cavalieri Grand Spa Club, and a three-star Michelin restaurant, La Pergola. After wining and dining your way through the menu, patrons could also try an adrenaline-fuelled "supercar experience" or even "gladiator training" for the bold. A night's stay costs from €384, see romecavalieri.com
Jasper Conran's atmospheric heaven
"A deep sense of peace envelops you from the moment you step through the heavy wooden gates and into the picturesque courtyard of Jasper Conran's atmospheric heaven", L'Hotel Marrakech, says Delilah Khomo in Tatler. Situated in the heart of Marrakech's famous Medina, this exquisitely designed hotel is a peaceful retreat from the sensory overload of the markets and an ideal spot to enjoy vibrant rose gardens and incredible scented lunches. L'Hotel Marrakech is a "warren of secluded terraces and light-filled rooms", and its Casablanca suites are specially crafted to induce a state of relaxation, with their mesmerising zodiac ceilings, king-sized four-poster beds and spacious traditional tadelakt bathrooms. Prices from €560 per night, including a complimentary transfer from and to Marrakech Menara Airport, see l-hotelmarrakech.com
Jasper is a former writer for the MoneyWeek and he wrote on an array of topics including travel, investing in crypto and bitcoin, as well as cars. Previous to that he freelanced at The Art Newspaper, PORT Magazine and The Spectator. Jasper is currently a freelance writer at FAD magazine and he has an English literature degree from the University of Exeter, and a Master's degree from UCL.