Rhodes: where the sun god reigns supreme
Chris Carter soaks up the rays on the Greek island of Rhodes in a newly redeveloped resort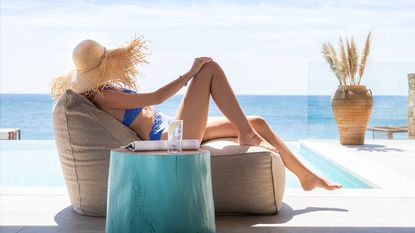 (Image credit: © Amada Colossos)
The Greek island of Rhodes is a sunny place. So much so that the ancient Rhodians built a colossal statue to the sun god Helios – the mighty Colossus of Rhodes, one of the seven wonders of the ancient world. So maybe it wasn't an especially auspicious start to my stay last October at the luxury Amada Colossos Resort when Poseidon, god of stormy seas, showed up outside my room the night I arrived. He wasn't there to bring the caviar.
Sipping Champagne from the balcony of an executive suite, I watched the Aegean whip itself up into a foamy lather as white-crested waves crashed down on the usually peaceful sands of Kallithea beach. The wind howled. Yet down below, juxtaposed with the sea, the long, sweeping swimming pool, with its clean lines and manicured arboreal centrepiece (see picture inset), all lit up against the dark sky in radiant blue, gave up barely a ripple. Besides, I thought, what better way to get you in the mood for a stay in Greece than a little Greek drama?
A Goldilocks resort
The weather was unusual, I was told – even for October. Either way, I was certainly going to stay cosy. My suite consisted of a living room and separate bedroom, both tastefully arranged in muted colours. There was a mini bar, wine, a selection of local spirits and a coffee machine. The bathroom of marble and wood was light and expansive, with a separate bath and shower, and a long window artfully designed so that even from your room you never had to lose sight of the sea.
Subscribe to MoneyWeek
Subscribe to MoneyWeek today and get your first six magazine issues absolutely FREE
Get 6 issues free
Sign up to Money Morning
Don't miss the latest investment and personal finances news, market analysis, plus money-saving tips with our free twice-daily newsletter
Don't miss the latest investment and personal finances news, market analysis, plus money-saving tips with our free twice-daily newsletter
"We opened the bathrooms to give a feeling of more space and tried to orientate everything towards the sea," the architect, Konstantinos Kydoniatis, explains. In 2018, the Amada Colossos reopened after undergoing a major redevelopment. Sustainability has been incorporated into the design, so that, for example, heating and cooling is delivered by heat-recovery chillers and inverter pumps. The resort also creates its own drinking water, using reverse osmosis and nanofiltration technology. Sure, the resort is still big – big enough to lose yourself in, certainly. But it's not so big that you get lost in it.
Much thought has gone into the way the space is used, with areas reserved for adults. There are beach and pool bars, a traditional kafenion café serving coffee made the Greek way using a hovoli, and a main buffet restaurant, as well as intimate Italian, Chinese and, of course, Greek restaurants. This last, Votsala, resembles a bakáliko, a grocer's shop selling fruits, vegetables, wines and spices, and little mezedes dishes in the evenings. Here, you will find octopus in red wine sauce, fried calamari served with black garlic mayonnaise, and local prawns with orzo pasta and extra virgin olive oil. All of which was delicious, washed down with Greek wines and Tsipouro eau de vie or even mastiha, a liqueur from the Greek island of Chios. Made from mastic (the plant resin, not the bathroom sealant), it is said to be excellent for digestion, and I wouldn't disagree.
Further afield, roughly a 20-minute drive away, there is also the wonderful Taverna Artemida (tavernartemida.gr), serving traditional Greek food from a brick oven, such as baked goatling stuffed with rice, known as kapamas.
The walled Old Town of Rhodes, formerly home to the Knights Hospitaller, with its splendid cobbled Street of the Knights, medieval churches and Palace of the Grand Master, also lies nearby. On the way, you will pass the Kallithea Springs, where Rhodians have come to take the curative waters since antiquity. The graceful white complex that now stands there was designed by Italian architect Pietro Lombardi in the late 1920s and has since served as a backdrop for numerous Hollywood films, including The Guns of Navarone from 1961. Incidentally, the old name for Kallithea is Ammoudes, from "ammos" meaning "sand", and the inspiration for the Amada Colossos's name. The springs have sadly since dried up.
So it's a good thing spa therapy can also be found back at the resort in the form of an indulgent massage or treatment in the spa. In fact, you might even choose simply to relax and not leave the resort at all. Tucked away in a corner of the grounds are the luxurious villas, each with stunning views of the sea, a private pool and access to a personal gazebo on the beach – the perfect place to unwind. After a day or two, the waves slackened, the storm clouds went away and the sun came out. Helios had arrived in all his cheery splendour.
Chris was a guest of the Amada Colossos Resort. Doubles on a B&B basis from €187 a night. Sea View villas from €1,856 a night. The resort reopens on 1 May. See amadacolossosresort.com
Chris Carter spent three glorious years reading English literature on the beautiful Welsh coast at Aberystwyth University. Graduating in 2005, he left for the University of York to specialise in Renaissance literature for his MA, before returning to his native Twickenham, in southwest London. He joined a Richmond-based recruitment company, where he worked with several clients, including the Queen's bank, Coutts, as well as the super luxury, Dorchester-owned Coworth Park country house hotel, near Ascot in Berkshire.
Then, in 2011, Chris joined MoneyWeek. Initially working as part of the website production team, Chris soon rose to the lofty heights of wealth editor, overseeing MoneyWeek's Spending It lifestyle section. Chris travels the globe in pursuit of his work, soaking up the local culture and sampling the very finest in cuisine, hotels and resorts for the magazine's discerning readership. He also enjoys writing his fortnightly page on collectables, delving into the fascinating world of auctions and art, classic cars, coins, watches, wine and whisky investing.
You can follow Chris on Instagram.