Take a trip to new, virtual worlds
Fed up with the view from the window? Then it's time to escape into another reality, says Chris Carter.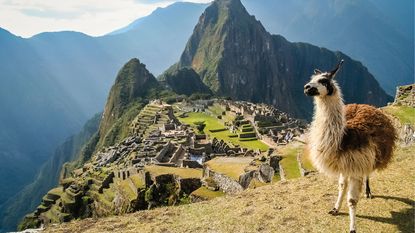 "If ever there was a moment when millions of people needed a virtual world to escape into, it is now," says Tim Bradshaw in the Financial Times. Millions of us are under lockdown, unable to travel further than our front gardens – for those of us lucky enough to have them. For those stuck in flats, it's even worse. Happily, virtual reality (VR) can offer a way out.
Adventures in your living room
Californian Tim Bajarin has notched up more than 120 dives on trips to Hawaii and the Caribbean over the past 30 years. But with his state under lockdown, he has been forced to hang up his scuba kit. Now, he has swapped his dive mask for an Oculus Quest virtual-reality headset, and uses 360-degree videos in an app developed by National Geographic (called Explore VR) "to return to the deep". "I'm sitting in my easy chair and it's as if I'm swimming next to a manta ray – just like I've done many times, except I'm not getting wet," he tells Bradshaw.
Virtual reality can also take you from the ocean depths to the highest mountain on Earth. "I am at the foot of the Hillary Step, the infamous 12-metre rock face near the summit of Everest," says Toby Skinner for BBC Travel. The wind is whistling. When Edmund Hillary and Tenzing Norgay became the first to reach the top in 1953, Hillary wrote of Norgay that, "He collapse exhausted… like a giant fish… hauled from the sea after a terrific struggle". Skinner, however, had the luxury of being able to pause "Everest VR" and remove his headset to catch his breath.
Subscribe to MoneyWeek
Subscribe to MoneyWeek today and get your first six magazine issues absolutely FREE
Get 6 issues free
Sign up to Money Morning
Don't miss the latest investment and personal finances news, market analysis, plus money-saving tips with our free twice-daily newsletter
Don't miss the latest investment and personal finances news, market analysis, plus money-saving tips with our free twice-daily newsletter
World wonders brought to you
Virtual-reality headsets, such as the Oculus Quest (pictured), give you an incredible immersive experience, but you don't need all of that expensive gear to wander through the mountains from your couch. You just need an internet connection and a tablet or smartphone. Tourist boards, such as those in Austria and Switzerland, have "rapidly overhauled their websites to offer interactive Alpine panoramas and 360-degree videos of hiking trails", says Bradshaw. You can also "visit" many of the world's most popular landmarks, without the crowds.
Machu Picchu in Peru, for example, still holds many mysteries, says Antonia Wilson in The Guardian, such as how it was built. High up in the Andes, 2,430 metres above sea level, it was built in around 1450 without the help of animals or wheels to lug the huge stones up the mountainside. You'll require the help of neither to reach the top. YouVisit's virtual tour lets you explore the site and the tour includes a voiceover guide with information on the architecture, history and resident alpacas. For a bird's-eye view, head to Air Pano. Other sights/sites worth visiting include the 4,500-year-old pyramids of Giza with Google Maps Treks and Stonehenge.
Museums and galleries at your fingertips
Google's Arts & Culture platform (available as a free app on your smartphone) has even recreated many of the world's most popular tourist destinations using augmented reality (AR). That's where the images you see respond to the movements of the phone, giving you the impression you're walking around in these digital places. That means you can admire many of the greatest masterpieces ever created without having to peer over a sea of heads.
The British Museum is one institution that has "hooked up" with Google's Arts & Culture platform, says Helen Coffey in The Independent. You can "wander through time and click on different artefacts to see them up close, read up on their history, and hear more from an audio guide".
Other must-see museums on the Arts & Culture platform include the Metropolitan Museum of Art in New York. "Twenty-six virtual exhibits and more than 200,000 documented works give digital viewers a taste of pretty much any art from nearly any era, from Pieter Bruegel The Elder's The Harvesters to Chanel's iconic suit", says Martin Lerma in the Robb Report. The Museum of Modern Art (MoMA), also in New York, The J. Paul Getty Museum in Los Angeles and the Uffizi Gallery are all also worth a virtual visit with Google. The Rijksmuseum in Amsterdam and The Louvre in Paris offer similar experiences for armchair art lovers.
Chris Carter spent three glorious years reading English literature on the beautiful Welsh coast at Aberystwyth University. Graduating in 2005, he left for the University of York to specialise in Renaissance literature for his MA, before returning to his native Twickenham, in southwest London. He joined a Richmond-based recruitment company, where he worked with several clients, including the Queen's bank, Coutts, as well as the super luxury, Dorchester-owned Coworth Park country house hotel, near Ascot in Berkshire.
Then, in 2011, Chris joined MoneyWeek. Initially working as part of the website production team, Chris soon rose to the lofty heights of wealth editor, overseeing MoneyWeek's Spending It lifestyle section. Chris travels the globe in pursuit of his work, soaking up the local culture and sampling the very finest in cuisine, hotels and resorts for the magazine's discerning readership. He also enjoys writing his fortnightly page on collectables, delving into the fascinating world of auctions and art, classic cars, coins, watches, wine and whisky investing.
You can follow Chris on Instagram.