Three eco-friendly adventure holidays
From climbing a volcano in the Azores to exploring the wilderness in Argentina.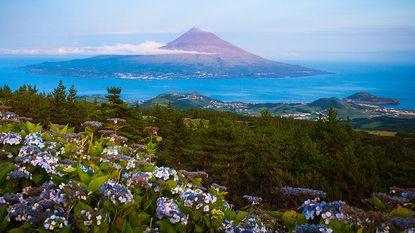 (Image credit: Andrea Zanchi Photography)
All nine islands that form the Azores are the result of volcanic eruptions, says Trish Lorenz in Condé Nast Traveller. They emerged from the mid-Atlantic, "tiny atolls of black lava dominated by the mountains that spawned them". One of the islands, Pico, looks like a child's drawing from the air, "an islet in the middle of Cerulean water, the volcano I set out to climb at its centre".
With the mountain "tinged red in the pale light" just before dawn, Lorenz and her guide set out. After reaching the first plateau, the landscape becomes "extra-terrestrial", with "wrinkled, cooled lava and clumps of purple heather". The stones become hot to the touch. Lorenz has the feeling she's "scaling some vast prehistoric beast… after the huge grey boulders of its vertebrae and the smooth muscles of rippled magma", she at last reaches its "snorting, breathing crown". The view from the summit is "spectacular, a satellite's map of the other isles" in the Azores. Trips from about £1,080 for two for six nights, azoresgetaways.com.
A pioneering ecotourism project in Argentina
The Iberá estuaries in the Corrientes province of north-east Argentina form one of the world's largest freshwater wetlands, says Sarah Gilbert in The Guardian. This wilderness, where floodplains, Chaco grassland and subtropical forest converge, is home to more than 4,000 species of flora and fauna, including more than 360 species of birds. It is one of South America's pioneering conservation and ecotourism projects. To help fund the works, Hostería Rincón del Socorro (from £147, rincondelsocorro.com.ar), a luxury lodge, was opened in 2001. There's also Posada Uguay (£75, posadauguay.com), located a 30-minute drive away. This rustic four-bedroom retreat is "in such a tranquil spot that I could hear the beating wings of the iridescent hummingbirds that flitted around the garden, as well as the sonorous calls of distant howler monkeys".
Subscribe to MoneyWeek
Subscribe to MoneyWeek today and get your first six magazine issues absolutely FREE
Get 6 issues free
Sign up to Money Morning
Don't miss the latest investment and personal finances news, market analysis, plus money-saving tips with our free twice-daily newsletter
Don't miss the latest investment and personal finances news, market analysis, plus money-saving tips with our free twice-daily newsletter
An indulgence in the Dominican Republic
"I'm standing above a clear freshwater lagoon in a lowland subtropical forest on the eastern tip of the Dominican Republic," says Victor Ozols on the Daily Beast. "I take a breath and summon the courage to jump. The water's cold… and the plunge deep." Guama lagoon is one of 12 ojos (eyes) that are connected by a trail through Indigenous Eyes Ecological Park and Reserve. This corner of the island, Punta Cana, was once home to the Taíno people. "I'm going to assume they swam around in the ojos too, so taking a dip feels like connecting with history." The kind of indulgence on offer at the luxury Puntacana Resort & Club (pictured above, from $289, puntacana.com) would have been alien to the Taíno, and a stay here makes for a very easy kind of eco-adventure, "but I'll count it anyway".
How to travel green
There's plenty you can do to offset the effects of your travel on the environment, says Wanderlust. Here are six tips.
1. Switch off: Unplug all electronics and turn down the thermostat. Suspend deliveries.
2. Choose a green destination: Are there cycle networks, public transport, local food markets? Avoid overly popular places and travel out of season.
3. Pack light: Planes and trains use more fuel the heavier they are. Take only what you need, a reusable water bottle, coffee cup and recyclable shopping bags. Reduce plastic with a bamboo toothbrush and download your boarding pass to your phone.
4. Fly direct: Taking off and landing uses more fuel than being in the air, and pay to offset your carbon footprint. Better yet, go by rail or sail.
5. Stay in an eco-hotel: Choose a hotel with sound environmental policies. Conserve water and electricity, and don't use the laundry service. Eat out locally and avoid buffets, which are wasteful. Better still, camp or stay with friends.
6. Be an ethical consumer: Buy only locally made and sustainable souvenirs. Clean your boots to avoid spreading seeds and insect eggs to different locations. Take the time to learn about the local people and donate to local projects.
Chris Carter spent three glorious years reading English literature on the beautiful Welsh coast at Aberystwyth University. Graduating in 2005, he left for the University of York to specialise in Renaissance literature for his MA, before returning to his native Twickenham, in southwest London. He joined a Richmond-based recruitment company, where he worked with several clients, including the Queen's bank, Coutts, as well as the super luxury, Dorchester-owned Coworth Park country house hotel, near Ascot in Berkshire.
Then, in 2011, Chris joined MoneyWeek. Initially working as part of the website production team, Chris soon rose to the lofty heights of wealth editor, overseeing MoneyWeek's Spending It lifestyle section. Chris travels the globe in pursuit of his work, soaking up the local culture and sampling the very finest in cuisine, hotels and resorts for the magazine's discerning readership. He also enjoys writing his fortnightly page on collectables, delving into the fascinating world of auctions and art, classic cars, coins, watches, wine and whisky investing.
You can follow Chris on Instagram.