Top easy-access savings accounts hit savers with hidden restrictions
Research reveals savers are being reeled in with top headline rates on easy-access accounts, but the majority come with 'strings attached'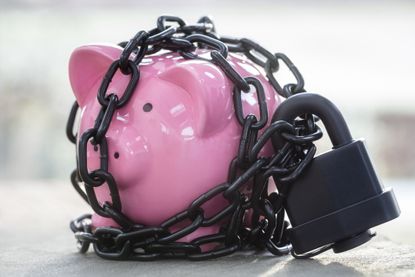 (Image credit: BrianAJackson)
Easy-access savings accounts, known for their flexibility and penalty-free withdrawals, aren't living up to their name, as new research reveals an increasing number of them are hitting savers with restrictions.
According to Investec Bank, 31 of the top 50 easy-access accounts now come with restrictions on withdrawals (usually up to three per year), or rely on short-term bonuses for a better return.
It means savers are facing a double whammy of falling returns and less flexibility.
Subscribe to MoneyWeek
Subscribe to MoneyWeek today and get your first six magazine issues absolutely FREE
Get 6 issues free
Sign up to Money Morning
Don't miss the latest investment and personal finances news, market analysis, plus money-saving tips with our free twice-daily newsletter
Don't miss the latest investment and personal finances news, market analysis, plus money-saving tips with our free twice-daily newsletter
Since the base rate has been frozen for two consecutive Bank of England meetings, providers have started to pull their top deals, with one-year fixes dipping below 6% and easy-access rates tumbling.
Ruth Emery, contributing editor at MoneyWeek said: "Easy access is now a meaningless label. More and more 'easy access accounts' are restricting the number of withdrawals, imposing penalties, or relying on short-term bonuses to boost returns. What's 'easy' about that?
"Savings accounts are supposed to be a simple vehicle for you to store your cash, but they are becoming increasingly complicated and restrictive. "
It leaves savers in a dilemma - to take advantage of the very best rates but read the small print carefully and take note of any limitations, or potentially accept a slightly lower rate that is 100% easy-access, making it handy for any unexpected bills or expenses in the future.
Easy-access accounts with hidden restrictions
The research, conducted by Andrew Hagger of MoneyComms on behalf of Investec Bank, analysed the top 50 easy-access accounts with balances of £5,000. It showed only 19 were "true" easy-access accounts with no restrictions on withdrawals and no bonuses on returns.
The number of short-term bonuses on easy-access accounts has risen from five in May to nine in October, with the average bonus up from 1.12% to 1.67%.
As of 27 October, 40% of the savings accounts analysed offered limited withdrawals, despite falling into the "easy-access" or "instant-access" category. Almost a quarter (24%) of accounts hit savers with a penalty once they went past the maximum number of withdrawals permitted, such as via a loss of interest.
For example, Paragon's Double Access Saver - which hiked its rate to a market-leading 5.25% in October - limits savers to just two withdrawals per year. Any further withdrawals and the rate drops to 1.5%.
Santander's 5.2% easy-access account hit our best-buy table in September, but it came with two catches - if you chose to earn interest monthly, the rate would drop to 5.08% AER, and the 5.2% rate was only available for 12 months. After this, it would revert to 2.5% AER.
Daniel Widdowson, head of direct retail savings at Investec, said: "As competition increases in the savings market, it appears that accounts are becoming less easy to understand.
"Customers should always look beyond the headline interest rate and check whether there are restrictions or penalties around accessing their money or whether their deal relies on a short-term bonus."
What can I earn on an easy-access savings account right now?
Currently, you can earn up to 7% AER on an easy-access account, but unsurprisingly it comes with restrictions. Here's a low-down of the top five "easy-access" accounts on the market.
Swipe to scroll horizontally
| Account | Rate AER | Restrictions | Minimum deposit |
| --- | --- | --- | --- |
| Santander Edge Saver | 7% | Only open to Santander Edge current account holders. Rate includes 2.5% bonus for first 12 months. Interest paid on balances up to £4,000 only. | £1 |
| Metro Bank Instant Access Savings | 5.22% | Limited rate for 12 months. Must deposit at least £500 within 28 days, or rate will drop to 1.65% AER. | £500 |
| Ulster Bank Loyalty Saver | 5.2% | Balances below £5,000 earn 2.25% AER. | £5,000 |
| Cynergy Bank Easy Access Account | 5.15% | Rate includes 1.15% bonus for first 12 months. | £1 |
| Beehive Money Limited Issue Easy Access Account | 5.15% | Rate includes 2.5% introductory bonus until 31 November 2024. | £1,000 |
As you can see, all top five easy-access accounts right now have restrictions on them, the most common being a bonus rate for 12 months.
Here's what's on offer from the best easy-access accounts that are truly easy access and have no restrictions or strings attached.
Swipe to scroll horizontally
| Account | Rate AER | Restrictions | Minimum deposit |
| --- | --- | --- | --- |
| Cahoot Simple Saver | 5.12% | No restrictions | £1 |
| Secure Trust Bank Access Account | 5.1% | No restrictions | £1,000 |
| Kent Reliance Easy Access Account | 5.06% | No restrictions | £1,000 |
| Family Building Society Online Saver | 5.04% | No restrictions | £100 |
| Monument Bank Easy Access Savings | 5.03% | No restrictions | £25,000 |
So, you have to sacrifice some interest to get a truly easy-access home for your cash.
The top rate with no restrictions, by Cahoot, is 5.12% AER - which is 1.88 percentage points below the best-buy from Santander, and 0.1 points below Metro Bank, which is the second-best account.
Are you better off with a one-year fixed savings account?
If you're willing to go for an easy-access account that limits how many times you can take your money out, it might be worth giving up your withdrawal rights altogether and fixing your savings for one year.
Despite the best one-year fixes dropping below 6%, you can still earn up to 5.91% AER with Metro Bank, and the rate is fixed rather than variable for one year, giving you more certainty on your return.
Is your money better off in a current account?
Having said that, with the Christmas period approaching, you might want full flexibility with your savings.
An alternative is storing your cash in your current account, as some providers, especially challenger banks, offer interest on balances. And you don't need to worry about restrictions on your withdrawals with current accounts.
Data given to MoneyWeek by the comparison site Moneyfacts shows you can earn up to 4.35% AER on a current account on balances starting from £1.
Swipe to scroll horizontally
| Bank account | Rate AER | Minimum balance | Maximum balance |
| --- | --- | --- | --- |
| Kroo Current Account | 4.35% (variable) | £1 | £500,000 |
| Starling Bank Current Account | 3.25% (variable) | £1 | £5,000 |
| Chase Current Account | 1% (variable) | £0 | No maximum balance |
This is ideal if you want to put your money into an account with no fuss or restrictions, and earn interest.
But, remember that you can still bag a better rate on a traditional easy-access account (which has no strings attached), earning up to 5.12% AER with Cahoot's Simple Saver, from just £1 all the way up to £500,000.
Vaishali graduated in journalism from Leeds University and she has experience working with the likes of Leicester Mercury, Inews and The Week. She also comes from a marketing background, where she has done copywriting and content creation for businesses.
Currently writing about all things personal finance, Vaishali is passionate about finding the best deals around, whether it's the best credit cards or the cheapest personal loans, as well as sharing top money hacks to help people save and better manage their money.