Split your money into pots with Zopa's new savings account
A new account from Zopa lets you tailor your savings to your needs by putting your money in separate pots. Ruth Jackson-Kirby explains how it works and if it's worth a look.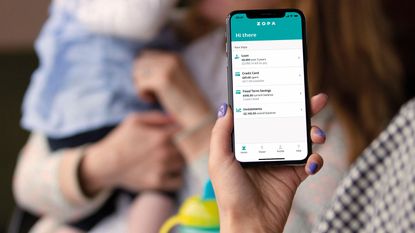 (Image credit: © Zopa)
Whenever you are looking for a new savings account, you decide what account you need – instant access, notice or fixed-term – and look at the best rates. Then you choose the account with the best rate that meets your access requirements. The problem is that this can leave you with accounts across several different banks and building societies, as you seek out the best rates for money you need to be able to access in a hurry and for money you won't need for a while.
That's where Zopa's new savings account could be useful. The Zopa brand was known as a peer-to-peer lender, but it closed that part of its business late last year. It now has a banking licence and is offering loans, credit cards and savings accounts – the latest of which is the Smart Saver. This lets you split your money into smaller pots and choose your own interest rates based on when you'll need the money.
The idea is you open a Smart Saver account, which pays 0.72% with instant access, via Zopa's banking app. You can deposit up to £15,000 into the account, set up individual "access pots" and "boosted pots" within your account and shift some of your money into these. You can decide how much interest you get on each pot by choosing a different notice period. The basic 0.72% interest rate Zopa pays on the instant-access pots is second only to Atom Bank, which pays 0.75%, while the boosted pots are best buys when compared with other notice accounts.
Subscribe to MoneyWeek
Subscribe to MoneyWeek today and get your first six magazine issues absolutely FREE
Get 6 issues free
Sign up to Money Morning
Don't miss the latest investment and personal finances news, market analysis, plus money-saving tips with our free twice-daily newsletter
Don't miss the latest investment and personal finances news, market analysis, plus money-saving tips with our free twice-daily newsletter
"Zopa's rates across the boosted pots are the highest paying, for their notice period, in the market. They are therefore very attractive for savers looking to switch savings provider," says James Blower, head of digital at Moneyfacts.
Opt to give seven days' notice before you want to access your cash and you can get a rate of 0.75%, rising to 0.85% for 31 days' notice. The top rate is 1.05% for a 95-day notice period.
The Zopa account could be a great choice if you like to save into small individual pots, as you can benefit from several different interest rates but still see all your balances in one place.
However, there are some drawbacks. It won't suit anyone with a large amount to deposit – you can only save up to £15,000. With this account Zopa is looking to "attract savers with smaller balances, who will actively use their savings app, rather than savers with larger sums who are solely looking to place one large deposit for a period of time", says Blower. If you are looking for a home for a larger amount, then Atom Bank allows deposits of up to £100,000.
Second, the Zopa Smart Saver is an app-based account. You can't operate it without a smartphone. If you prefer online or telephone banking, then Shawbrook Bank's easy access account pays 0.72%. If you want a branch-based account you'll get 0.6% from a few building societies, including Yorkshire, Newcastle and Buckinghamshire.
Ruth Jackson-Kirby is a freelance personal finance journalist with 17 years' experience, writing about everything from savings and credit cards to pensions, property and pet insurance.
Ruth started her career at MoneyWeek after graduating with an MA from the University of St Andrews, and she continues to contribute regular articles to our personal finance section. After leaving MoneyWeek she went on to become deputy editor of Moneywise before becoming a freelance journalist.
Ruth writes regularly for national publications including The Sunday Times, The Times, The Mail on Sunday and Good Housekeeping among many other titles both online and offline.