How to keep your mortgage payments low as interest rates rise
Rising interest rates pose a threat to your mortgage, but it's not all bad news. Here are some ways to secure a better rate.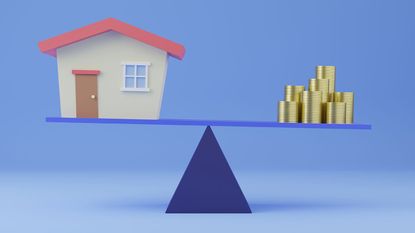 (Image credit: © Getty Images)
In an effort to combat inflation, the Bank of England increased the base interest rate from 0.25% to 0.5% last week. What does that mean for your mortgage?
"The one in four mortgage holders who have a standard variable rate (SVR) will see their monthly payments rise almost immediately as banks pass on the 0.25% hike to their default mortgage rates," says George Nixon in The Times.
You need to act fast if you're looking to remortgage to secure the best rates. Many major lenders have already announced they will be increasing their interest rates in line with the Bank of England's rise. Barclays, Aldermore, Santander, Halifax, Nationwide and Lloyds have all said their standard variable rates will rise by 0.25% from 1 March. This could affect anyone on a tracker mortgage with them, although that will depend on the individual details of your deal.
Subscribe to MoneyWeek
Subscribe to MoneyWeek today and get your first six magazine issues absolutely FREE
Get 6 issues free
Sign up to Money Morning
Don't miss the latest investment and personal finances news, market analysis, plus money-saving tips with our free twice-daily newsletter
Don't miss the latest investment and personal finances news, market analysis, plus money-saving tips with our free twice-daily newsletter
Remortgaging is still an option
If you have a fixed-rate mortgage, how this rate change will affect you depends on when you last secured your interest rate. Homeowners with a five-year fix that is coming to an end could still get a better deal than when they last remortgaged. The best rate available five years ago for 60% loan-to-value (LTV) was 1.79% from Skipton Building Society. You can still beat that with First Direct's five-year fix at 1.54%. However, homeowners with a two-year deal coming to an end could see their bills go up. In January 2019 the best rate on a two-year fix was 1.19%, now the lowest offer is 1.3%.
But it isn't all bad news. Remortgaging could still be a way to offset the rising cost of living. Some people will be able to save more than £200 a month, or in excess of £2,000 a year, by making a simple switch, says Hilary Osborne in The Guardian.
If you are on your lender's SVR or a tracker mortgage, now could be the time to switch to a fixed-rate deal. Someone with a £150,000 mortgage on Yorkshire Building Society's SVR, which is 4.49%, who switches from that to First Direct's market-leading five-year fix at 1.54% with a £490 fee, would shave £228 a month off their repayments.
Solutions for the longer term
Now might also be the time to consider a longer-term fix. Interest rates on ten-year fixed-rate mortgages have been falling in recent months. "Competition in the ten-year fixed rate market is fierce and has emerged as a key battleground for lenders," Chris Sykes, mortgage consultant at broker Private Finance, told the Financial Times.
Potential borrowers and lenders expect consistent base-rate increases for the next year and beyond, which is driving demand for longer-term products. Lloyds brought out a new ten-year fixed rate deal at just 1.66%. It comes with a £999 fee and is available to borrowers with a deposit or equity of at least 40%.
Another way to counteract rising rates and keep your mortgage repayments low is to improve your property's loan-to-value (LTV). Lenders reserve the cheapest deals for people who have bigger deposits or more equity built up in their home because they represent less risk.
If a house with 40% equity had to be repossessed, the lender can be confident they will get their money back when they sell it. A property with only a 5% deposit could lose the lender money if they can't sell it for at least 95% of what it was valued at when the mortgage was taken out.
"If you need to remortgage it is well worth checking how much you need to pay to qualify for the next LTV bracket," Aaron Strutt from the mortgage broker Trinity Financial told The Times. "If you are locking into a longer-term rate, a small capital repayment may mean that you could qualify for a much cheaper rate."
Know the true value of your house
You may not need to put your hand in your pocket to improve your LTV. Before you remortgage, get your house revalued. House prices have rocketed over the past year, with average growth of 9.7% in 2021, according to the Halifax House Price Index. The average UK home was worth £276,759 in January – up £24,500 from the same month last year and £37,500 higher than two years ago.
Rising prices mean your house could have increased in value without you lifting a finger. "If you have had work done, you may also be able to get your home revalued and get a cheaper rate," says Strutt.
Ruth Jackson-Kirby is a freelance personal finance journalist with 17 years' experience, writing about everything from savings and credit cards to pensions, property and pet insurance.
Ruth started her career at MoneyWeek after graduating with an MA from the University of St Andrews, and she continues to contribute regular articles to our personal finance section. After leaving MoneyWeek she went on to become deputy editor of Moneywise before becoming a freelance journalist.
Ruth writes regularly for national publications including The Sunday Times, The Times, The Mail on Sunday and Good Housekeeping among many other titles both online and offline.