Flexi Season tickets sow confusion for commuters
The new rail Flexi Season tickets that aim to help people commute part time don't live up to their name.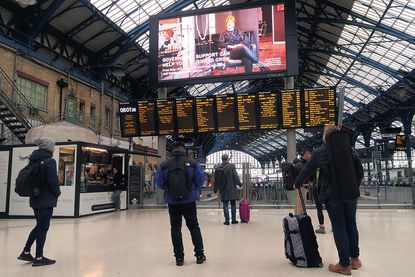 (Image credit: © Mike Hewitt/Getty Images)
"Commute your way. Choose WFH [work-from-home] Wednesdays, choose face-to-face Fridays", declares the National Rail website. The post-pandemic world will entail far more part-time commuting. On 28 June the government rolled out "Flexi Season" tickets, which are aimed at workers who travel two or three days each week. The new offering allows passengers to travel on any eight days in a 28-day period between two named stations. Returns are valid until 4.29am the following day to accommodate those who need to stay late at work. The days travelled do not need to be selected in advance.
Tickets are paperless and are only available in England; some operators, such as London Underground and Grand Central, are not covered. The Department for Transport (DfT) says the tickets offer passengers "control over their commute, with potential savings of hundreds of pounds against daily and season tickets".
Look beyond the marketing guff
Put aside the marketing guff and the reality is not so exciting. The DfT has said the tickets will be at least 20% cheaper than a monthly season ticket, but the potential savings vary wildly thanks to a "byzantine system of price calculations that seems designed to bamboozle travellers" says Toby Walne in The Mail on Sunday. "Between Winchester and London, a Flexi Season is 20% cheaper than a monthly ticket," says Simon Calder in the Independent. But the Leicester-to-Nottingham route offers a discount of about 50%.
Subscribe to MoneyWeek
Subscribe to MoneyWeek today and get your first six magazine issues absolutely FREE
Get 6 issues free
Sign up to Money Morning
Don't miss the latest investment and personal finances news, market analysis, plus money-saving tips with our free twice-daily newsletter
Don't miss the latest investment and personal finances news, market analysis, plus money-saving tips with our free twice-daily newsletter
On a per-day basis, Flexi tickets are priced "between an anytime day return and a seven-day season ticket", says the DfT. For example, the BBC calculates that a Flexi ticket between Bolton and Manchester costs £6.35 per day travelled. That is cheaper than the £7.20 price of an anytime day return, but still dearer than the £5.29 per day cost of an annual season ticket that is used four or more times per week.
Flexible tickets have added drawbacks. "These really aren't season tickets," Tony Miles tells the BBC. "A season ticket effectively gives you unlimited travel," but flexi tickets are just a way to buy "a fixed number of journeys at a discount price… if you decide at a weekend to do some extra journeys that will start ticking off your credit". People commuting once a week will find it cheaper to buy day returns, says Ian Aikman on Which.co.uk. Those doing a four-day week will be better off with an annual season ticket. Flexi tickets are best for two-day commuters. Things are more complicated for people travelling three days per week. They will use their eight travel days up before the 28 days are out, forcing them to buy 18 flexible tickets per year (assuming 48 weeks of work per year). Flexi tickets are usually still cheaper, but it depends on the route: a three-day Brighton-to-London commuter would pay £1,953 more per year using a Flexi ticket than they would with a yearly season ticket. Check the cheapest option with the season ticket calculator on the National Rail website.
Off-peak Flexi tickets are not available, so "people who are employed outside the traditional nine-to-five working day" will usually be better off plumping for other options, says Miles Brignall in The Guardian. Commuters who don't use all of their tickets within 28 days are entitled to a refund, but it "may not be as much as they expect" owing to administration fees and other charges. "The National Rail website warns that if commuters have only one or two journeys left, they may find they are not entitled to get any money back."