Travel to the EU: how the Brexit deal affects you
The Brexit deal will mean some administrative changes when you next travel to the EU. Here are the most important ones.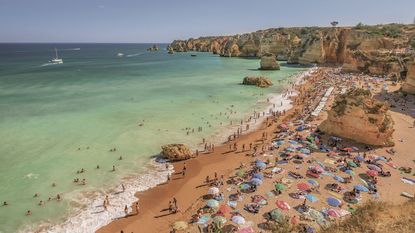 (Image credit: © Getty Images)
With the UK now officially out of the European Union, what does it mean for you next time you travel to the continent? Before heading to the EU check your passport. In the past you could enter EU countries as long as your passport hadn't expired. Now, the government is advising that you have at least six months left on your passport when you travel.
We will face longer queues at borders as Britons won't be able to use the EU fast-track passport control and customs lanes. You should also be prepared to show your return ticket when entering EU countries. There is also a possibility that you'll be asked to prove you have enough money to fund your stay.
You won't need a visa to visit yet
For now, you won't need a visa to enter the EU. UK citizens are allowed to visit for 90 days in any 180-day period without a visa. This does not apply to Ireland, which allows unrestricted travel from the UK. You can take your 90 days in one go, or spread them over numerous trips.
Subscribe to MoneyWeek
Subscribe to MoneyWeek today and get your first six magazine issues absolutely FREE
Get 6 issues free
Sign up to Money Morning
Don't miss the latest investment and personal finances news, market analysis, plus money-saving tips with our free twice-daily newsletter
Don't miss the latest investment and personal finances news, market analysis, plus money-saving tips with our free twice-daily newsletter
At some stage in 2022 – a precise date hasn't been announced yet – you will have to pay for a visa-waiver scheme, called the European Travel Information and Authorisation System. It will cost €7 and will be valid for three years.
If you usually spend more than 90 days in the EU in a six-month period, you could face problems. "While the UK government says Brits who have exceeded their 90 days will be able to apply for a visa to stay longer, the European Commission says that once the 90 days are up, the person would cease to be a tourist… and would have to apply for a full long-term immigration visa – with all the costs and hassle that entails," says Anna Tims in The Guardian.
Every country in the EU can set its own entry terms, so over the coming months we may see some places that are keen to maintain their British tourism relax their visa rules.
Keep your health insurance card
Make sure you still pack your European Health Insurance Card (EHIC) when heading abroad. As long as they were issued before the end of 2020, they will still be valid until their expiry date. Your EHIC gives you access to medical services in the EU at the same price as a local citizen.
"The UK will issue a new card called the global health insurance card, which, like the EHIC, will cover chronic or existing illnesses and routine maternity care as well as emergencies," says Ali Hussain in The Times. "How much it will cost and what it will cover are yet to be decided."
The EHIC or global health insurance card only provides for basic healthcare. You should still get travel insurance when travelling in Europe just as you would if you were visiting anywhere else in the world. At present it is possible to get an annual multi-trip policy for less than £50.
If you plan to drive in the EU then in most cases you don't need to worry about your driving licence. British licences will still be valid in the EU and there is no need to get an international driving permit, unless your licence was issued in Gibraltar, Guernsey, Jersey or the Isle of Man.
A green card will help
Anyone taking their own vehicle will need to apply to their insurer for a green card that proves it is insured. The Association of British Insurers has said this may incur a "small administrative charge". Make sure you have this on your person to show to anyone if required. Northern Irish drivers heading into the Republic of Ireland will also need to have a green card with them.
Taking your pets on holiday with you is now more complicated and expensive than it was before we left the EU. The UK/EU pet passport scheme has ended so your pet must have an animal health certificate (AHC) to travel.
To obtain this they must be vaccinated against rabies, which costs around £50.40 and needs to be repeated every three years. Your animal must also be microchipped. An AHC must be issued by a vet and costs £93.50. You must get it at least ten days before you travel. They are only valid for a single trip.
New mobile fees?
Using your mobile phone may also start costing more in the EU. Prior to Brexit we were covered by EU rules that meant mobile-phone companies could not charge more when a customer travelled to another country within the EU.
The loss of this rule means roaming charges could eventually increase. "The main phone companies in the UK – EE, O2, Vodafone and Three – have said they have no plans to reintroduce fees, at least for now," says Hussain.
If you encounter delays while flying to or from the EU, then you should still have the same protection as you had before Brexit. If the flight is delayed by over three hours or cancelled, then you are entitled to between £110 and £540 compensation per person.
These EU rules have now been written into UK law so will remain the same. "Securing payouts from airlines has been notoriously difficult," says Hussain. "It is unclear if the UK version of the rules will be any easier to use because details are yet to be revealed."
Last but not least, Brexit is a blow to booze cruises. "The days of filling the car with as much wine as the suspension can take are… over," says The Times. You will now be restricted to a duty-free allowance of 18 litres of wine (24 standard bottles), 42 litres of beer and four litres of spirits.
Ruth Jackson-Kirby is a freelance personal finance journalist with 17 years' experience, writing about everything from savings and credit cards to pensions, property and pet insurance.
Ruth started her career at MoneyWeek after graduating with an MA from the University of St Andrews, and she continues to contribute regular articles to our personal finance section. After leaving MoneyWeek she went on to become deputy editor of Moneywise before becoming a freelance journalist.
Ruth writes regularly for national publications including The Sunday Times, The Times, The Mail on Sunday and Good Housekeeping among many other titles both online and offline.