The semiconductor shortage will drive an investment boom
The pandemic has caused a semiconductor shortage, and now governments are keen to create their own domestic microchip manufacturing sectors.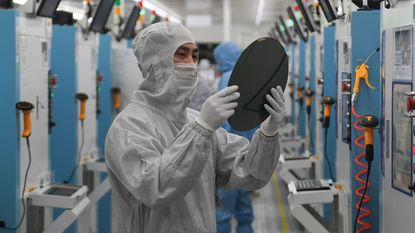 (Image credit: © Wang Gang/China News Service via Getty Images)
"Microchips, long revered as the brains of modern society, have become its biggest headache," says Andrew Blum in Time. Pandemic-induced shocks to the semiconductor supply chain are "wreaking havoc" in surprising places.
When car sales plummeted early in the Covid-19 outbreak, carmakers cut orders for parts, including computer chips (a typical car contains more than 1,000 chips). "Manufacturers saw the slack and shifted their output to serve the surging demand for consumer electronics, such as webcams and laptops". Now car sales are snapping back, but car firms can't get enough chips to meet demand and so vehicle output this year is expected to be 3.9 million units (4.6% of global production) lower than it would otherwise have been.
The shortage should peak in the second half of this year, says Pat Gelsinger, the chief executive of chipmaker Intel, on Bloomberg. However, the chip industry is unlikely to be "back to a healthy supply-demand situation until 2023". He forecasts strong growth in demand over the next decade, unlike some industry peers, who expect this crunch to be followed by a slump.
Subscribe to MoneyWeek
Subscribe to MoneyWeek today and get your first six magazine issues absolutely FREE
Get 6 issues free
Sign up to Money Morning
Don't miss the latest investment and personal finances news, market analysis, plus money-saving tips with our free twice-daily newsletter
Don't miss the latest investment and personal finances news, market analysis, plus money-saving tips with our free twice-daily newsletter
But the outlook for this cycle may not be solely determined by market forces. "The strategic importance of the semiconductor industry is on the rise," says Ma Tieying of Singaporean bank DBS. Policymakers have seen that "a country's access to cutting-edge chips could have far-reaching implications for national security". Hence America's efforts to restrict China's access to advanced technologies will push China to expand its domestic industry.
Meanwhile, the US – which relies on imports from South Korea and Taiwan – is keen to encourage firms to build new factories on its own soil. Expect "a massive, government-led investment cycle" – and a risk of supply gluts in the mid 2020s.
Cris Sholto Heaton is an investment analyst and writer who has been contributing to MoneyWeek since 2006 and was managing editor of the magazine between 2016 and 2018. He is especially interested in international investing, believing many investors still focus too much on their home markets and that it pays to take advantage of all the opportunities the world offers. He often writes about Asian equities, international income and global asset allocation.
Cris began his career in financial services consultancy at PwC and Lane Clark & Peacock, before an abrupt change of direction into oil, gas and energy at Petroleum Economist and Platts and subsequently into investment research and writing. In addition to his articles for MoneyWeek, he also works with a number of asset managers, consultancies and financial information providers.
He holds the Chartered Financial Analyst designation and the Investment Management Certificate, as well as degrees in finance and mathematics. He has also studied acting, film-making and photography, and strongly suspects that an awareness of what makes a compelling story is just as important for understanding markets as any amount of qualifications.