Cinema stocks: a happy ending at the box office
Cinemas have been battered by lockdowns and the surge in streaming options. But don't write them off, says Tim Dams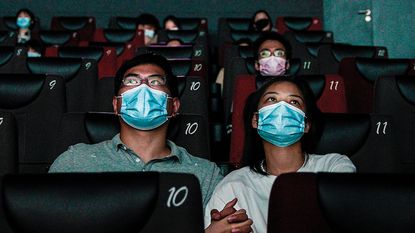 (Image credit: © Getty Images)
With British cinemas preparing to reopen on 17 May, the outlook for the sector has never seemed so uncertain. Covid-19 lockdowns have left the biggest chains teetering on the edge of bankruptcy, forcing Cineworld and Odeon's parent AMC Entertainment Holdings to raise capital and renegotiate their debts to ensure survival. What's more, the film industry has undergone two key changes over the past year that appear to pose an existential threat to the business model of cinemas.
Firstly, with theatres closed during lockdowns, audiences have shifted towards streaming services such as Netflix, Amazon Prime Video and Disney+.Secondly, many of the Hollywood studios have cut the traditional 90-day cinema "window", which allows exhibitors a lengthy period to play films exclusively before they are released on home video.
The reason? Over the past 12 months, the studios themselves have joined the streaming fray, launching their own services, such as Disney+, Paramount+ or Warner Bros' HBO Max, and to attract subscribers the studios want to play their own films on their streaming platforms much sooner than 90 days after release. As of next year, for instance, Warner Bros plans to send its films directly to HBO Max after 45 days in theatres.
Subscribe to MoneyWeek
Subscribe to MoneyWeek today and get your first six magazine issues absolutely FREE
Get 6 issues free
Sign up to Money Morning
Don't miss the latest investment and personal finances news, market analysis, plus money-saving tips with our free twice-daily newsletter
Don't miss the latest investment and personal finances news, market analysis, plus money-saving tips with our free twice-daily newsletter
Nevertheless, despite the streaming threat and shortening windows, there is a real sense of optimism from cinema owners about the year ahead, says Phil Clapp, chief executive of the UK Cinema Association, which represents the exhibition sector. He admits that the first weeks after theatres reopen will be challenging. Covid-19 safety protocols, such as social distancing, are likely to be followed in theatres for the rest of the year, denting box-office takings. Despite the success of the UK's vaccination campaign, some consumers may also be nervous about returning.
Yet Clapp insists that audiences want to return to cinemas: "If anything, not going to cinemas has made people realise how much they enjoy it". He points to recent research by the Film Distributors' Association showing that 59% of the public cited the cinema as the out-of-home entertainment activity they missed most. The research also found that the most avid streamers were also the keenest to return to cinemas.
These findings are backed up by developments in countries where cinemas have already reopened. Robert Mitchell, head of theatrical insights at film industry analysts Gower Street, points to strong box-office performances in China, Russia and Japan. China's box office in particular is performing better this year than it did before the pandemic. "We're seeing signs that there is a hunger for audiences to go back to cinemas," says Mitchell.
Some also think that reports about streaming causing the demise of cinemas are premature. During lockdown, several films went directly to streaming, including Mulan, Coming 2 America, and The Trial of the Chicago 7. This prompted fears that bypassing cinemas will become the norm for Hollywood. Yet the vast majority of big films have been held back until cinemas reopen, highlighting the enduring importance of box-office revenues for the major studios. No Time to Die, Top Gun: Maverick, Avatar 2 and Mission Impossible 7 are among the films that have delayed their opening dates to maximise revenue from cinemas. Marvel Studios, meanwhile, has four films with big box-office potential launching in the next six months: Black Widow, Shang-Chi and the Legend of the Ten Rings, Eternals and Spider-Man: No Way Home. The next 18 months should be "a time of unprecedented plenty", says Clapp.
Windows, of course, may be shorter. But there will still be periods of exclusivity for theatres – and they will be long enough for cinemas to make money. Hollywood films make about 90% of their box-office takings in the first four or five weeks of release, says Mitchell. Most take in 75%-80% in the first two weeks. Clapp also predicts greater investment in the cinema-going experience to lure audiences, with a focus on higher-quality seating and service as well as food and drink. Vue International announced last week that it plans to spend over £60m on improving its sites, including installing more reclining seats.
The stocks poised to benefit
The world's second largest chain, Cineworld (LSE: CINE), should profit if cinema-going picks up significantly. Its shares are still trading well below their long-term average. Its cinemas have mostly remained closed since March 2020, contributing to a record £2.2bn loss for last year. UK boutique chain Everyman Media Group (Aim: EMAN) has reported an operating loss of £19.2m for 2020, down from a £4.8m profit in 2019. But it says it is "highly optimistic" for the coming year post-lockdown and that it is "confident in people's appetite to safely socialise and be entertained".
Elsewhere, traders have boosted the price of AMC Entertainment (NYSE: AMC) by more than 300% since January. On an earnings call last week, CEO Adam Aron hailed progress with vaccinations and predicted that audience numbers will continue to rise as blockbusters such as F9 and Black Widow hit theatres this summer. "A lot of new movies are coming," he said. "The number of guests coming to our theatres should geometrically increase."
Tim Dams is a journalist and editor with over 20 years experience covering the TV, film, advertising, digital and technology industries for publications including Broadcast, Televisual, Screen International, Variety, The Guardian and Media Week.