Oracle – the tech stock with a bright future in the cloud
Oracle, the business-database and software expert, can cash in on one of today's key technology trends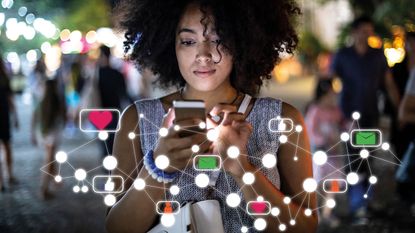 (Image credit: © Getty Images)
The fight to dominate, or at least get a slice of the lucrative and fast-growing cloud-computing market is where the real action is in the technology sector. We might think of technology more often as, say, social media, e-commerce, or film and music streaming. But none of this works without the cloud, which is why some of the leading names in the industry are spending big bucks to try to dominate the sector.
The cloud is that vast array of ever-expanding data centres where information is remotely stored, analysed and used by businesses; they find this cheaper and more practical than building their own.
They get access to significant processing power, which means their apps can, for instance, allow every customer to check their bank balances and make payments simultaneously, accommodate millions of active social-media users at once, or allow someone to make a live speech watched by hundreds of virtual conference guests all over the world.
Subscribe to MoneyWeek
Subscribe to MoneyWeek today and get your first six magazine issues absolutely FREE
Get 6 issues free
Sign up to Money Morning
Don't miss the latest investment and personal finances news, market analysis, plus money-saving tips with our free twice-daily newsletter
Don't miss the latest investment and personal finances news, market analysis, plus money-saving tips with our free twice-daily newsletter
And as there is no limit to what people might want their devices to do in the future, immediate cloud accessibility is key to businesses being able to innovate and scale up rapidly in response to new demand.
Deep pockets required
Building these data centres requires deep pockets, which excludes all but a few participants. In the lead is Amazon, which has invested billions to gain a 32% share of the cloud, according to data provider Synergy Research.
Microsoft is next at 20%, fiercely pursued by Google-owner Alphabet and China's e-commerce giant Alibaba with 9% and 6% respectively. These high-fliers have, however, created such big cloud-related expectations that their shares have rocketed, putting many investors off.
An alternative way to get exposure to the cloud is through some of the legacy tech companies. These have often been around for decades making money from pre-cloud systems still in use today, while also trying to build a presence in the cloud. Their shares can be much cheaper. Legacy tech is not investing enough to catch up and dominate the cloud, but these companies could build secure niches by selling into their big, global customer bases. When stocks written off by most analysts begin to surprise positively, shareholders can be richly rewarded.
Hidden value
It is, therefore, worth looking at global tech giant Oracle (NYSE: ORCL). The stock is on a discount to the tech sector. Sales growth has been slow for years and earnings per share heavily boosted by share buybacks. It's a classic "value" stock – one perceived to have unappreciated potential that could be unlocked if investors revised their view of the group's prospects, or a catalyst highlighted its scope for growth.
That catalyst could be the cloud. Oracle is at the forefront of business database systems, with nearly half a million corporate customers in 175 countries. And it's a leader in the software solutions that businesses need to work with this data, whether it's financial control or human-resources management.
Oracle has, therefore, the experience and capability to get businesses onto the cloud, building secure, robust systems and integrating its software to support them. It has been slow to the party and to succeed it needs to make up ground fast.
But it has been winning business from companies as diverse as Latin American McDonald's franchisee Arcos Dorados, tobacco group Altria, retailer Bed Bath & Beyond and IT group Micro Focus. With only 10%-20% of companies having migrated to the cloud so far, there's still plenty of untapped opportunity to capitalise upon.
Slick, efficient and globally indispensable
Oracle likes to trumpet the fact that its financial management is so slick that this $220bn company with $40bn in annual sales and 136,000 employees can close its books and report its earnings within just ten days.
It's quite a feat that perhaps helps understand why the group has come to be widely used by businesses globally. From its beginnings in the 1980s with its focus on databases and software for enterprises, Oracle has built a strong presence with 430,000 corporate customers (it doesn't sell to individuals).
The key question is how well Oracle shapes up as cloud computing grows and ultimately replaces older, in-house computer networks. If it fails to capitalise on the opportunity, then it will be confirmed as a business in slow decline. Given that the shares are cheap, a punt on success could pay off, but this is not a stock for the risk-averse.
The cloud sector is fiercely competitive. However, Oracle is no newcomer to delivering systems to businesses. It can build its cloud offering around this speciality and accompany it with its broad suite of applications.
The latest quarterly results saw the group beat expectations, but it was cautious about the outlook. Profits rose by 10% year-on-year. It doesn't break down in detail how much revenue comes from cloud activities, but at the product level, the talk is positive. It lifted sales by 30% in the quarter, for example, for its cloud-based day-to-day planning software for organisations, an area where it is considered the market leader. And its cloud infrastructure offering saw sales rise by over 100%. Some positive noises from analysts have helped the shares rise 17% so far this year, well ahead of the market. But they remain cheap and appealing for patient investors wary of the stratospheric valuations of other tech plays.
Stephen Connolly heads a family investment office and has worked in investment banking and asset management for over 25 years (sc@plainmoney.co.uk).
Stephen Connolly is the managing director of consultancy Plain Money. He has worked in investment banking and asset management for over 30 years and writes on business and finance topics.