How to play the galloping growth of the gaming sector
Digital games have become so popular that the market is now bigger than both the television-streaming and film industries. Yet years of expansion still lie ahead, so buy in now, says Matthew Partridge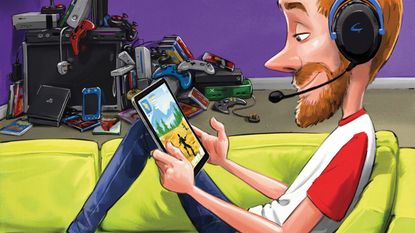 This article was first published in MoneyWeek magazine issue no 983 on 23 January 2020. To make sure you don't miss out in future, and get to read all our articles as soon as they're published, sign up to MoneyWeek here and get your first six issues free.
Video or computer games, once a niche pursuit for geeks, have become firmly entrenched in everyday life. According to the market research firm Savanta, 86% of people in the UK have played at least one in the past year. These games are so prominent now that they have begun to set the cultural agenda.
"In the recent past, it was usual for computer games to be based on films. However, now you're starting to see it's going in the other direction with films and TV shows based around computer games and Hollywood stars attending games-industry events," says Rob Leane, games editor at Den of Geek.
Subscribe to MoneyWeek
Subscribe to MoneyWeek today and get your first six magazine issues absolutely FREE
Get 6 issues free
Sign up to Money Morning
Don't miss the latest investment and personal finances news, market analysis, plus money-saving tips with our free twice-daily newsletter
Don't miss the latest investment and personal finances news, market analysis, plus money-saving tips with our free twice-daily newsletter
Little wonder, then, that the global games market "is now larger than television, television streaming, the movie industry and digital music", says Katen Patel, co-manager of JP Morgan's UK Smaller Companies Fund, Smaller Companies Investment Trust and Mid Cap Investment Trust.
The global market was worth $130bn in 2018 and is growing so fast that it could be on course to hit $300bn by 2025, according to consultancy GlobalData. Savanta estimates that 40% of Britons now spend more than £100 on games every year. With an array of listed firms poised to benefit, the investment case is compelling.
The market's explosive growth
There are several reasons for the market's explosive growth, says Patel. One is "the significant technological advances" that have enabled a "much-improved user experience", delivering smoother, more detailed graphics and more complex games. By contrast, while other sources of entertainment such as television and music may have seen some incremental improvements (larger televisions and more convenient ways of downloading songs, for instance), the core experience has remained the same.
The growing social acceptance of games has also been crucial. When Patel was growing up, gaming was still regarded as only suitable for children and there was a general feeling that too much gaming was harmful for children. He remembers that parents tended to encourage their children "to put down the video-games controller and go outside". However, having grown up with games, today's parents "are much more relaxed about letting their offspring play". What's more, they are likely to be gamers themselves, "with half of gamers over 35".
Another factor that will help keep the industry growing for at least another decade is the large increase in sales in emerging markets, especially in Asia. Not only is the expanding middle class spending money on consoles and computers, but those countries are also removing restrictions on what was previously seen as a harmful Western import.
Even China, which has been traditionally hostile to computer games, has taken steps to ease restrictions. While every game still needs to be officially approved and there are restrictions on late-night online gaming by children, Beijing finally dropped a long-standing ban on computer consoles in 2015, opening up a "huge market" to the industry.
The shift towards digital delivery
Not only are more people buying video games, but the way games are bought has also changed dramatically over the past few years, says Walter Price of Allianz Global Investors. There has been a shift from copies of games on DVDs to digital downloads.
The struggle of many bricks-and-mortar retailers such as the American chain GameStop, which saw its sales fall by 25% year-on-year in the final quarter of 2019, and the fact that many of the newest games consoles (the computer hardware used for games) have no optical DVD/Blu-ray drive, show that the days of physical distribution may be numbered.
The move to digital downloads may be bad news for those working in games stores, but it will benefit games companies in two main ways, says David Leahy of asset managers Gresham House.
By removing the need to burn discs, package them and then ship them to retailers, the move to digital will reduce production and distribution costs. Cutting out stores will also allow games companies to keep a greater slice of their revenue. While Steam, one of the major online stores, still charges a fee of 20%, this is much less than the amount demanded by high-street retailers.
A new business model
The rise of digital downloads is also leading to more fundamental changes. In the past, companies focused on one-off sales of a game. However, many companies are now experimenting with the idea of "games as a service". This means that players don't just buy a game, but also keep acquiring new content (called DLC, or downloadable content) and elements of a game as it is developed.
Not only does this give games producers an additional revenue stream, but also "effectively smooths the revenue profile of a game", says Leahy, improving the quality of earnings and the predictability of games companies' revenue.
There may be some even more dramatic changes just around the corner. Leahy notes that Microsoft, Amazon, Apple and Google are all investing heavily in services that allow people to play games via an internet connection without having to use a console, with all processing tasks being carried by a remote server.
Not only would this make gaming much less hassle, but it could also lead to a bidding war between rival services for exclusive content (as has happened in television), which could greatly benefit the companies that develop and publish the games.
Developments in online gaming
The move to new forms of distribution has been accompanied by changes in the nature of online gaming. It has gone from being a solitary activity to becoming one where many gamers "now play... together", as John Griffiths of technology consultancy Spicy Mango points out.
Online gaming is particularly popular with those who enjoy first-person shooters (games where the user is put in the shoes of someone trying to shoot other people). This genre has benefited from the "explosive growth" in the speed of internet connections, which has enabled people to play together without experiencing any lag in the action.
Online modes have also become "major moneyspinners" for games publishers. Some games, such as Fortnite are based on a "freemium" model where the original game is free to play, but you need to pay additional money for upgrades and subscriptions. Others, such as FIFA Ultimate Team, force you to buy the underlying game and then also charge you for additional upgrades.
Although the upgrades are nominally voluntary purchases, in that it is possible to complete the game without them, acquiring them usually allows players to progress through the game much more quickly and gain a large advantage over other competitors.
The popularity of online gaming has also created a demand for e-sports, where people watch the best gamers play against each other. Some of the major tournaments have proved so popular that "they've ended up filling stadiums of 15,000 people" says Griffiths. However, most people watch e-sports via online platforms such as Twitch (owned by Amazon) and YouTube (owned by Google), although Microsoft has also been making a huge effort to lure some of the best-known gamers on other platforms to its own service, Mixer. One of the big attractions of e-sports for advertisers is that it helps them reach younger men, "which has been a difficult demographic for them", especially since traditional media has less appeal for young men.
Gaming on the go
Smartphones have been another key element of the shift online. Depending on how you measure it, between a third and a half of revenue now comes from mobile gaming. The trend has played a particularly important role in broadening the demographics of the industry.
In the past the only people who played games were those "who identified as gamers and most people don't", says David Amor, director of game studio MAG Interactive. However, when people started to buy smartphones they "found themselves with a piece of hardware in their pockets that could play the latest, high-quality mobile games, all of which are free".
The games that Amor's studio produce are "loved by all ages", but they are particularly targeted at 40 to 60-year-old women. This is clearly a "long way" from the "traditional demographic" of young men in their teens or early 20s. Amor also thinks that it proves that "everyone enjoys playing games if you put the right game in front of them".
Despite the fact that nearly everyone in developed countries now has smartphones, Amor is confident that mobile gaming will continue to grow by around 10% a year worldwide. Part of the surge will stem from those who already play on mobile phones continuing to download new games.
The rollout of fifth-generation (5G) mobile networks bodes well in this context. Faster internet connections and download speeds imply shorter lags between a user's input and the result of that action on screen, which will create a higher-quality experience for the more complicated games. However, there should also be a surge in demand from new smartphone users in emerging markets, especially Southeast Asia, India, the Middle East and north Africa.
Virtual and augmented reality: new applications
One interesting technology that could spur future growth within the industry is virtual reality (VR), which involves using headsets and special controllers to enable people to immerse themselves directly in the action rather than having to stare at a screen.
Of course, the basic idea behind VR isn't new: it's been around since the 1990s. Even with the latest advances, "consumer take-up of VR tech has perhaps not lived up to the initial hype", admits Alan Moss, partner at Harbottle & Lewis, a law firm that deals with media, entertainment and technology companies.
However, this may be about to change as the "once prohibitive" price of VR headsets has already fallen significantly and is "likely to drop further". At the same time, the size, weight and complexity of headsets, which have also been major barriers to adoption, have been improved, making the technology "more accessible for the mass market". And several big names remain committed to the technology. Chief among them is Facebook, which bought VR headset maker Oculus in 2014 for $2bn and has since invested more money in it.
Of course, not everyone is convinced by VR's potential. JP Morgan's Katen Patel thinks it "remains to be seen how successful this format of gaming will become: the display lag in even the latest headsets induces motion sickness in many users.
A more promising avenue may be augmented reality (AR), where computer graphics are superimposed onto real-life pictures. The mobile-phone game Pokémon GO demonstrated the potential of this technology when it generated $950m in global revenue in 2016.
A strong structural growth story
Patel reckons this is an auspicious time to buy gaming stocks given the structural growth outlook. He also thinks the industry is "following the same trend as TV, with high-quality content continuing to grow... in value". The companies with "strong intellectual property", such as a well-known series of games based around a character or concept, "will... stand out and be able to negotiate better margins with distributors".
The companies that make video games aren't the only ones that will benefit from the boom in the gaming industry. There are plenty of listed companies "operating as a support services network for the industry". These include the developers who help smaller companies turn concepts into an actual game, but also those who provide concept art (the illustrations that become characters or features of the game), or local advice when games are released into international markets. Such services are particularly important given the increasingly global nature of the industry and the strong growth in revenue from consumers in emerging markets.
The stocks to buy now
One video-games company that is worth investing in is the American firm Take-Two Interactive Software (Nasdaq: TTWO). Take-Two benefits from owning a series of "strong franchises": games with a devoted fan base willing to buy the latest version and upgrades, says Walter Price of Allianz Technology Trust.
The best-known of Take-Two's games are basketball simulation NBA 2K, urban action-adventure series Grand Theft Auto and Western-themed Red Dead Redemption. Despite nearly tripling sales between 2013 and 2019 and boasting a 17% return on equity, Take-Two is still on a reasonable 26 times 2020 earnings.
Another games developer Price likes for its franchises is Zynga (Nasdaq: ZNGA). Zynga focuses on mobile games. Although it ran into trouble seven years ago when gamers began to tire of its original hit FarmVille, CEO Frank Gibeau has managed to turn the firm around by finding new hit games, notably Empires & Puzzles. With revenue doubling over the last three years and the firm consistently profitable since 2017, the 2020 price/earnings (p/e) ratio of 25 looks reasonable.
One British developer worth looking at is Team17 (Aim: TM17), best known for the Worms franchise. Not only does it develop its own games, but it also provides a publishing platform for other developers.
Team17 has "a very strong track record of identifying potentially successful games, and then... helping bring these... to market," says Katen Patel. It selects only a fraction of the thousands of proposals it receives. While Team17's shares are priced aggressively on a 2020 p/e of 37, revenue has risen nearly sixfold in the last four years, helped in part by a very strong back catalogue.
If you think that Team17 is just too pricy, then consider Sumo Group (Aim: SUMO). Sumo performs a similar function to Team17 in that it both creates its own games from scratch and also helps selected third parties to bring their games to the market.
Notable franchises include the Hitman (action-adventure), Forza Horizon (racing) and LittleBigPlanet (puzzle) series of games. Even though Sumo's revenue has doubled since 2015, it is on just 25 times 2020 earnings.
David Leahy of Gresham House thinks that one of the big winners from the move from physical to digital retailing will be Codemasters Group (Aim: CDM). Generally regarded as the "global market leader" in racing games, it has built a "faithful audience" for its annual Formula One titles, which it has a licence for until 2025. Moving to digital sales and providing additional downloadable content has "created additional revenue streams, increased the quality of earnings and materially improved profit margins", helping earnings more than double over the last three years. Yet it trades at a slight discount to its peers on a 2021 p/e of 17.9.
An indirect beneficiary of the games boom will be Keywords Studios (Aim: KWS). Keywords provides technical support for video-game studios, offering everything from art services to support for players. It employs more than 6,000 people around the world and serves 23 of the top 25 games companies and nine of the top-ten mobile-games publishers by revenue, including Electronic Arts, Square Enix and Nintendo. Sales have quintupled since 2015, more than justifying a 2020 p/e of 29.
Matthew graduated from the University of Durham in 2004; he then gained an MSc, followed by a PhD at the London School of Economics.
He has previously written for a wide range of publications, including the Guardian and the Economist, and also helped to run a newsletter on terrorism. He has spent time at Lehman Brothers, Citigroup and the consultancy Lombard Street Research.
Matthew is the author of Superinvestors: Lessons from the greatest investors in history, published by Harriman House, which has been translated into several languages. His second book, Investing Explained: The Accessible Guide to Building an Investment Portfolio, is published by Kogan Page.
As senior writer, he writes the shares and politics & economics pages, as well as weekly Blowing It and Great Frauds in History columns He also writes a fortnightly reviews page and trading tips, as well as regular cover stories and multi-page investment focus features.
Follow Matthew on Twitter: @DrMatthewPartri