The unscientific criticism of AstraZeneca could do lasting damage
Several European countries have suspended their use of AstraZeneca's Covid vaccine – for no good scientific reason. Matthew Partridge reports.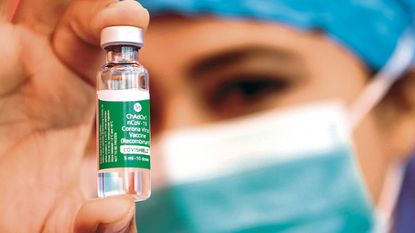 (Image credit: © PRAKASH MATHEMA/AFP via Getty Images)
The AstraZeneca vaccine has suffered a setback in the past few days as France, Germany and Italy have joined a "growing list" of European countries, now more than a dozen in total, to halt its use "temporarily", says The Economist. A few countries in the rest of the world, including Indonesia, have followed suit. This "wave of suspensions" has been set in motion by data from a Norwegian medical regulator reporting four cases of blood clotting in adults given the vaccine. Similar scattered reports of blood clots "have come from Denmark, Italy and Austria".
Those countries suspending the vaccine are behaving irrationally, says David Spiegelhalter in The Guardian. While suspected reactions "should be investigated", moving too fast may lead to regulators "drawing causal links between events where none may exist".
Given that one in 5,000 people end up having a blood clot each year, it is "not at all surprising" that there have been 30 reports of blood clots so far from the five million people who have had AstraZeneca's vaccine, especially since most vaccinations have occurred among the elderly and infirm. This hardly means the vaccine caused the clots. If anything, all the data so far has demonstrated how "extraordinarily safe" both the AstraZeneca and the Pfizer vaccines are.
Subscribe to MoneyWeek
Subscribe to MoneyWeek today and get your first six magazine issues absolutely FREE
Get 6 issues free
Sign up to Money Morning
Don't miss the latest investment and personal finances news, market analysis, plus money-saving tips with our free twice-daily newsletter
Don't miss the latest investment and personal finances news, market analysis, plus money-saving tips with our free twice-daily newsletter
Lasting reputational damage
Experts agree that the decisions to suspend the vaccine look wrong, especially since the European Medicines Agency (EMA), the EU's main regulator, continues to defend it, says Paul Cullen in the Irish Times. However, even if these countries eventually change their minds, the damage to the reputation of the AstraZeneca vaccine will be "massive and possibly lasting". Despite its "impressively high effectiveness in real-world trials", disparaging comments by many European politicians, as well as a perception that it is less effective in older patients, mean that it is facing a high degree of "consumer resistance".
Concern over blood clots and lower effectiveness aren't the only problem that AstraZeneca is up against, say Suzi Ring and Michelle Fay Cortez on Bloomberg. There is also the ongoing controversy over "manufacturing issues", which means that the company will "only be able to deliver about 100 million doses to the EU in the first half of the year", about one-third of the number originally planned.
AstraZeneca's loss could be other companies' gain, says Aimee Donnellan on Breakingviews. The EU has set itself a target of vaccinating 70% of its population, around 350 million people, by the summer. But without AstraZeneca's vaccines, it will only have enough for 250 million people. So if Europe is to avoid having to impose more lockdowns in the winter, when infections start to pick up, Brussels will need to "speedily approve and distribute" other candidates, such as Johnson & Johnson's jab, which got the nod from the EMA last week.
Matthew graduated from the University of Durham in 2004; he then gained an MSc, followed by a PhD at the London School of Economics.
He has previously written for a wide range of publications, including the Guardian and the Economist, and also helped to run a newsletter on terrorism. He has spent time at Lehman Brothers, Citigroup and the consultancy Lombard Street Research.
Matthew is the author of Superinvestors: Lessons from the greatest investors in history, published by Harriman House, which has been translated into several languages. His second book, Investing Explained: The Accessible Guide to Building an Investment Portfolio, is published by Kogan Page.
As senior writer, he writes the shares and politics & economics pages, as well as weekly Blowing It and Great Frauds in History columns He also writes a fortnightly reviews page and trading tips, as well as regular cover stories and multi-page investment focus features.
Follow Matthew on Twitter: @DrMatthewPartri