Why venture capitalists should stop hero-worshipping celebrities
Venture capitalists get all star struck when the celebrities turn up. But, while backing superstars may be attractive, it will not be good for profits, says Matthew Lynn.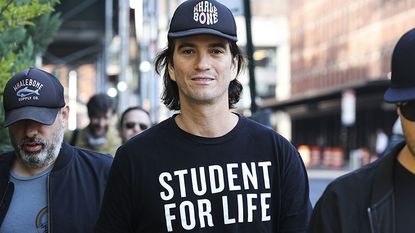 (Image credit: © Angus Mordant/Bloomberg via Getty Images)
Some high-profile founders have found it remarkably easy to raise fresh capital in recent weeks. Adam Neumann, the founder of the temporary office company WeWork, has just raised $350m for Flow, a start-up aiming to transform the residential apartment market, with a total valuation for the new business of more than $1bn. Travis Kalanick, the key founder of the minicab empire Uber, received $850m in funding for his new venture, CloudKitchens, with Microsoft reportedly among its backers, putting a total valuation of more than $15bn on the new businesses.
Reality TV star Kim Kardashian is getting in on the act, teaming up with investment giant Carlyle to start a media private-equity firm. Tennis star Serena Williams has also raised an extra $111m to expand her firm Serena Ventures. It is seems clear that the venture-capital (VC) industry, once a quiet corner of the financial markets occupied mostly by serious bankers and accountants, has all of a sudden developed a cult of star-struck hero worship.
Opening doors
That is not to say that there aren't some good ideas out there. Kalanick is definitely on to something and has been investing in dark kitchens – huge catering hubs that exist simply to make meals for the delivery market – for some years now. The business may look more risky now than it was at the height of the pandemic, when we all treated ourselves to a takeaway a couple of times a week to relieve the boredom of lockdown, but there's no question that biking over hot meals to the home is a huge business and one that is not going to disappear any time soon. It is far more efficient to make the meals in a warehouse on an industrial scale than at individual restaurants, and while it may not be quite what the customers think they are ordering (most probably imagine they are getting something special from their local curry house), they probably won't ever realise where the bike has come from.
Subscribe to MoneyWeek
Subscribe to MoneyWeek today and get your first six magazine issues absolutely FREE
Get 6 issues free
Sign up to Money Morning
Don't miss the latest investment and personal finances news, market analysis, plus money-saving tips with our free twice-daily newsletter
Don't miss the latest investment and personal finances news, market analysis, plus money-saving tips with our free twice-daily newsletter
Likewise, Neumann's new property venture has the kernel of a great idea. In a world where many people are likely to rent rather than own for most of their lives, and will often be working from their homes for most of the week as well, it makes a lot of sense to create purpose-built rental communities that include social events, networking and plenty of business services, as well as being pleasant places to live.
Even Kardashian and Williams may well be able to bring something to an investment firm. After all, Kardashian is a smart businesswomen, as her success in TV illustrates, and she has already managed to spin that into clothing and skin care brands – there is no question that her fame will be able to open a lot of doors and potentially bring in some good deals.
Back to basics
The problem is that these celebrities have questionable records. Kalanick may have turned Uber into a huge global brand, but he also left the company in a total mess. He resigned from the company he helped found and, ever since, Uber has struggled to stabilise its management or its operations. Neumann was no better. WeWork ran up huge debts, its initial public offering (IPO) stumbled, and eventually Neumann was forced to leave the company and give up majority control. As for Kardashian and Williams, they may be smart, but they are not exactly investment professionals.
The reality is that most of the great entrepreneurs start out as complete outsiders. They don't have many connections, they are not famous, they don't have much money and no one has ever heard of them. They simply have a good idea, an appetite for hard work, lots of ambition, and a point to prove. The job of the VC houses should be to spot the great ones when they turn up, even if no one has ever heard of them before, and back them to the hilt. Sure, backing superstars may be attractive, and it will always get a few headlines. But if the investment industry can't bring that to an end – and get back to basics – it will surely end up with a huge round of bad investments. And it will have no one to blame for that but itself.
Matthew Lynn is a columnist for Bloomberg, and writes weekly commentary syndicated in papers such as the Daily Telegraph, Die Welt, the Sydney Morning Herald, the South China Morning Post and the Miami Herald. He is also an associate editor of Spectator Business, and a regular contributor to The Spectator. Before that, he worked for the business section of the Sunday Times for ten years.
He has written books on finance and financial topics, including Bust: Greece, The Euro and The Sovereign Debt Crisis and The Long Depression: The Slump of 2008 to 2031. Matthew is also the author of the Death Force series of military thrillers and the founder of Lume Books, an independent publisher.