The UK stockmarket is bargain central for private-equity funds
Private-equity giants are snapping up British companies. We should welcome them, says Matthew Lynn.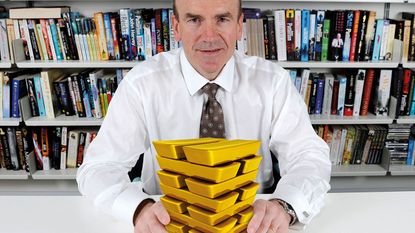 (Image credit: © Shutterstock)
The Morrisons takeover promises plenty of high-stakes drama (see page 7). The buy-out firm, Clayton, Dubilier & Rice, (CD&R) has already tabled an offer worth almost £9bn once the company's debt is included. Sir Terry Leahy, the man who ran Tesco during its glory years, is on board as an adviser, and may well make a return to the sector where he made his name. The offer was rejected, but on Monday morning the shares were up more than 30% on the prospect of a takeover battle for the chain.
Welcome the foreign asset-strippers
It is far from alone. Asda has already been bought by the Issa Brothers along with TDR Capital. UDG Healthcare has received a £2.8bn offer, also from CDR. KKR is trying to buy John Laing for £2bn; Carlyle is looking to acquire the inhaler developer Vectura for close on £1bn. In the last month alone there have been nine offers for quoted British companies from the private-equity funds. The UK is turning into one of the most popular markets in the world for making acquisitions.
It's not hard to understand why. Battered by our departure from the EU, the British stockmarket is one of the cheapest. It trades at about half the level of the main American indices and at a lot less than France or Germany. It is the one place you can still find a bargain. It is also still relatively open at a time when the rest of Europe is turning protectionist. When Canadian firm Couche-Tard contemplated a bid for Carrefour, it was told the supermarket chain was a vital French strategic asset that couldn't be sold to foreigners. Boris Johnson's government is a lot more interventionist than any we have seen in the UK for a couple of generations, but it is unlikely to declare Morrisons a strategic national asset (I mean, it's not Greggs we're talking about here). If you can find the money, it's probably yours, and that is not true of many other countries right now. On top of all that, and even with some delays to the end of lockdown, the UK is likely to make a strong recovery from the Covid-19 crisis over the next year.
Subscribe to MoneyWeek
Subscribe to MoneyWeek today and get your first six magazine issues absolutely FREE
Get 6 issues free
Sign up to Money Morning
Don't miss the latest investment and personal finances news, market analysis, plus money-saving tips with our free twice-daily newsletter
Don't miss the latest investment and personal finances news, market analysis, plus money-saving tips with our free twice-daily newsletter
So there are lots of good reasons the private-equity firms are suddenly so keen on the UK. Expect to see a lot more bids in the months ahead. After all, if Morrisons is worth buying, then so are lots of other companies. If we are being honest, Morrisons is a fairly terrible company. It is the fourth-placed player in a brutally competitive market with a brand that doesn't mean anything outside of its native Yorkshire. If it can attract a buyout offer, it is safe to say just about every other company in the FTSE 350 is a target.
Two reasons to be cheerful
Plenty of people will oppose this. We will hear lots of complaints about foreign asset-strippers, about jobs lost, about how the UK is the only major country in the world that allows its companies to be traded like casino chips. There is some truth to that. Private-equity firms don't have a great reputation for building businesses, especially in retailing, and they are often just out to make a quick buck, squeezing costs and suppliers before selling out.
Yet there are two big upsides to this flurry of bids. Firstly, it will be a huge boost for the City at a time when Brexit means it is under threat. That threat was always wildly overstated. There has not been a wholesale move of banks and asset managers to Paris and Frankfurt as many predicted. Even so, life will be tougher without the same level of access to the main European markets, and it will take time to develop new ones in Africa, the Middle East and Asia. In the meantime, a mergers and acquisition boom will generate lots of advisory and trading fees, and that should be more than enough to keep the City humming through a tricky period of reinvention.
Secondly, it is a vote of confidence. There is lots of capital sitting in the big buyout funds. It might as well be deployed in Britain as anywhere else – and the more money gets invested in this country, the more the rest of the world will notice. If the bid for Morrisons is just the start of a wave of takeovers, so much the better.
Matthew Lynn is a columnist for Bloomberg, and writes weekly commentary syndicated in papers such as the Daily Telegraph, Die Welt, the Sydney Morning Herald, the South China Morning Post and the Miami Herald. He is also an associate editor of Spectator Business, and a regular contributor to The Spectator. Before that, he worked for the business section of the Sunday Times for ten years.
He has written books on finance and financial topics, including Bust: Greece, The Euro and The Sovereign Debt Crisis and The Long Depression: The Slump of 2008 to 2031. Matthew is also the author of the Death Force series of military thrillers and the founder of Lume Books, an independent publisher.