Philippines comes to terms with the end of the Aquino legacy
The death last week of Benigno Aquino, the Philippines' president from 2010 to 2016, marks the end of a disappointing chapter.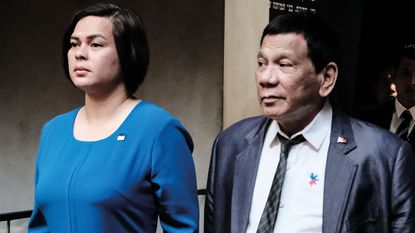 (Image credit: © Nir Alon/ZUMA Wire/Shutterstock)
The public reaction to the death last week of Benigno Aquino, the Philippines' president from 2010 to 2016, has been one of "limited sympathy", says Mark Thompson in the South China Morning Post. Signs of mourning and support were mostly confined to wealthier neighbourhoods, in contrast to how the deaths of his parents galvanised the whole country.
The huge anti-government protests that followed the assassination of Aquino's father – also called Benigno – in 1983 eventually led to the overthrow of the dictator Ferdinand Marcos and to the election of Aquino's mother, Corazon, as president from 1986 to 1992. The "national grieving" after her death in 2009 then fuelled his own presidential campaign. But while Aquino remained "personally popular", his "liberal, reformist agenda" was undermined by a failure to tackle the Philippines' structural problems. That makes it unlikely that any ally will now be able to take up his mantle and gain enough support to win next year's presidential election.
A missed opportunity
Aquino's legacy is clearly disappointing, says Richard Heydarian in Nikkei Asia. His administration "oversaw an unprecedented period of economic stability" during his time in office. Yet the benefits of this rapid growth "remained woefully concentrated, with the country's richest 40 families gobbling up three-fourths of the newly created wealth".
Subscribe to MoneyWeek
Subscribe to MoneyWeek today and get your first six magazine issues absolutely FREE
Get 6 issues free
Sign up to Money Morning
Don't miss the latest investment and personal finances news, market analysis, plus money-saving tips with our free twice-daily newsletter
Don't miss the latest investment and personal finances news, market analysis, plus money-saving tips with our free twice-daily newsletter
Anti-corruption initiatives were unprecedented in size, but were "deeply lopsided, primarily targeting opposition members and past administration holdovers" and skipping "loyalists and opportunists" in his ruling coalition. Aquino also failed to identify "clear industrial and trade policies to boost inclusive development", while public infrastructure development proceeded at a "scandalously slow pace". All this created the conditions for a "populist revolt" in 2016, in which Rodrigo Duterte won the presidency in a landslide by presenting the election as a "protest vote against the deficiencies of Aquino's administration".
The country deserves better
Duterte is constitutionally blocked from running again when his term ends next May, says Clara Ferreira Marques on Bloomberg. Yet his approval ratings remain high despite a severe recession, "a poorly handled pandemic" and "an unimpressive vaccine roll-out", so he is well-placed to orchestrate what happens next. Most likely he will back his daughter, Sara Duterte-Carpio, as president and maybe run for vice-president himself. Dynasties are common in the Philippines, but this would stretch the norms. And given Duterte's poor record on issues from infrastructure and inequality, there's little reason to think that it would help "nurse what was once one of [Southeast Asia's] fastest-growing economies back to health".
Cris Sholto Heaton is an investment analyst and writer who has been contributing to MoneyWeek since 2006 and was managing editor of the magazine between 2016 and 2018. He is especially interested in international investing, believing many investors still focus too much on their home markets and that it pays to take advantage of all the opportunities the world offers. He often writes about Asian equities, international income and global asset allocation.
Cris began his career in financial services consultancy at PwC and Lane Clark & Peacock, before an abrupt change of direction into oil, gas and energy at Petroleum Economist and Platts and subsequently into investment research and writing. In addition to his articles for MoneyWeek, he also works with a number of asset managers, consultancies and financial information providers.
He holds the Chartered Financial Analyst designation and the Investment Management Certificate, as well as degrees in finance and mathematics. He has also studied acting, film-making and photography, and strongly suspects that an awareness of what makes a compelling story is just as important for understanding markets as any amount of qualifications.