Richard Liu: the downfall of China's Jeff Bezos
Xi Jinping's crackdown on the tech barons claims another scalp as Richard Liu, founder of JD.com, China's second-biggest ecommerce giant, steps down. Jane Lewis reports.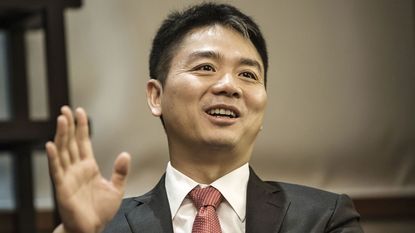 (Image credit: © Getty )
Some of China's richest entrepreneurs have been booted out of their companies in the past two years as the Chinese government's crackdown on tech barons gathers pace. The latest to join the throng, says Bloomberg, is Richard Liu, founder of JD.com, the country's second-biggest ecommerce giant. He handed the reins to his rising lieutenant, Xu Lei, last week. It was "a nod to continuity", yet also a big turning point for one of China's most iconic internet retailers.
A vertiginous ascent
"Like so many of China's new billionaire class," Liu was bent on "making up for lost time… with vertiginous speed," noted the FT in 2017 when the tycoon was 43 and worth nearly $11bn. Born Liu Qiangdong, into a family of poor peasant farmers, he suffered deprivation as a child. From June until September, the family mainly ate corn.
For the other eight months it was sweet potatoes. When, at 18, Liu passed "the gruelling entrance exam" for the elite People's University in Beijing there was a village whip-round. "For the entire first week I was in Beijing I just ate eggs." No wonder he later took to staging sumptuous feasts at JD.com's "futuristic campus". It was partly a tribute to his "family culture".
Subscribe to MoneyWeek
Subscribe to MoneyWeek today and get your first six magazine issues absolutely FREE
Get 6 issues free
Sign up to Money Morning
Don't miss the latest investment and personal finances news, market analysis, plus money-saving tips with our free twice-daily newsletter
Don't miss the latest investment and personal finances news, market analysis, plus money-saving tips with our free twice-daily newsletter
The Lius were wealthy shipowners before the 1949 revolution; they lost everything when the communists took over. But they hung on to memories of their faded grandeur – and "drilled into him" how easily it had "been taken away". Liu arrived in Beijing in 1992, just as China was embracing market reform.
Combining his sociology studies with selftaught computer programming, he began making serious money. "Suddenly the whole society needed computer engineers, but there weren't any, so I got very rich." In 1998, Liu set up a stall selling computer components, growing it to a chain of 12 electronics stores across Beijing by 2003. The outbreak of Sars that year transformed his outlook, says the South China Morning Post.
He began to muse on the possibility of an online business, launching Jingdong Mall (JD.com) the following year. The business's rise was meteoric, expanding into general goods in 2007 and staging a showy New York float in 2014. Liu, who went by the name "Richard" in the West, joined a throng of Chinese tech tycoons riding a deluge of investment cash, reported Canadian Business. It was "the year of the Chinese internet", when Alibaba staged one of the largest initial public offerings in New York and the rivalry was intense. Renowned for his "ruthlessness" within JD, Liu made it his prime mission to unseat Alibaba's Jack Ma as the "undisputed ecommerce king".
Avoiding a direct hit
Liu never achieved Ma's "rock-star status". But his 2015 marriage to the celebrity internet influencer Zhang Zetian (known as "Milk Tea Sister") conferred some stardust, and his drive to control every aspect of his business, via a colossal warehousing system, saw him dubbed "the Jeff Bezos of China". That image was tarnished in 2018 when he was arrested in Minnesota on allegations of rape, which he denied, says Bloomberg; he was never charged.
After the incident, Liu gradually stepped back from day-to-day operations at JD. This week's "leadership reshuffle" is "a further retreat" – still, it's worth noting that Liu is keeping his title as chairman and, crucially, 77% of the company's voting shares. Although coy discussing his relations with the Xi regime, Liu has somehow contrived to stay in the authorities' good books.
Unlike Ma and others, he avoided "a direct hit from the sweeping campaign to reign in Big Tech". Indeed, JD benefited from the crackdown. But its value has nonetheless taken a big hit. For the moment, Liu's strategy is to keep his head down, stay onside, and don his wellies. In support of China's "common prosperity goals", he has promised "to help revitalise rural areas".
Jane writes profiles for MoneyWeek and is city editor of The Week. A former British Society of Magazine Editors editor of the year, she cut her teeth in journalism editing The Daily Telegraph's Letters page and writing gossip for the London Evening Standard – while contributing to a kaleidoscopic range of business magazines including Personnel Today, Edge, Microscope, Computing, PC Business World, and Business & Finance.
She has edited corporate publications for accountants BDO, business psychologists YSC Consulting, and the law firm Stephenson Harwood – also enjoying a stint as a researcher for the due diligence department of a global risk advisory firm.
Her sole book to date, Stay or Go? (2016), rehearsed the arguments on both sides of the EU referendum.
She lives in north London, has a degree in modern history from Trinity College, Oxford, and is currently learning to play the drums.