​​​​​​​Which stockmarkets look cheap now?
We're always telling you to buy when assets are cheap. So are any global markets looking appealing yet?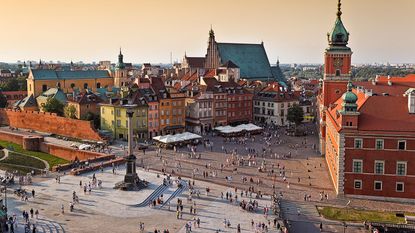 (Image credit: © Luis Davilla/Cover/Getty Images)
At MoneyWeek, we're always telling you to buy assets when they're cheap. Over the past six months or so, the majority of markets have fallen a great deal, with plenty sitting in bear-market territory (down 20% or more). So the obvious question now is: are there any bargains?
Clearly, a fall in price alone does not mean a market is cheap. If a fast-growing stock suddenly warns that its growth has fallen off a cliff, it's share price will fall. But that doesn't mean it has become cheaper – it merely reflects the company's diminished prospects. So you need to look at valuations.
Conveniently enough, fund manager Meb Faber of Cambria Investment Management has just put out his latest update on cyclically adjusted price/earnings ratios (CAPE) for global equity markets. CAPE is one of our favourite long-term valuation measures. It's explained below, but in short, the lower the number, the cheaper the market.
Subscribe to MoneyWeek
Subscribe to MoneyWeek today and get your first six magazine issues absolutely FREE
Get 6 issues free
Sign up to Money Morning
Don't miss the latest investment and personal finances news, market analysis, plus money-saving tips with our free twice-daily newsletter
Don't miss the latest investment and personal finances news, market analysis, plus money-saving tips with our free twice-daily newsletter
One thing is clear – most markets have indeed got a lot cheaper since the start of 2022. The median average CAPE was 18 in January; now it's 15. The median CAPE on the quartile of least expensive markets has fallen from 14 to ten, while the quartile of most overpriced markets are looking more reasonable, with January's median CAPE of 32 falling to 25 now.
In terms of the markets likely to be of most interest, the UK was already relatively cheap in January on a CAPE of 15.9. It has held up somewhat better than many of its peers but is now even cheaper at 14.6. The US by contrast, while considerably cheaper than it was, remains one of the world's most expensive markets, with its CAPE falling from 38.8 to 28 (only India and Denmark are comparably expensive).
At the "cheap" end of the scale, three markets trade on a CAPE of less than ten: Poland, Egypt and Turkey. All three were also among the cheapest markets in January. Other notable cheap markets include Singapore, Chile, Brazil and Spain. You can use exchange-traded funds (ETFs) to get access to most of these markets, such as the iShares MSCI Poland UCITS ETF (LSE: SPOL). The strategy is to buy a mix of the cheapest markets on the principle of "reversion to the mean" – the idea that historically cheap markets will return to more "normal" valuations.
Of course, just because a market is cheap doesn't mean it can't get cheaper. The cheapest market in January, on a CAPE of 8.1, was Russia. The latest update doesn't list Russia because it's uninvestable. This is why diversification is critical – it's an example to bear in mind before putting money into Turkey or Egypt, say.
John is the executive editor of MoneyWeek and writes our daily investment email, Money Morning. John graduated from Strathclyde University with a degree in psychology in 1996 and has always been fascinated by the gap between the way the market works in theory and the way it works in practice, and by how our deep-rooted instincts work against our best interests as investors.
He started out in journalism by writing articles about the specific business challenges facing family firms. In 2003, he took a job on the finance desk of Teletext, where he spent two years covering the markets and breaking financial news. John joined MoneyWeek in 2005.
His work has been published in Families in Business, Shares magazine, Spear's Magazine, The Sunday Times, and The Spectator among others. He has also appeared as an expert commentator on BBC Radio 4's Today programme, BBC Radio Scotland, Newsnight, Daily Politics and Bloomberg. His first book, on contrarian investing, The Sceptical Investor, was released in March 2019. You can follow John on Twitter at @john_stepek.