Why Elon Musk's Twitter takeover could mark the end of the reign of the CEO
The overlords of the corporate world have had their day, says Matthew Lynn. Long live the Technokings!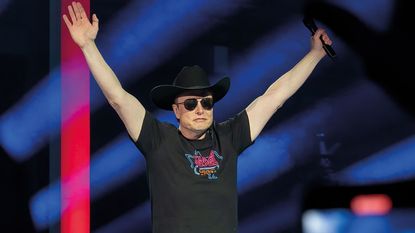 (Image credit: © SUZANNE CORDEIRO/AFP via Getty Images)
Twitter founder Jack Dorsey and its probable new owner Elon Musk don't agree on who should and should not be allowed to tweet. They don't see eye to eye on how the social-media platform should monetise its few hundred million users. Nor do they have much common ground on how a business should finance itself.
There is, however, one point on which they are united: the CEO is no longer necessary. Indeed, the over-mighty, imperial chief executive might as well be a dinosaur from another age. And perhaps many more companies could get along just fine without one.
Last week, Jack Dorsey, who has moved on from the site he created to a financial payments start-up called Block, decided to change his title from CEO to Block Head. The man who is now taking over Twitter similarly stopped calling himself the CEO of Tesla, the company that has made him the richest man in the world, and insisted he be called Technoking instead.
Subscribe to MoneyWeek
Subscribe to MoneyWeek today and get your first six magazine issues absolutely FREE
Get 6 issues free
Sign up to Money Morning
Don't miss the latest investment and personal finances news, market analysis, plus money-saving tips with our free twice-daily newsletter
Don't miss the latest investment and personal finances news, market analysis, plus money-saving tips with our free twice-daily newsletter
The staff at both companies probably joined the rest of us in rolling their eyes. Yet it is possible that both men are on to something. After all, Musk is, for all the controversy he creates, by far the smartest entrepreneur alive today (only Jeff Bezos at Amazon comes close). Twitter may not have made a lot of money yet but there is no question Dorsey knows how to create a business that matters.
And in deciding to ditch the CEO label they are not completely alone. The co-founders of Hence Technologies, for example, have decided they don't need anyone to be the actual chief executive. The Orpheus Chamber Orchestra has won lots of awards and rave reviews for its concerts and recordings, even though it has got rid of conductors. The idea is starting to catch on.
Three reasons to ditch the chief executive
There are three reasons many businesses might be better off without a CEO. For starters, CEOs often don't have a very clearly defined role. They don't manage the finances, oversee the marketing, control production, or come up with new products. Indeed, as anyone who has ever worked at a big company will readily testify, it is often quite hard to work out exactly what it is that they are doing all day. Often they just get in the way of people getting on with a job that they can do perfectly well left to themselves.
Next, they take the limelight, concentrate glory and power in one person, and in order to prove themselves, often end up making stupid mistakes. The standard CEO does not last long. The average FTSE 100 boss is only in office for 4.6 years and that figure has been dropping all the time. They only have a few years in charge, and very often feel they have to do something amazing in that time. It might be a reorganisation, or moving into fresh territory, or worst of all a major acquisition that ends up costing hundreds of millions in losses. Whatever it is, it is often a waste of everyone's time, and without a CEO the business could have simply chugged along making profits and paying out dividends to its shareholders.
Finally, they are expensive. The average FTSE CEO now earns £2.7m. Add in bonuses and share options and it is often much more. In the US, the equivalent figure is $13m (£10.4m). It is a huge sum and, of course, the CEO has to be paid more than anyone else, even if the product designer, or the marketing director is actually far more important to the business. That is fine if they are genuinely adding that kind of value; if they aren't, it is a colossal waste of money that would be better spent elsewhere.
True, some firms do need real leadership. If a business is in deep trouble, and has to be completely turned around to be saved, then that is a huge task, and someone firm and decisive needs to be in charge. If there is a merger with a rival for which there is a real commercial case, then that requires leading from the front. But those two circumstances aside, a firm would often do better with a calmer, collective team in charge. Everyone can get on with their own job, less time will be wasted, and the customers won't even notice. The imperial, overbearing, overnight CEO may well have had his – or her – day.
Matthew Lynn is a columnist for Bloomberg, and writes weekly commentary syndicated in papers such as the Daily Telegraph, Die Welt, the Sydney Morning Herald, the South China Morning Post and the Miami Herald. He is also an associate editor of Spectator Business, and a regular contributor to The Spectator. Before that, he worked for the business section of the Sunday Times for ten years.
He has written books on finance and financial topics, including Bust: Greece, The Euro and The Sovereign Debt Crisis and The Long Depression: The Slump of 2008 to 2031. Matthew is also the author of the Death Force series of military thrillers and the founder of Lume Books, an independent publisher.