Is this Britain's most successful company?
Soho House has yet to make much profit, but it could be on the brink of creating something big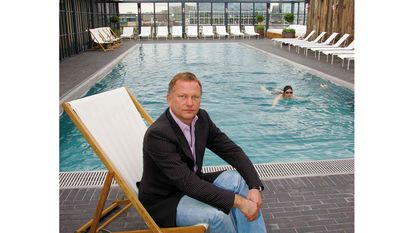 (Image credit: © Shutterstock)
What's the most successful new British company of the last 20 years? You could make a good case for Ocado, or one of the rising fintech giants such as Wise, or for an artificial-intelligence start-up such as the recently listed Darktrace.
You could also make a compelling case for a company that we have only recently come to think of as a global business at all: Soho House. With its listing in New York now successfully completed, the company is embarking on a round of expansion that could make it one of the biggest brands in the world.
Building a new global brand
When it reported its results last week, Membership Collective Group, as the chain is formally known, certainly showed why investors were right to back its recent initial public offering (IPO). Revenues in the second quarter were up by 118% as the group bounced back from lockdown, and its clubs started to reopen. True, there was still a net loss of $57m and it may be a while yet before it turns an actual profit, but the revenue figures are impressive and so are the plans for new clubs across the world, and the waiting list for membership of more than 63,000. With a market value of $2.2bn, if it were listed in the UK, it would be knocking on the door of the FTSE 100.
Subscribe to MoneyWeek
Subscribe to MoneyWeek today and get your first six magazine issues absolutely FREE
Get 6 issues free
Sign up to Money Morning
Don't miss the latest investment and personal finances news, market analysis, plus money-saving tips with our free twice-daily newsletter
Don't miss the latest investment and personal finances news, market analysis, plus money-saving tips with our free twice-daily newsletter
It has come a long-way from the slightly ramshackle private members' club for media types that first set up shop in Greek Street in 1995. In the years since then, Soho House has expanded to a chain of over 27 clubs, each of which generate roughly $25m of revenues. It plans to open another 16 over the next two years, as well as expanding into temporary office space, taking it into competition with rivals such as WeWork. At its IPO this year, it raised over $400m for expansion.
Although it is not profitable yet, there is no question that it has come up with something new. Lots of cities have members' clubs, and of course London, New York and many others have had the fustier gentleman's variety since Victorian times. But a global chain, with a global brand, is something new – and could be very profitable if it can be made to work.
The problem, though, is that that will be lot harder in practice than it is in theory. Right now Soho House faces what is just about the hardest task in business: it has to take exclusivity and turn it into a huge business. The two may seem incompatible. If you are exclusive, people want to belong, but there are not many spaces. Once you become a mass-market product, there are plenty of spaces, but no one wants to join because it has lost its cachet. Soho House could be caught out by that contradiction: it has to expand to make profits, but expanding may also kill off the brand.
Follow Mercedes, not Thorntons
It is not impossible. LVMH has been doing it for years and made itself into one of Europe's biggest firms in the process. The French company owns brands such as Louis Vuitton, Moët & Chandon, Dior, Marc Jacobs and Bulgari. It has managed to keep all of them expanding, while maintaining their exclusive status. Mercedes has managed it as well: it sells more than two million new vehicles every year, but a Merc is still a very classy car. Apple seems to be pulling off the same trick.
But it is not easy and lots of firms have not managed it. When it was owned by Ford, Jaguar produced a series of mediocre models that trashed the brand. It is hard to imagine anyone feels especially exclusive in a Ralph Lauren Polo shirt anymore, or one by Pierre Cardin. A bottle of Jacob's Creek wine isn't going to impress your dinner party guests especially, and neither will a Jamie Oliver sauce. Over the years, many brands have been pushed out into the mass market and slapped as a quick label on lots of products. It's not long before you become about as stylish as Brut aftershave or a box of Thorntons.
A very delicate balance has to be maintained, in other words. If Soho House can work out how to do that it can build a huge company. Shareholders are staking a lot on Soho House being one of the tiny handful that manage it.
Matthew Lynn is a columnist for Bloomberg, and writes weekly commentary syndicated in papers such as the Daily Telegraph, Die Welt, the Sydney Morning Herald, the South China Morning Post and the Miami Herald. He is also an associate editor of Spectator Business, and a regular contributor to The Spectator. Before that, he worked for the business section of the Sunday Times for ten years.
He has written books on finance and financial topics, including Bust: Greece, The Euro and The Sovereign Debt Crisis and The Long Depression: The Slump of 2008 to 2031. Matthew is also the author of the Death Force series of military thrillers and the founder of Lume Books, an independent publisher.