The best long-term fixed-rate mortgages available now
Rising interest rates will increase your mortgage costs. This could be a good time to lock in a five-year or ten-year fixed-rate mortgage deal, says Ruth Jackson-Kirby.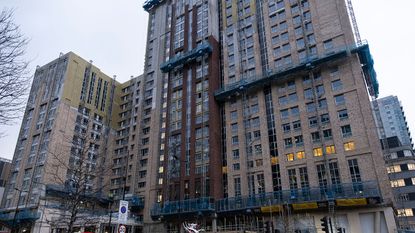 (Image credit: © Mike Kemp/In Pictures via Getty Images)
Soaring inflation and the rising Bank of England base rate has many of us wondering what the future holds for mortgage rates.
If you are on a variable rate or tracker mortgage, then an increase in the base rate is likely to mean an increase in your monthly mortgage repayments.
This is also the case if your fixed-rate deal has expired and your lender has moved you onto its standard variable rate (SVR). So the repeated increases in the base rate since October last year could have added significantly to your household bills. Standard variable rate mortgages have seen the largest monthly rise in rates since at least 2007, according to Moneyfacts. The average SVR rose by 0.15% to 4.61% at the beginning of March.
Subscribe to MoneyWeek
Subscribe to MoneyWeek today and get your first six magazine issues absolutely FREE
Get 6 issues free
Sign up to Money Morning
Don't miss the latest investment and personal finances news, market analysis, plus money-saving tips with our free twice-daily newsletter
Don't miss the latest investment and personal finances news, market analysis, plus money-saving tips with our free twice-daily newsletter
Time to consider a new deal
Many borrowers will now be wondering if it is time to get a new fixed-rate deal before rates rise any further. Switching to a fixed-rate mortgage could at least guarantee peace of mind that your monthly repayments won't change, regardless of what happens to the base rate. If you're fixing now, you may need to move fast. You have certainly already missed the best rates. "The days of sub-1% mortgage deals are gone," says George Nixon in The Times. The Bank of England base rate has been increased three times, from a historic low of 0.1% to 0.75%, and is widely expected to hit at least 1% this year. Nonetheless, rates remain low enough that the security of knowing any more interest rate rises won't affect you could still be compelling.
The drawback to fixed-rate deals is that they usually come with hefty penalty charges if you want to pay off the mortgage before the term is up. The purpose of this is to stop you changing your mortgage every time rates fall, but it means moving house could be expensive if you want to do it during the fixed term – though some lenders do allow you to port your mortgage to another property. Check your situation before you commit.
Five years may be better value
Two-year fixed rate mortgages tend to be the most popular as they allow you to lock in an interest rate without too many fears about having to pay a large fee if you need to switch deals or move. However, if you are going to opt for a fixed rate now, you may want to bite the bullet and fix for a longer period of time. That's because twoyear rates have been rising in line with the base rate. The best rate you can get today is 1.59% from Reliance Bank.
That said, five-year fixed rates have also risen – the best deal is 1.82% from Lloyds Bank, up from 1.29% six months ago. This amounts to an extra £50 a month on a £200,000 mortgage.
A longer fix
However, if you are very settled in your home with no plans to move, a ten-year fix is looking like an increasingly good deal. "While average two-year fixed mortgages have kept in tandem with the base rate hike… ten-year fixed rates have seen much more sluggish movement," says Michael Brown from Moneyfacts. "Since the beginning of February, the average ten-year fixed-rate mortgage has increased 0.03%. In comparison, the average two year fixed rate increased 0.26% during the same period." The best ten-year rate is 1.95% fixed until 2032 with Halifax. The maximum loan-to-value (LTV) ratio is 60% and there is a product fee of £995. On a £200,000 mortgage, the Halifax deal would cost £843 a month. That's only £35 a month more than the best two-year deal. Whether this is the right deal for you, though, will come down to your personal circumstances and how certain you are that you won't need to change again. The price of such a long fix is a 6% early repayment charge in the first five years.
Start planning
If you're worried about rising interest rates but are already locked into a fixed-rate mortgage, you can still prepare. "Even if you are months from the end of your fixed deal, speak to a bank or mortgage broker to lock in a new rate now," says Nixon. Most lenders will allow you to agree a new rate six months before your deal ends.
Ruth Jackson-Kirby is a freelance personal finance journalist with 17 years' experience, writing about everything from savings and credit cards to pensions, property and pet insurance.
Ruth started her career at MoneyWeek after graduating with an MA from the University of St Andrews, and she continues to contribute regular articles to our personal finance section. After leaving MoneyWeek she went on to become deputy editor of Moneywise before becoming a freelance journalist.
Ruth writes regularly for national publications including The Sunday Times, The Times, The Mail on Sunday and Good Housekeeping among many other titles both online and offline.