Cladding crisis: what new proposals for mean for housebuilders and leaseholders
The government is seeking an extra £4bn from house developers to fix the UK's cladding crisis. Saloni Sardana explains how the new proposals affect both housebuilders and leaseholders.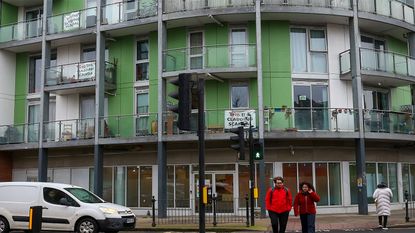 (Image credit: © Hollie Adams/Bloomberg via Getty Images)
Owners of leasehold properties who have seen the cost of fireproofing their flats rise sharply in recent years have been given a ray of hope. Michael Gove, the UK housing minister, told the housebuilding industry that no leaseholder living in a property more than 11 metres tall should "ever face any costs" for fixing dangerous cladding as he announced that the government is seeking an extra £4bn from house developers to fix the UK's cladding crisis.
So what is the cladding crisis and what does that mean?
What is the problem with cladding and why has it gained so much attention?
Cladding is an outer layer of material applied to the external surfaces of tall buildings to improve their thermal efficiency or appearance. It came under scrutiny after the Grenfell Tower fire on 14 June 2017, which claimed the lives of 72 people and left many more injured and homeless.
Subscribe to MoneyWeek
Subscribe to MoneyWeek today and get your first six magazine issues absolutely FREE
Get 6 issues free
Sign up to Money Morning
Don't miss the latest investment and personal finances news, market analysis, plus money-saving tips with our free twice-daily newsletter
Don't miss the latest investment and personal finances news, market analysis, plus money-saving tips with our free twice-daily newsletter
Grenfell Tower had plastic and aluminium panels installed on all sides to improve its insulation. But this cladding made the fire worse and allowed flames to spread more quickly. Since then, defects have been identified in a number of blocks with similar cladding.
This has put leaseholders in a tough spot. Removing cladding can cost millions of pounds, and under the system that operates in England, leaseholders are liable for the costs, so they have been hit with huge bills.
What is the government suggesting?
Until now, the government had said it would only fund the removal of cladding on high rise properties (over 18 metres), not mid-rise properties that typically are between 11 metres and 18 metres high.
Under the government's new plans, developers have until March to fund the removal of cladding on mid-rise buildings, or face new taxes or legal action compelling them to do so.
The rules are expected to cover all housebuilders with annual profits of more than £10m.
Another option currently being considered by the government is to raise the Residential Property Tax – a new 4% tax that applies to residential property developers with annual profits of more than £25m – announced in the October budget by the chancellor, Rishi Sunak.
What has the government done so far?
Former prime minister Theresa May set up the Grenfell Tower Inquiry in 2017 to investigate the circumstances surrounding the fire. In December 2018 the government outlawed combustible cladding materials, including aluminium composite material.
The government has already set up a £5bn "Building Safety Fund", to finance the removal of cladding. But these funds were only available to properties more than 18 metres tall. The £4bn being proposed is just for buildings between 11 and 18 metres.
What sort of issues have leaseholders faced as a result of this?
Many owners of leasehold properties have found themselves out of pocket, having to pay thousands of pounds to fix the problem. In many cases, leaseholders have found themselves trapped in unsellable homes – potential buyers are reluctant to buy buildings with unsafe cladding that they may be liable for fixing.
In an example reported by the BBC, one flat-owner bought a property in a mid-rise block in Essex for £190,000 through a shared-ownership scheme. She paid £57,000 for a 30% stake, renting the other 70%. But when it came to selling the flat in January 2020, the buyer pulled out after discovering the issues with cladding.
According to consumer website Which?, fire safety tests which were introduced by the UK Finance and Building Societies Association and the Royal Institution of Chartered Surveyors in December 2019, called the external wall system (EWS1) check, have also left flats unsellable.
The EWS1 check investigates whether a property is constructed with materials that pose a threat. While it was initially intended to cover only buildings 18 metres or taller, a month after it was launched, the government revised its guidance, meaning an EWS1 check was required for most buildings less than 18 metres tall as well.
Since then, as of July 2020, the government abolished EWS1 checks for buildings less than 18 metres tall and from November 2020, it was no longer required for buildings without cladding. However, for those whose buildings are still covered by EWS1 checks, it can make selling and remortgaging more difficult.
What do housebuilders say?
Housebuilders also claim that the costs are unfair and are calling for other parties, such as cladding manufacturers and the building safety regulator to also be held to account. Matthew Pratt, chief executive of housebuilder Redrow argued: "You can't keep putting all the responsibility on developers. There's still too much ambiguity and we would love the government to clarify what's going on."
Some large developers including Taylor Wimpey and Persimmon have already put more than £500m aside to fix properties. Barratt has gone further and bought back faulty properties. It has also proposed a levy for the industry, which chief executive David Thomas believes has "a collective responsibility to be a part of the solution", reports Investors' Chronicle.
Do the government's new proposals go far enough?
Many people have said the new measures are a step in the right direction, although some people argue that it does not address other fire safety costs unrelated to cladding, such as fire doors, that leaseholders are still grappling with.
It remains unclear which firms will ultimately contribute and whether any existing commitments, such as the £1bn some householders have already contributed, will be factored in.
"Unfortunately the £4bn only goes towards unsafe cladding, and misses out on all of the other potential costs that leaseholders will face for other fire safety defects, such as missing fire breaks, internal compartmentation issues, fire doors and timber balconies," says Alex Dickin, of the Ipswich Cladiators group, a building safety campaign group.
Also it is worth noting that the £4bn does not address the cladding safety of buildings that are less than 11 metres high.
How will this affect housebuilders?
Shares in major housebuilders such as Barratt, Taylor Wimpey and Bellway fell somewhat last week after the announcement. The rationale is simple: if housebuilders have to spend more on cladding remediation, it will eat into their profits.
And of course it's hard to see how this is positive for house building stocks. As UBS analyst Gregor Kuglitsch pointed out, with the current market cap of the sector around £40bn, a £4bn price tag is a hefty 10% chunk of that.
However, the fact that the share price reaction was relatively limited shows that investors might be expressing relief that costs weren't higher. Many builders have already made provisions for remedial efforts and it's also quite possible that they will be able to pass on some of the costs.
As Alex Newman of Investors' Chronicle points out, by contrast to the PPI scandal in banking, housebuilders at least now have a number to work with, and "individual liability appears to be narrowing". In all, "set against huge cash piles, expanding margins and growing land banks, £4bn looks eminently digestible."
Anyone interested in housebuilders might want to listen to investment trust manager Gary Channon discussing the sector (among other things) with Merryn Somerset Webb on the MoneyWeek podcast in October last year.
Saloni is a web writer for MoneyWeek focusing on personal finance and global financial markets. Her work has appeared in FTAdviser (part of the Financial Times), Business Insider and City A.M, among other publications. She holds a masters in international journalism from City, University of London.
Follow her on Twitter at @sardana_saloni