Private equity investment trusts look cheap
Private equity investment trusts are trading at deep discounts to net asset values. This could be a great opportunity for long-term investors.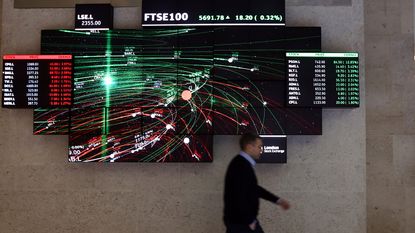 (Image credit: London Stock Exchange © Chris Ratcliffe/Bloomberg via Getty Images)
Private equity and venture capital investment trusts have had a torrid time of it over the past year.
HarbourVest Global Private Equity (LSE: HVPE) and Pantheon International (LSE: PIN) have slumped by more than 20% over the past 12 months and are now trading at discounts to net asset value (NAV) of 42% and 43%, respectively. ICG Enterprise Trust (LSE: ICGT) is off by around 8% and is trading at a discount of 37%.
Even trusts with limited exposure to private firms, such as RIT Capital Partners (LSE: RIT) have faced a reckoning from investors (less than half of its assets are invested in private equity and venture capital funds). Shares in the wealth protection trust are currently trading at a double-digit discount to NAV as investors digest its exposure to private firms.
Subscribe to MoneyWeek
Subscribe to MoneyWeek today and get your first six magazine issues absolutely FREE
Get 6 issues free
Sign up to Money Morning
Don't miss the latest investment and personal finances news, market analysis, plus money-saving tips with our free twice-daily newsletter
Don't miss the latest investment and personal finances news, market analysis, plus money-saving tips with our free twice-daily newsletter
You don't have to look far to see why the market is concerned about the outlook for funds with exposure to private equity.
During 2022 the private equity and venture capital industry fell back to earth after some blowout years in 2020 and 2021. High-profile disasters included the buy now, pay later (BNPL) giant Klarna, which saw its valuation plunge 85% and Stripe, which slashed its valuation by 28%.
With these kinds of valuation declines, it's no surprise investors are approaching private equity and venture capital funds with caution.
Private equity investment trusts trade at a discount
Investment trusts are closed-ended and have a fixed number of shares in issue (unlike open-ended investment funds which issue and subtract units based on the number of investors and the underlying value of investments).
As such, the share price of an investment trust can vary significantly compared to its underlying NAV if, for example, it's popular with investors, it could trade at a big premium to NAV. However, if investors are worried about the quality of the assets in the trust's portfolio, demand for the shares could fall, pushing the stock below the value of its NAV.
That's where private equity and venture capital trusts find themselves today. Investors don't trust the value of their underlying portfolios, so the market is applying a suitable discount.
The multi-million-pound question is, do they deserve this discount?
Is it time to buy private equity investment trusts?
According to Jonathan Moyes, head of investment research at Wealth Club, the performance of private investments can be split into "two camps."
Venture and growth (more speculative) investments "saw a large valuation-driven boom in the lead-up to and post the pandemic" and this trend has now gone into reverse.
On the other hand, buyout investments (where a buyer pays another party for the ownership of the business) didn't see as much growth during the pandemic. Therefore, "buyout performance is relatively flat for the year."
"Anecdotally, we can also see this when talking to venture capital trusts, with valuation declines of as much as 50% in certain highly rated private holdings."
So what does this mean for investors? "There is clearly greater confidence around the valuation of Buyouts vs Venture, which leads one to think those trusts that have a higher weighting towards Buyouts may offer some value to investors," Moyes says.
But while there may be some opportunities in the market for investors to take advantage of, it's important to remember one of the core principles of investing: diversification.
"Long-term investors should resist the urge to second guess the direction of financial markets, and instead seek to build sensible well-diversified portfolios. For suitable investors, adding private equity can enhance portfolio diversification and allow them to gain exposure to much of the world's growth and innovation, which is increasingly occurring outside stockmarkets," he adds.
Investors should also look past these trusts' short-term issues and focus on their ability to build wealth for the long term.
Even though HarbourVest Global Private Equity has underperformed over the past 12 months, it's returned 347% over the past decade, outperforming the FTSE All-Share's relatively pedestrian return of 126%.
Rupert is the Deputy Digital Editor of MoneyWeek. He has been an active investor since leaving school and has always been fascinated by the world of business and investing.
His style has been heavily influenced by US investors Warren Buffett and Philip Carret. He is always looking for high-quality growth opportunities trading at a reasonable price, preferring cash generative businesses with strong balance sheets over blue-sky growth stocks.
Rupert was a freelance financial journalist for 10 years before moving to MoneyWeek, writing for several UK and international publications aimed at a range of readers, from the first timer to experienced high net wealth individuals and fund managers. During this time he had developed a deep understanding of the financial markets and the factors that influence them.
He has written for the Motley Fool, Gurufocus and ValueWalk among others. Rupert has also founded and managed several businesses, including New York-based hedge fund newsletter, Hidden Value Stocks, written over 20 ebooks and appeared as an expert commentator on the BBC World Service.
He has achieved the CFA UK Certificate in Investment Management, Chartered Institute for Securities & Investment Investment Advice Diploma and Chartered Institute for Securities & Investment Private Client Investment Advice & Management (PCIAM) qualification.