Sponsored
Having the time of your life
SPONSORED CONTENT – The auction scene has never been more dynamic. And now seasoned collectors and beginners alike can view and bid on a wide range of items including vintage timepieces online at thesaleroom.com.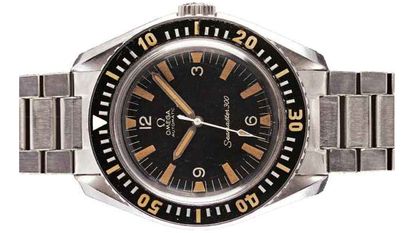 Watches are some of the most personal objects we ever own. We set our lives by them. Every watch has a story and that story is as important as who made it, when and how. Collectors want to know who wore it, when and why. No two watches are ever the same – that's what makes them so appealing to collectors.
The market in vintage timepieces, which mostly consists of "mechanical", as opposed to quartz or digital watches, has soared by 73% over the past decade, according to the latest Knight Frank Wealth Report. And it shows no sign of stopping. Perhaps the market is driven by a sense of longing for a more hands-on, more authentic past in our age of digital domination. The love of all those minuscule cogs, wheels and springs excites the inner nerd in all of us.
The watch that actor Marlon Brando wore on the set of Apocalypse Now (1979) was so important to him, he refused to take it off. So director Francis Ford Coppola allowed it into the film. It became a part of Brando's character, Colonel Kurtz, and with it, silver screen history.
Subscribe to MoneyWeek
Subscribe to MoneyWeek today and get your first six magazine issues absolutely FREE
Get 6 issues free
Sign up to Money Morning
Don't miss the latest investment and personal finances news, market analysis, plus money-saving tips with our free twice-daily newsletter
Don't miss the latest investment and personal finances news, market analysis, plus money-saving tips with our free twice-daily newsletter
So, no wonder, then, that in December, it sold for almost $2m with Phillips auction house in New York. Granted it was a Rolex to start with – a 1675 GMT-Master from 1972 to be precise. But it wouldn't have been worth that amount had Brando not scratched his name into the back.
When buying or selling a watch, it helps to have any supporting paperwork, the original box, and any photographs of the previous owner wearing it. That's especially true if we're talking about a watch that has been worn by somebody famous.
There is a wonderful black-and-white photograph of a stern-looking Brando, wearing Kurtz's dog tags, holding up the Rolex. It goes without saying, with so much history, there's no question of "restoring" a watch like this. Its kinks and scratches tell its story. Brando's watch was even missing its bezel. Importantly, however, everything else about it, minus the strap, was entirely original. And while Brando's military exploits in the film may have been fictitious, watches that have "seen action" tend also to command a premium.
Rolex Explorers and Submariners (such as the one Sean Connery wore as James Bond in Goldfinger), as well as Omega Seamasters and Speedmasters are names on every collector's wish list but do look out for lesser-known brands, too, such as Universal Geneve. They are all riding a wave of popularity at the moment.
Determining which watches will be tomorrow's highly prized treasures, and learning about their histories, is all part of collecting. And remember, you pay a markup when you shop for a new watch on the high street.
At auctions, you can find a wide range of vintage watches at attractive prices. But above all else, you can have fun while you're doing it.
A BREATH OF FRESH AIR
The UK – and international – auction scene has never been more dynamic. A generation ago bidding was done in an auction house's premises and was largely dominated by specialist dealers.
Then the internet and thesaleroom.com came along. Seasoned collectors and those just starting out were able to peruse a wide range of items online at their leisure, including those offered by smaller regional auction houses around the country.
In fact, on thesaleroom.com you can follow auctions with live audio and video feeds and bid in real-time against other people in the room. You can still choose to experience the drama of the sale in person, of course. But, together with telephone bidders, online auction buyers add an extra thrilling element to the mix.
Whether you're hunting for a vintage watch, designer handbags, art or ceramics, you'll find it among the nearly four million unique items for sale at thesaleroom.com.
We work with over 600 trusted auction houses from around the world who value and assess each item to bring you timeless treasures. Spotting the items that might gain in value is something that's all part of the collecting experience.
It's no wonder over one million people visit thesaleroom.com every month. They know we are Europe's leading marketplace for art and antiques.
For ideas and tips on buying watches and collectables at auction, thesaleroom.com has a wide range of online Buying Guides for the most popular categories, including wristwatches, jewellery, silver, whisky and glass.
Five of the best watch auctions coming up on thesaleroom.com:
Discover these and a whole world of antiques, fine art and collectables for sale at auction on thesaleroom.com.