Carbonados: the enigma of black diamonds
Chris Carter reports on the extremely rare black diamonds that fetch millions at auction.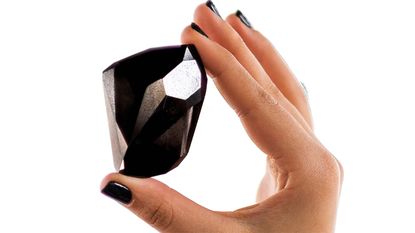 (Image credit: © Sotheby's)
Provenance is usually one of the first things auction buyers want to know. But when it comes to the Enigma, a 555.55-carat Fancy Black Natural Colour diamond that went on sale with Sotheby's earlier this month, that is a mystery. The prevailing theory is that it came from outer space, either from a meteoric impact or from a diamond-bearing asteroid that collided with Earth, says Sotheby's. That event probably took place some time between 2.6 billion and 3.8 billion years ago. What we do know is that it is big. The Guinness Book of World Records certified the Enigma as the world's largest cut diamond in 2006.
Black diamonds are only found in two places on Earth – Brazil and the Central African Republic. Both locations were once connected on the supercontinent of Rodinia. The diamonds are also known as carbonado, after the Portuguese word meaning burnt or carbonised – the first miners to find them in eastern Brazil in the 1840s named them for their sooty appearance. That these rare diamonds come from such a localised area adds credence to the meteor theory. They also contain traces of osbornite, a mineral only found on rocks that originated far off in space.
Not everybody subscribes to the interstellar theory, says Maya Wei-Haas in National Geographic. But the presence of sponge-like holes, found in all carbonados, suggests the diamonds couldn't form deep in the Earth's mantle, like most diamonds, as they would be crushed by the enormous pressure. Others contend that the cavities were once filled with other minerals that have since washed away, or that they are, in fact, fossils of the creatures that first inhabited our planet. Either way, black diamonds are certainly tough, which is why they have been used as drill bits and industrial abrasives.
Subscribe to MoneyWeek
Subscribe to MoneyWeek today and get your first six magazine issues absolutely FREE
Get 6 issues free
Sign up to Money Morning
Don't miss the latest investment and personal finances news, market analysis, plus money-saving tips with our free twice-daily newsletter
Don't miss the latest investment and personal finances news, market analysis, plus money-saving tips with our free twice-daily newsletter
It took three years to shape the Enigma's 55 facets in a process that Sotheby's describes as "near impossible". Such a unique diamond was sold by Sotheby's without reserve. It sold for almost £3.2m.
Generally, though, it's the more colourful diamonds that fetch the highest bids – and blue diamonds, in particular, really sparkle. Take the De Beers Cullinan Blue, a Fancy Vivid Blue diamond, as graded by the Gemological Institute of America (GIA), the highest possible colour rating. Blue diamonds are already the rarest of coloured diamonds. Of these, only 1% are awarded the coveted grading, and the Cullinan Blue, at 15.1 carats, is big too. No blue diamond over 15 carats has ever appeared at auction, which is why Sotheby's expects it to make around $48m in late April. It could even overtake the $48.5m fetched by the 12-carat the Blue Moon of Josephine in November 2015, when it became the most expensive diamond per carat.
Napoleon's trinkets
A jewel-encrusted sphinx talisman (above), purported to have belonged to Napoleon, is to be auctioned in the US on 4 March, with a "jaw-dropping" estimate of $150m-$250m, says Ben Davis on Artnet News. Art historian are sceptical.
The story, according to an official website, begins in late 2004, when the present owner, Glenn Randall "Randy" Jensen, came across it listed on eBay. The seller's father had dug it up in the Netherlands as a teenager and Jensen was able to obtain it in exchange for a set of golf clubs. Jensen set about decoding the Rosicrucian (referring to the spiritual movement holding that a "secret wisdom" has been handed down through a brotherhood since antiquity) symbols on the sphinx. The 114 precious stones, plus the quartz crystal sphinx, can be expressed as "114 + 1", with the central "14" representing the 14th letter of the alphabet, N. The 1s either side added together equal two, representing the second letter of the alphabet, B – the initials of Napoleon Bonaparte.
The website calls on a number of "experts" to back up the claim, including 1950s singer Pat Boone. Another is mathematician Shih-Chuan Cheng of Omaha's Creighton University. His probability analysis produced 27 factors listing the arguments that tie the talisman to Napoleon, under the heading "It's a mathematical impossibility to disprove the authenticity of the Talisman of Napoleon Bonaparte!" Then, two weeks ago in a press release, the sellers announced "a remarkable twist" – the "discovery" of a Rosicrucian medal that had belonged to Napoleon, stolen from The Briars Museum in Australia in 2014, with a number of similarities to the talisman. "The two treasures are connected beyond mere coincidence," notes the release. Never mind what happens at the auction, says Davis – "what a story!"
Auctions
Going… The original photograph of Le Violon d'Ingres (pictured), surrealist artist Man Ray's masterpiece from 1924, of a nude woman whose back is adorned with violin markings that emphasise her hourglass figure, is to be sold with Christie's in May, says The Wall Street Journal. The title of the photo is a French idiom for "hobby", referring to painter Jean-Auguste-Dominique Ingres's famous wish to be known for his violin-playing. How it fares at auction "should offer a fresh test of demand for surrealist works and vintage photography overall". It is expected to sell for at least $5m.
Gone… A rare photograph of a teenage Princess Elizabeth and her sister, Princess Margaret, in costume for a pantomime at Windsor Castle, sold at auction for £800 with Cambridgeshire auctioneers William George last month, says ITV News. The future Queen, then aged 18, was acting the part of Lady Christina Sherwood in a 1944 performance of Old Mother Red Riding Boots, which had been put on for the benefit of the armed forces and local children. Princess Margaret, aged 14, played the Honourable Lucinda Fairfax. The photograph and accompanying programme and ticket had belonged to Stanley Williams, the former superintendent of Windsor Castle.
Chris Carter spent three glorious years reading English literature on the beautiful Welsh coast at Aberystwyth University. Graduating in 2005, he left for the University of York to specialise in Renaissance literature for his MA, before returning to his native Twickenham, in southwest London. He joined a Richmond-based recruitment company, where he worked with several clients, including the Queen's bank, Coutts, as well as the super luxury, Dorchester-owned Coworth Park country house hotel, near Ascot in Berkshire.
Then, in 2011, Chris joined MoneyWeek. Initially working as part of the website production team, Chris soon rose to the lofty heights of wealth editor, overseeing MoneyWeek's Spending It lifestyle section. Chris travels the globe in pursuit of his work, soaking up the local culture and sampling the very finest in cuisine, hotels and resorts for the magazine's discerning readership. He also enjoys writing his fortnightly page on collectables, delving into the fascinating world of auctions and art, classic cars, coins, watches, wine and whisky investing.
You can follow Chris on Instagram.