NFTs – the blockchain art frenzy
Non-fungible tokens (NFTs) became big business for the art world in 2021. Chris Carter reports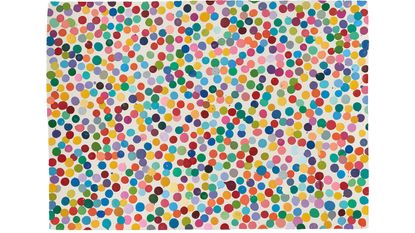 (Image credit: © Heni's)
If there was one word, or rather one acronym, that defined the world of collectables in 2021, it was NFT ("non-fungible token"). And it was artist Michael Winkelmann, better known as Beeple, who lit the blue touchpaper in March. For while NFTs – unique digital artworks, or indeed, pretty much anything that can be rendered into a computer file – had been around for a few years already, it was the auctioning of his work Everydays: the First 5000 Days (2021) for $69.3m (£52.3m) that led to the explosion of interest in all things crypto.
NFTs are the artsy sister of bitcoin, with which it shares blockchain technology. To demur was to be left behind. Blockchain art became the coolest thing since American pop artist James Rosenquist painted sliced bread in 1964. All you needed was a computer and an internet connection. Amid the frenzy, an original Banksy was burned so that it could live on solely in the digital realm. The NFT sold for $382,000. (The print was called Morons.)
NFTs go mainstream
Nobody was talking about the Botticelli that sold for £92m in January anymore. Out with the Old Masters, in with the new. Even top-tier auction houses, led by Christie's, were falling over themselves to relieve collectors of their ether – the art collector's cryptocurrency of choice – lest they be overtaken by upstart start-ups. Credit-card giants, too, sat up and took notice.
Subscribe to MoneyWeek
Subscribe to MoneyWeek today and get your first six magazine issues absolutely FREE
Get 6 issues free
Sign up to Money Morning
Don't miss the latest investment and personal finances news, market analysis, plus money-saving tips with our free twice-daily newsletter
Don't miss the latest investment and personal finances news, market analysis, plus money-saving tips with our free twice-daily newsletter
In August, Visa, with its $373bn market cap, announced it wasn't so much as testing the water of crypto-finance as "jumping in feet first", according to Visa's crypto expert Cuy Sheffield. It did this by buying a "CryptoPunk" – one of 10,000 tiny pixelated images of heads that are all slightly different – for a reported 49.5 ether, or roughly $150,000 in old money. Visa was trying to gain an "understanding of the infrastructure requirements for a global brand to purchase, store, and leverage an NFT", while also "[signalling] our support for the creators, collectors and artists driving the future of NFT-commerce", Sheffield said.
Within an hour of the purchase, another 90 CryptoPunks, which in August sold for an average of around $199,000 each, had been sold, reported Artnet News. The corporate endorsement had been well received. As recently as last Friday, another CryptoPunk – PUNK #4156, one of 24 "Ape" punks – reportedly sold for 2,500 ether at auction, equivalent to $10.2m. It had been bought in February for "just" 650 ether, netting the seller a $9.8m profit.
Physical or digital
Money isn't just changing hands, then – it's changing. Visa hasn't been alone in running experiments into what the future heralds for NFTs. Damian Hirst has too. In July, the artist sold 10,000 almost identical spot paintings – the same number as CryptoPunks – to the public for $2,000 each.
The buyers can either choose to keep the physical paper versions, which, like pound notes, come with watermarks and holograms, or they can choose to keep the digital NFT version. But they can't keep both. Choose the paper version and the NFT gets deleted from the digital ledger next July. Choose the NFT, and, like the Banksy above, the corresponding physical artwork gets incinerated. All in the name of economic theory. Former Bank of England governor Mark Carney was even on hand to lend credence to the project – which Hirst calls The Currency – by interviewing the artist about his motives and what he hoped to achieve.
The future of philately
Stamp dealer Stanley Gibbons will be hoping collectors haven't completely given up on physical assets. In June, the company took a gamble by buying the only known example of the British Guiana 1c Magenta at Sotheby's in New York for $8.3m. After flying the
1c Magenta back to London, the dealer launched its fractional ownership scheme last month, whereby collectors are invited to buy a share of the tiny stamp, which is, gram for gram, said to be the most valuable man-made object in existence. And yet no secondary market was announced at the time, making it harder for owners to sell their shares – something a digital ledger (ie, the blockchain) could have facilitated.
But why bother owning the "Mona Lisa of the stamp world", as the 1c Magenta has been called, when you can own the "Everydays of stamps"? Late last month, the online shop of Swiss Post crashed due to demand for its new "crypto stamp". Buyers can purchase a regular physical stamp for CHF 8.90 (£7.30). With it, they get a digital version depicting one of 13 designs, which they are free to collect and trade. Thankfully, there is no requirement to burn the physical stamps – owners are at liberty to affix them to their Christmas cards in the usual way. Who knows, the idea could even spark a revival in old-style stamp collecting, which has been stuck in the doldrums for several years. Crypto stamps may even be the future of philately. Stanley Gibbons should take note.
Chris Carter spent three glorious years reading English literature on the beautiful Welsh coast at Aberystwyth University. Graduating in 2005, he left for the University of York to specialise in Renaissance literature for his MA, before returning to his native Twickenham, in southwest London. He joined a Richmond-based recruitment company, where he worked with several clients, including the Queen's bank, Coutts, as well as the super luxury, Dorchester-owned Coworth Park country house hotel, near Ascot in Berkshire.
Then, in 2011, Chris joined MoneyWeek. Initially working as part of the website production team, Chris soon rose to the lofty heights of wealth editor, overseeing MoneyWeek's Spending It lifestyle section. Chris travels the globe in pursuit of his work, soaking up the local culture and sampling the very finest in cuisine, hotels and resorts for the magazine's discerning readership. He also enjoys writing his fortnightly page on collectables, delving into the fascinating world of auctions and art, classic cars, coins, watches, wine and whisky investing.
You can follow Chris on Instagram.