Collectables: rum comes of age
Rum, the party spirit, is being taken seriously by collectors, says Chris Carter.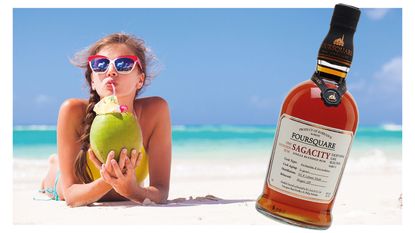 (Image credit: © Getty Images/iStockphoto)
No longer just the frivolous spirit of pretty cocktails and beach parties, rum has come of age. Sales shot up by 53% over the past 12 weeks, making it the "spirit of the summer", according to Waitrose. "We've been anticipating the year of rum for a while and it has finally arrived," says John Vine, a spirits buyer at the supermarket. And while white rum is still the overwhelming mass-market favourite, "sipping rums" are becoming more popular.
Globally, during the five years to 2019, sales at the cheaper end grew by just 0.6%, according to research from IWSR Drinks Market Analysis. But in that same time, as Emily McAuliffe notes for BBC News, the high-end section of the market, comprising bottles costing $28 and more, grew by 8.3%. It seems the world is developing a taste for the finer stuff, even if rum still has some way to go before catching up with the sky-high prices fetched by some rare whiskies. But is that the right comparison to make?
Rum versus whisky
"Comparisons are often made between the whisky trade and aged rums, but it's not that simple," Isabel Graham-Yooll, auction and private client director at Whisky.Auction, tells MoneyWeek. "It was notable that whisky enthusiasts in particular, with their pre-existing knowledge and experience of the spirits market, were quick to identify highly collectable rums, for example from closed distilleries, with the most interesting flavour profiles. My tip would be to follow their lead." Dawn Davies, head buyer at The Whisky Exchange, an online retailer of a wide range of rums, and sister company to Whisky.Auction, agrees. "There is not the same market for aged rums," she says. "Although those in the know will pay well for old bottles of Wray and Nephew – a 1940s Wray went for $55,000, the 1780 Harewood rum went for over $100,000 [in 2014] – there is definitely a growing interest."
Subscribe to MoneyWeek
Subscribe to MoneyWeek today and get your first six magazine issues absolutely FREE
Get 6 issues free
Sign up to Money Morning
Don't miss the latest investment and personal finances news, market analysis, plus money-saving tips with our free twice-daily newsletter
Don't miss the latest investment and personal finances news, market analysis, plus money-saving tips with our free twice-daily newsletter
The best rum deals
So, where next for the rare rum market? "In the last decade, I have noticed a lot of rum brands trying to break through, but that is really only part of the story," says Graham-Yooll. "It's the special rums that are most sought-after and the race is on to find the next great cask, perfectly aged from an underappreciated distillery."
"We're seeing even recent bottlings such as Destino by Foursquare and Velier going at auction for double their release value," adds Davies. "The closed Caroni distillery is where many rum collectors begin, but in truth every region, every island, has its own unique style, so good collectors quickly learn to identify the bottlers, such as Velier, that routinely hunt down the best rums," says Graham-Yooll. Davies also likes Caroni, along with Uitvlugt and "old bottlings of Wray and Nephew, and Bacardi".
Millennials are among the "biggest collectors", but there are lots of established spirits collectors who are "good at identifying the best bottles to buy", says Graham-Yooll. "It is not the general consumer buying these rums, but people with knowledge," Davies agrees. "I would say [it's] rum geeks."
Surf's up!
Rum-based tiki cocktails, golden beaches and shaggy-haired dudes clutching longboards are what springs to mind when we think of surf culture. But there is more to it than that, says Bonhams. "Surfing is a lifestyle, comprising not just surfboards, but also the art, music, and literature that has grown up around it." The history of surfing is "the story of innovation in the pursuit of pleasure. There is always a better wave; there is always a better board", says Catherine Williamson, director of entertainment memorabilia at the auction house, which is hosting an online sale in partnership with Turner Classic Movies (it runs until Wednesday). Bonhams will be hoping that sentiment still holds true among the bidders for its array of surfboards, such as the Pacific Systems Square Nose Redwood from the 1920s. It is valued at up to $10,000.
Auctions
Going…
A bottle of the oldest Japanese whisky, a 55-year-old Yamazaki (pictured), is to be sold with Bonhams in Hong Kong on 21 August. It was released in June through a lottery system to residents in Japan. All 100 bottles were distilled in the 1960s and matured in Japanese Mizunara oak and white oak casks, giving the whisky a "deep reddish amber colour with a complex agarwood and sandalwood nose, rich in fruity scents... [and] a sweet aftertaste". The gold-dusted bottle is housed in a black Mizunara oak box with Suruga lacquer, while the bottle mouth is wrapped in handmade Echizen Washi (a type of paper) and tied with a traditional Kyoto braided cord. It has been given an upper price estimate of HK$780,000 (£77,000).
Gone…
A rare bottle of 80-year-old Moutai, a brand of the traditional Chinese sorghum-based spirit baijiu, sold for ¥1.97m (£216,000) at an auction in eastern China last month – twice the pre-auction estimate. The bottle bears the "Lay Mau" label, which changed after the brand merged with three other distillers in southwestern China in 1953 to form the current state-owned company and widely known brand Kweichow Moutai. Vintage barrels and bottles of baijiu are popular among collectors in China and prices have been rising in recent years, says Natalie Wang on The Drinks Business.
Chris Carter spent three glorious years reading English literature on the beautiful Welsh coast at Aberystwyth University. Graduating in 2005, he left for the University of York to specialise in Renaissance literature for his MA, before returning to his native Twickenham, in southwest London. He joined a Richmond-based recruitment company, where he worked with several clients, including the Queen's bank, Coutts, as well as the super luxury, Dorchester-owned Coworth Park country house hotel, near Ascot in Berkshire.
Then, in 2011, Chris joined MoneyWeek. Initially working as part of the website production team, Chris soon rose to the lofty heights of wealth editor, overseeing MoneyWeek's Spending It lifestyle section. Chris travels the globe in pursuit of his work, soaking up the local culture and sampling the very finest in cuisine, hotels and resorts for the magazine's discerning readership. He also enjoys writing his fortnightly page on collectables, delving into the fascinating world of auctions and art, classic cars, coins, watches, wine and whisky investing.
You can follow Chris on Instagram.