Weight-loss pills will change the world
Treatments that help fight the flab could have a huge impact on several industries, says Merryn Somerset Webb.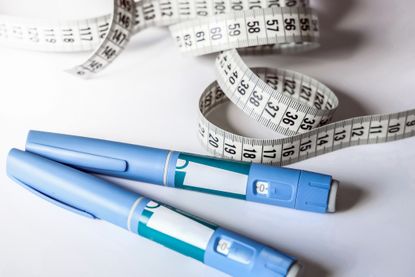 (Image credit: Getty Images)
What if everyone were thin? As thin as people tended to be before the 1970s? It sounds ridiculous, of course – today 26% of the UK population is obese and another 38% are overweight; 40% of the US population is obese. But it isn't ridiculous. Hunger-suppressing weight-loss drugs look as if they might soon transform our world: it seems that those taking the drug Wegovy lose on average around 15% of their body weight in the first year.
Morgan Stanley estimates that around 24 million people (7% of the US population) will be taking these drugs in the US by 2035. I'd say this is a huge underestimate. If you are overweight and there is a drug that you can take to make you slim with no particularly unpleasant side-effects and no particular effort on your part, why would you not take it? So let's assume that it is not 7% of the population but more like 30%. What would that mean?
Slimming down the state
The first thing that might happen is the complete transformation of our fiscal situation. Last month the Institute for Fiscal Studies published a paper that suggested that by 2036 one in 11 workers in England could be working for the NHS, and that they would make up almost 50% of our public-sector workers. The NHS currently takes up around 45% of public spending and by then will surely have smashed through 50%.
Subscribe to MoneyWeek
Subscribe to MoneyWeek today and get your first six magazine issues absolutely FREE
Get 6 issues free
Sign up to Money Morning
Don't miss the latest investment and personal finances news, market analysis, plus money-saving tips with our free twice-daily newsletter
Don't miss the latest investment and personal finances news, market analysis, plus money-saving tips with our free twice-daily newsletter
But here's something to think about. One in ten of the over 40s in the UK has diabetes. Over 10% of the NHS budget is spent on diabetes and complications from diabetes, a number forecast to hit 17% by 2035. Most of that is about Type-2 diabetes, which is in turn very often a function of being overweight. Imagine that cost to the public purse just disappearing. Sure, the drugs themselves aren't exactly free. Getting Wegovy privately in the UK costs around £50 a week at present. But that cost will come down (particularly if the NHS bulk buys) and either way is unlikely to come to 10% of the current NHS budget.
And it isn't just diabetes, of course. Obesity is also linked to many cancers (the first thing a doctor asked me on the phone when I had a recent scare was if I was a "larger lady"), to heart disease, to dementia and to depression. Imagine what we spend on all those being slashed too. Then imagine the benefits bill declining. The number of people on disability allowance in the UK has risen to 6.3 million – up from 2% of the population in the 1950s to more than 6% now. Sick days from those in work will surely slide too. State spending down, productivity and national happiness up. Sharply. All that with one drug? Maybe.
But it isn't just the state (and our states of mind) that might be transformed by thinness. It is the food industry too. The new drugs reduce the calorific intake in patients by some 20%-30%, says Morgan Stanley. They snack less – from more than three times a day to fewer than two, for example. And the foods patients cut back on most? High-sugar, high-fat, highly processed and high-margin foods. Think fizzy drinks, processed baked goods, confectionery and crisps. On Morgan Stanley's numbers (7% of people taking the drugs) that means overall consumption of these various poisons will fall by "up to 3%" by 2035. That should be "manageable", reckons Morgan Stanley, especially if firms adapt "by reshaping their product portfolios" to offer healthier options: 44% of those the firm surveyed said that while on the drugs they were eating more "weight-loss management foods".
However, if – as I rather suspect – an awful lot more people demand the drugs, that fall is going to be rather more painful for Big Food. If 7% getting the drugs means a 3% fall in demand, might 30% getting them mean a 12% drop? Plus a little extra as everyone else notices that not eating this stuff makes you less fat? Maybe. It's something for all those investors who reckon Big Food firms are defensive and low-risk long-term to ponder.
Fast-food restaurants might be in some trouble too: 77% of those taking the drugs say they go to fast food restaurants less often; 74% go to pizza restaurants less often; and 60% even go to coffee shops less often – and are presumably less likely to have one of those giant (and very high-margin) pieces of cake when they do. The same goes for companies running weight-loss programmes. Who needs to put up with a nagging app when the weight is coming off without it?
There will be winners from all this of course. The pharmaceutical industry is an obvious one. Morgan Stanley also reckons that retailers with pharmacies will see good sales growth as demand for weight-loss drugs go up. But this seems far from a given. As nations lose weight so surely the demand for other drugs should fall fast (who will need the standard diabetes drug metformin any more, for example?).
If it really does turn out that these drugs work long-term (the jury is still very much out) it is more likely that the winners will be taxpayers (as the demands on the state fall a little) and a different group of businesses altogether: restaurants serving reasonably sized portions of unprocessed food and fresh-food retailers; and even farmers may get a look in – 54% of people taking the drugs claim they eat more vegetables and 38% more fish and poultry. Farmers and taxpayers are not used to good things coming their way. Weight-loss drugs might finally give both of them a break.
Merryn Somerset Webb started her career in Tokyo at public broadcaster NHK before becoming a Japanese equity broker at what was then Warburgs. She went on to work at SBC and UBS without moving from her desk in Kamiyacho (it was the age of mergers).
After five years in Japan she returned to work in the UK at Paribas. This soon became BNP Paribas. Again, no desk move was required. On leaving the City, Merryn helped The Week magazine with its City pages before becoming the launch editor of MoneyWeek in 2000 and taking on columns first in the Sunday Times and then in 2009 in the Financial Times
Twenty years on, MoneyWeek is the best-selling financial magazine in the UK. Merryn was its Editor in Chief until 2022. She is now a senior columnist at Bloomberg and host of the Merryn Talks Money podcast - but still writes for Moneyweek monthly.
Merryn is also is a non executive director of two investment trusts – BlackRock Throgmorton, and the Murray Income Investment Trust.