The debt ceiling illustrates America's empire of debt
The US has never quite got the hang of the conquering business as the debt ceiling debate shows.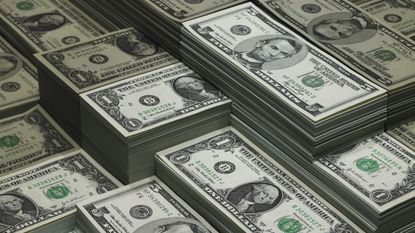 (Image credit: © Getty images)
America's debt ceiling debate shows we have reached a turning point. Trouble is, the authorities may not turn. They need to turn away from moneyprinting, deficits and expensive overseas meddling. Typically, the ruling class can't do it.
These things increase their wealth and power; they don't want to give them up. Instead, they use tricks, disguises and brute force to keep the racket going, all the way to the disastrous end. Will this time be different?
In the boom of 2009-2022, anything seemed possible. Money grew on trees. And the trees all got the Fed's MiracleGro. It could be used to pay for pointless wars, investments that didn't pay off, deficits, zombies – you name it.
Subscribe to MoneyWeek
Subscribe to MoneyWeek today and get your first six magazine issues absolutely FREE
Get 6 issues free
Sign up to Money Morning
Don't miss the latest investment and personal finances news, market analysis, plus money-saving tips with our free twice-daily newsletter
Don't miss the latest investment and personal finances news, market analysis, plus money-saving tips with our free twice-daily newsletter
No more. Inflation changes everything. It raises prices. And higher prices make consumers unhappy and voters restless. The social fabric wrinkles... then rips.
The middle class bears the brunt. The poor have their inflation-adjusted handouts. The rich have their inflationboosted financial assets. The middle class has neither.
All it has is its time – which it sells by the hour. Inflation depreciates time. Long-term investments aren't made. Long-term bonds get marked down. And real wages per hour have been falling for the last two years.
Meanwhile, inflation increases house prices. But a home is not a financial asset. Families can't "cash out"; they have to live somewhere. All they can do is borrow against the "equity".
And then they are trapped; they will need low interest rates to refinance – or lose their homes. In countries with severe inflation, the middle class gets squeezed so hard it vanishes.
In Venezuela, Argentina, Zimbabwe... as inflation rates went up, the middle class sank into poverty. That's why democracy is incompatible with inflation.
The many poor are dependent on government handouts; they are easily bamboozled and bribed. And the elite get to be good at it. They become "extractive" – that is, they use their skills and power to make themselves rich at others' expense.
An honest democracy needs a free, informed middle class. It needs a yeoman class – people who own their own farms and houses, pay the taxes, are ready to protect the homeland, and vote independently.
But what's happening? Middle-class Americans remain the biggest income group by number of people, says Statista; but the same can't be said of its income. From 1970 to 2021, the share of US aggregate income earned by the middle class shrank from 62% to 42%.
Over the same time, aggregate earnings by high-income Americans rose from 29% to 50%. The disappearance of the middle class corresponds with another of the great conceits we can no longer afford: an empire.
Almost two decades ago, we wrote a book with Addison Wiggin called Empire of Debt. It was a best-seller, written in 2005 when US debt was $13trn or 60% of GDP. Today, it's $32trn, 120% of GDP.
The gist of our book is that though the US has been in the empire racket for more than a 100 years, it has never gotten the hang of it.
It extends its power and it offers protection to nations who obey, but war and sanctions to those who don't. The trouble is, it loses the wars and loses money on the whole enterprise.
The idea of an empire is that you conquer and steal, and then demand tribute. It's supposed to be at least self-financing, and usually profitable.
But the US stumbles and bumbles. It has the expense of conquering, then the expense of governing, and the extra cost of "building a democracy". But where's the pay-off? The booty? The tribute?