How much is King Charles III worth?
What will King Charles III inherit from the late Queen? Will he have to pay inheritance tax? And how large is his personal fortune and estate?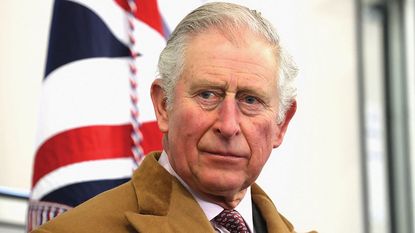 (Image credit: © Chris Jackson - WPA Pool /Getty Images)
How rich is King Charles III?
Unless Elizabeth II has given her family an almighty shock by overturning all dynastic principles stretching back centuries, King Charles III will be inheriting, along with the Crown, a large personal fortune.
We can't know for certain how much: the late monarch's personal will is not due to be made public until 2112. Most commentators assume that Charles is inheriting the Queen's privately owned estates – Balmoral and Sandringham, including the Royal Studs – as well as her collection of jewellery, art and rare stamps.
The stamps are important: the queen's personal collection is valued at £100m alone. Adding in speculative figures for financial investments, Forbes recently put the Queen's total private net worth at $500m. That's in the same ballpark as the most recent Sunday Times Rich List guesstimate (£370m) and that of a third widely cited estimate by author David McClure, author of The Queen's True Worth, who reckons £400m.
Subscribe to MoneyWeek
Subscribe to MoneyWeek today and get your first six magazine issues absolutely FREE
Get 6 issues free
Sign up to Money Morning
Don't miss the latest investment and personal finances news, market analysis, plus money-saving tips with our free twice-daily newsletter
Don't miss the latest investment and personal finances news, market analysis, plus money-saving tips with our free twice-daily newsletter
Not a billionaire, then?
Not unless you count assets, worth tens of billions, that are owned by the monarch in trust as sovereign, or "in right of the Crown". These include nine royal palaces, castles and residences worth a total of $9.5bn (reckons Forbes, which values Buckingham Palace alone at $4.9bn). The Crown Jewels are worth about $4bn (according to a 2019 estimate by the Royal Institution of Chartered Surveyors). The rest of the Royal Collection (including artworks by Rembrandt, Vermeer, Caravaggio and Leonardo Da Vinci) adds another $8.7bn, according to one 2017 estimate.
And biggest of all is the Crown Estate, a sprawling property portfolio with $17.5bn in net assets, including Regent Street, Ascot racecourse and virtually the entire seabed of the UK up to 12 miles from the coast. Of course, the monarch doesn't properly own these assets. If Charles III tried to sell off Buckingham Palace and pocket the proceeds, he would soon find his reign becoming as unpleasantly eventful as that of his namesake predecessor Charles I. But although the king doesn't own the Crown Estate, he does draw an income from it.
How much money does the King get from the Crown Estate?
Last year it was £85.9m, which was 25% of the Crown Estate's profits in 2018-2019. Since the 1760 Civil List Act, as Great Britain continued its evolution as a constitutional monarchy under the indebted George III, the monarch has "allowed" the state to control the Crown Estate on his or her behalf. Profits go to His Majesty's Treasury, which makes an annual payment to the sovereign.
In 2012, this system was tweaked, and the various classes of different Civil List monies were unified under one "Sovereign Grant". From the monarchy's point of view, the new system has the benefit of being permanent (unless modified by act of parliament), rather than reign-specific. And although the Sovereign Grant is calculated as a percentage of Crown Estate profits, it has the handy feature of being protected by law from decreasing in years when Crown Estate revenues decline.
Any other sources of income?
Yes. No one outside the royal household knows for sure the extent of the monarch's private financial wealth and income from investments, but a further public, and more direct, income than the Sovereign Grant comes from the Duchy of Lancaster, the large private estate that has belonged to the reigning monarch since 1399. Today its holdings are worth £653m, and include 18,248 hectares of land, including farmland across Cheshire, Lancashire, Staffordshire and Yorkshire. Last year the net surplus received, known as the "Privy Purse", was £24m.
As king, Charles III has inherited the Duchy of Lancaster, and passed the (rather bigger) Duchy of Cornwall to his heir, Prince William. This private estate, set up by Edward III in 1337 to fund the heir to the throne, has assets of £1.05bn and a surplus of £23m in its 2022 report. Charles has been a hands-on duke, personally chairing the Prince's Council (board of directors), and its assets have grown in recent years.
How much tax does King Charles III pay?
We don't know. Legally, the monarch is not obliged to pay any tax at all. However, the Queen began to pay income and capital gains tax on a "voluntary" basis in 1993, following years of growing disquiet about the blanket exemption. King Charles has let it be known that he intends to do the same, and in the past he has voluntarily paid tax on income from the Duchy of Cornwall.
Under the same agreement, brokered by the John Major government, the monarch pays income tax on revenues from the Duchy of Lancaster, and there is no inheritance tax payable on any assets passed from the Queen to her son and successor. If she has left private wealth to other members of her family – as seems possible – those assets will be subject to inheritance tax.
What might change in the future?
There is talk of a "slimmed down monarchy" with less expensive pomp and fewer working royals. But unless the settlement is renegotiated, there is every sign that Crown Estate revenues will keep rising. McClure calls the Sovereign Grant a "golden ratchet". Since 2012, the sum paid to the monarch – to cover living costs such as staff, travel and the upkeep of palaces – has risen sharply, from £31m at its introduction to £86m in 2021-2022. In 2016, the grant was increased from 15% of Crown Estate profits to 25%, to help pay for repairs to Buckingham Palace.
Even if it does revert to 15%, its profits are set to be swollen in coming years thanks to valuable leases for offshore wind farms on seabed owned by the estate. So we should "not expect a thrifty monarchy just yet", says The Economist. In an auction earlier this year, energy consortiums purchased option fees which could add up to £8.8bn in revenues for the Crown Estate over the next decade. Even at 15%, quite a windfall for the Windsors.
Simon Wilson's first career was in book publishing, as an economics editor at Routledge, and as a publisher of non-fiction at Random House, specialising in popular business and management books. While there, he published Customers.com, a bestselling classic of the early days of e-commerce, and The Money or Your Life: Reuniting Work and Joy, an inspirational book that helped inspire its publisher towards a post-corporate, portfolio life.
Since 2001, he has been a writer for MoneyWeek, a financial copywriter, and a long-time contributing editor at The Week. Simon also works as an actor and corporate trainer; current and past clients include investment banks, the Bank of England, the UK government, several Magic Circle law firms and all of the Big Four accountancy firms. He has a degree in languages (German and Spanish) and social and political sciences from the University of Cambridge.