Will higher trade-union power cause a wage-price spiral?
Inflation is hotting up, leading workers to demand wage rises to compensate. Union membership is on the rise again. Will this spark a wage-price spiral? Stuart Watkins reports.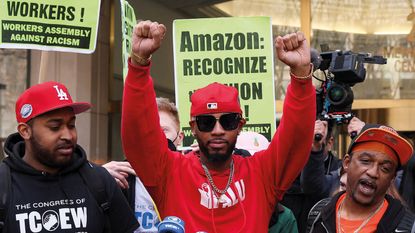 (Image credit: © Reuters)
What's happened?
The cost of living crisis; rising taxes and prices, especially for energy; redundancies and other hardships imposed by the government's response to Covid-19; the increasingly insecure nature of work for many; decades of inflationary monetary policy; war and supply-chain disruptions – all have laid the foundation for a revival in trade-union membership that may mark the start of a new golden age for the movement. Union membership rose by 118,000 to
6.6 million in 2020, the fourth year in a row that it has increased, says Anne Cassidy for the BBC.
In the US, the overall level of union membership has remained flat, but among workers aged 25-34 it rose from 8.8% in 2019 to 9.4% in 2021. The experience of home working may have contributed to the resurgence, says Cassidy, as people stuck in their bedrooms felt the lack of collective community and became more intolerant of bad practices at work that affect mental health and wellbeing.
Subscribe to MoneyWeek
Subscribe to MoneyWeek today and get your first six magazine issues absolutely FREE
Get 6 issues free
Sign up to Money Morning
Don't miss the latest investment and personal finances news, market analysis, plus money-saving tips with our free twice-daily newsletter
Don't miss the latest investment and personal finances news, market analysis, plus money-saving tips with our free twice-daily newsletter
A team of Amazon workers in New York recently forced the retailer to recognise a trade union in the US for the first time. That may be a straw in the wind.
Hasn't pay been on the rise?
Yes, but it's not keeping up with inflation. The chancellor's spring statement offered no more money for public services, which unions warn could lead to a "mass exodus" of key staff unless they get pay rises that at least match inflation, says Toby Helm in The Guardian. Analysis by the Trades Union Congress (TUC) of official data shows that average pay in the public sector was down £81 a month in real terms in January 2022 compared with a year before. Forecasts from the Office for Budget Responsibility show that average real pay for workers, in both the public and private sectors, is set to fall by 2% in 2022. That seems like a kick in the teeth, especially for workers who worked on in stressful conditions throughout the pandemic and are struggling to make ends meet.
So workers are fighting back?
Some certainly are. "Long and bitter battles over pay look certain as the cost of living crisis grows," according to Helm. Indeed, those battles have already started, as the Financial Times reports. Teachers in schools, staff working at universities and on trains, at Airbus and GE Aviation Systems, and binmen, lorry drivers and cleaners in many parts of the country are taking industrial action. It's not just pay, but also a "sense of injustice that is fuelling the country's most confrontational pay bargaining season in years".
Won't this cause a wage-price spiral?
The standard, if contested, view in economics is that it might. Rising prices cause workers to seek pay rises. Those pay rises then put upward pressure on prices, and so the cycle begins again, putting prices on an ever-upwards path. It was the fear of this that led Andrew Bailey, governor of the Bank of England, who takes home more than £500,000 a year, to call for wage restraint earlier this year.
But as Martin Sandbu argued in the Financial Times, if the wage-price spiral is a risk, why call for wage rather than price restraint? Why couldn't profit margins take the hit instead? Besides, the assumption being made is that trade unions are as strong now as they were in the 1970s and hence in a position to win inflation-busting pay rises.
And they aren't?
No. When inflation surged in Britain from the mid-1970s to the mid-1980s, union membership was at all-time highs, peaking at more than 50% of all employees, as James Meadway points out in The New Statesman. Since then, membership has been on a "near continuous slide". In the private sector, just 12.9% of employees are unionised.
Overall membership is down to 23.5%, just above its all-time low of 23.3% in 2017. More important than membership is collective bargaining. By 1979, 82% of all employees in the UK, whether union members or not, were covered by some form of collective workplace agreement on pay and conditions.
By 2019, the percentage was as little as 15% of the private-sector workforce. Despite the slight uptick in membership in recent years, unions remain weak, with next to no presence in manyparts of the service sector where low-paid workers are concentrated, as the Financial Times points out. Even where effective, the 2016 Trade Union Act has placed onerous limits on union action.
But all this could change?
Indeed, but it will be a battle. As Owen Jones points out in The Guardian, a study by the TUC found that the vast majority of young core workers hadn't even heard of trade unions and couldn't provide a definition. Organisers seeking to recruit them will have their work cut out. Unions themselves haven't helped matters, shifting their activities in recent decades from the hard graft of organising workers to basically signing them up for union magazines and offering discounts on insurance policies.
But the example of unions such as the IWGB, a small but militant outfit that has worked hard to organise outsourced workers such as cleaners and security guards, with some notable successes, show that the decline is far from inevitable.
A fightback has begun.
So employers should be worried?
See it as an opportunity instead. Companies need a strategy to prove to younger and
left-leaning employees that all the blether about stakeholder capitalism isn't just talk, says Steve Hawkes in City AM. Bringing unions on board would be a good way forward. "Union insiders themselves admit to the need for a more mature relationship with boardrooms," says Hawkes, and there could be benefits in terms of unlocking productivity gains, as demonstrated by Germany's model, where pay, hours and working conditions are set by work councils and employers' associations. "You could call it the most successful example of levelling up we've seen."
Stuart graduated from the University of Leeds with an honours degree in biochemistry and molecular biology, and from Bath Spa University College with a postgraduate diploma in creative writing.
He started his career in journalism working on newspapers and magazines for the medical profession before joining MoneyWeek shortly after its first issue appeared in November 2000. He has worked for the magazine ever since, and is now the comment editor.
He has long had an interest in political economy and philosophy and writes occasional think pieces on this theme for the magazine, as well as a weekly round up of the best blogs in finance.
His work has appeared in The Lancet and The Idler and in numerous other small-press and online publications.