Why Britain should join the race to corner the cannabis market
Germany's government is to legalise cannabis – but Britain risks getting left behind in a growing new industry, says Matthew Lynn.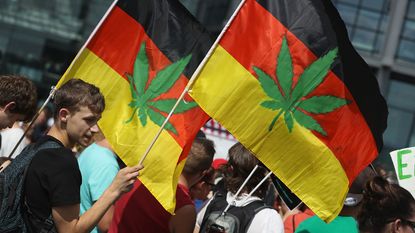 (Image credit: © Sean Gallup/Getty Images)
There was not much in the platform of Germany's new coalition government, composed of the Social Democrats, Greens and Free Democrats, to re-energise an economy that, for all its formidable strengths, has started to look very 20th century. But there's one eye-catching pledge – to legalise cannabis, and hence take global leadership in what promises to be a major industry over the next 50 years. The coalition is committed to permitting the sale of cannabis in licensed stores or cafes, much like tobacco. (The drug has been legal since 2017 for medical purposes, and, as in the UK, the police haven't shown much interest in enforcing prohibition.)
That no longer sounds as controversial as it once would have, but it is still significant. As the first major country to legalise it (although the US is close to it as well, with state-by-state laws gradually making it legal across the whole nation), Germany will take a huge lead in the legal marijuana industry. And with that business estimated to be worth $90bn globally by the end of the decade, it is a prize well worth having.
The difference legalising cannabis will make
Legalisation will, obviously, change the business dramatically. An illegal industry, even if the police mainly turn a blind eye to it, inevitably has to operate in secret. People are constantly at risk of arrest. Customers don't really know who they are dealing with, and don't have any form of redress when things go wrong. You can't even have stable distribution channels – the business will inevitably be small-scale, fragmented, and its entrepreneurs mostly worried about staying out of jail rather than improving the way it operates. For all that it will probably be fantastically profitable, of course. After all, there has to be a reward for taking the risks, and the possibility of arrest will deter many people who might otherwise enter the business. And yet even the profits are problematic. The money has to be laundered, instead of being placed in the bank, or reinvested in the business.
Subscribe to MoneyWeek
Subscribe to MoneyWeek today and get your first six magazine issues absolutely FREE
Get 6 issues free
Sign up to Money Morning
Don't miss the latest investment and personal finances news, market analysis, plus money-saving tips with our free twice-daily newsletter
Don't miss the latest investment and personal finances news, market analysis, plus money-saving tips with our free twice-daily newsletter
With a licensed, legal product, proper companies will start to emerge, with professional standards of manufacturing, distribution, marketing and financial control. Very quickly cannabis will turn into another standardised consumer good, with a handful of big brands dominating the market, known and trusted by customers. The first major country that legalises cannabis will be the one that creates the giants of the industry. Within a couple of years, two or three major, professionally run German cannabis companies, with powerful, well-designed branding, and expertly run, efficient production, will have emerged. And then, as other countries steadily legalise as well, those companies will move into those markets quickly. They will have the money to invest and will have fine-tuned manufacturing. Legal cannabis will then become a German-dominated industry, much like luxury cars or machine tools.
Britain should steal a march on Germany
It is surely a huge mistake for the UK to surrender that industry to the Germans. There is no reason why cannabis shouldn't be a major British industry. The UK has traditionally been very good at creating global businesses out of addictive, mood-boosting substances. The likes of BAT and Imperial Brands in the tobacco industry and Diageo in the drinks industry are proof of that. We have the advertising agencies and brand consultancies that could no doubt come up with a great look for legal products. There is plenty of demand. And, as it happens, we already have a fledgling industry starting to emerge. Only last week, the medical cannabis company Equinox announced plans to float, and there are plenty of others just getting started.
There is just one problem: medical use aside, it is still technically a banned product in the UK. And so long as that is true, it is impossible for professionally run companies to emerge. It remains in the shadows. As a global legal cannabis industry emerges,
the UK should be a world leader. But right now we risk letting Germany take the lead. The solution is simple: legalise cannabis before any other major country does. It will boost the economy – and might even give the Tories a boost in the polls, especially among young people.
Matthew Lynn is a columnist for Bloomberg, and writes weekly commentary syndicated in papers such as the Daily Telegraph, Die Welt, the Sydney Morning Herald, the South China Morning Post and the Miami Herald. He is also an associate editor of Spectator Business, and a regular contributor to The Spectator. Before that, he worked for the business section of the Sunday Times for ten years.
He has written books on finance and financial topics, including Bust: Greece, The Euro and The Sovereign Debt Crisis and The Long Depression: The Slump of 2008 to 2031. Matthew is also the author of the Death Force series of military thrillers and the founder of Lume Books, an independent publisher.