Is it time to go back to the office?
There's a lot to be said for working from home, but the office has plenty going for it too. And it might not be too long before we're all back, says Merryn Somerset Webb.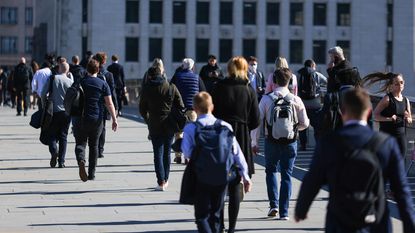 (Image credit: © Chris Ratcliffe/Bloomberg via Getty Images)
Should you go back to the office, or lobby to keep working from home indefinitely? Part of the answer might lie in the productivity levels of classical composers. In a 2011 academic paper, Karol Jan Borowiecki of Trinity College Dublin looked at how much they produced when they worked alone compared to how much they produced when they lived in a geographic cluster.
The answer should, I think, have you planning your return to your own cluster as quickly as possible. Prominent classical composers born between 1750 and 1899 were approximately 33% more productive when in a cluster: they created on average one more work every three years than they might have otherwise, with those who migrated to be in the cluster being the greatest beneficiaries of it. The more intense the cluster, the greater the impact on overall output.
This makes intuitive sense of course. The closer composers were geographically the more likely they would have been to be able to listen to their competitors' music, get ideas from it and put the effort in to make "not good, but better" works than the others.
Subscribe to MoneyWeek
Subscribe to MoneyWeek today and get your first six magazine issues absolutely FREE
Get 6 issues free
Sign up to Money Morning
Don't miss the latest investment and personal finances news, market analysis, plus money-saving tips with our free twice-daily newsletter
Don't miss the latest investment and personal finances news, market analysis, plus money-saving tips with our free twice-daily newsletter
Office working is underrated
You can't extrapolate this finding to today's office without obvious caveats (information exchange between a group of, say, modern accountants is a tad easier than it was between 18th century composers). But nonetheless, the idea that sparks are created as a result of overheard conversations, chance exchanges and unintended collaborations in modern offices is just as intuitive as the idea that competitive musicians make better music.
It also seems reasonable to note that younger staff need to build networks and have mentors (as well as people to put their "stupid" questions to without being recorded on Zoom); that not everyone has a suitable place to work from home; and that it's better to work in an office than to end up sleeping in one (work/life boundaries matter).
There is an idea that you can – and should – mix homeworking and office working. That sounds very attractive. But if it becomes clear that the more productive workers are the ones clustering gossiping and drinking tea in the office full time, it might soon look less attractive.
Remote technology works., but presenteeism has something very big going for it too. There's a reason JPMorgan, Goldman Sachs and Morgan Stanley have already asked all New York staff back to their desks. There is a reason why 65% of workers say they plan to return to the office this month. And there is a reason there has been a sharp rise in interest in London property since the turn of the year.
A few months ago Max King looked at commercial property trusts. In a world where almost everything is risky (because almost everything is expensive) they may well be worth another look, particularly if inflation really is returning (see my interview with Andy Haldane). If that is not exciting enough for you, Jonathan Compton looks at emerging markets, David Stevenson offers something properly risky – an investment trust that might take you to space. Finally, if you are the secretary of state for health or the chancellor, Matthew Lynn offers a workable plan for a living-with-the-virus economy. It is time to change the Covid-19 mood music.
Merryn Somerset Webb started her career in Tokyo at public broadcaster NHK before becoming a Japanese equity broker at what was then Warburgs. She went on to work at SBC and UBS without moving from her desk in Kamiyacho (it was the age of mergers).
After five years in Japan she returned to work in the UK at Paribas. This soon became BNP Paribas. Again, no desk move was required. On leaving the City, Merryn helped The Week magazine with its City pages before becoming the launch editor of MoneyWeek in 2000 and taking on columns first in the Sunday Times and then in 2009 in the Financial Times
Twenty years on, MoneyWeek is the best-selling financial magazine in the UK. Merryn was its Editor in Chief until 2022. She is now a senior columnist at Bloomberg and host of the Merryn Talks Money podcast - but still writes for Moneyweek monthly.
Merryn is also is a non executive director of two investment trusts – BlackRock Throgmorton, and the Murray Income Investment Trust.