The return to the old nine-to-five is a matter for business, not government
Should we stay working from home or go back to the office? Whatever we decide, let's keep Whitehall out of the question, says Matthew Lynn.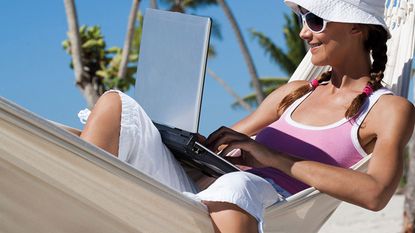 (Image credit: © Getty Images/iStockphoto)
Different companies are taking different views of how quickly, and how far, they should get back to the old nine-to-five office routine that was the norm before any of us had heard of Covid-19. BP, for example, has said that 25,000 of its staff will be expected to work from home two days a week. HSBC has started shifting staff onto home-working contracts, as has Lloyds.
A few have gone further. Revolut, the finance app, will not only allow staff to work from their kitchen table, but from a beach bar overlooking the Caribbean for at least a couple of months a year. By contrast, Amazon says it plans to return to an "office-centric" culture as soon as possible. Google has been accelerating plans to reopen its offices and has said it expects staff to "live within commuting distance" of their workplace. The boss of Goldman Sachs has described working from home as an "aberration" and one that should be brought to an end as soon as possible.
The government is there to help…
It is perfectly legitimate for companies to take different approaches. What they could do without is official "guidance" on the question from the government. But it looks like that's what they're going to get. Its "Flexible Working Task Force" is set to recommend that staff should be allowed to work from home at least part of the week. That might soon become a legal right. The unions are campaigning for it to become part of employment law. This is a mistake.
Subscribe to MoneyWeek
Subscribe to MoneyWeek today and get your first six magazine issues absolutely FREE
Get 6 issues free
Sign up to Money Morning
Don't miss the latest investment and personal finances news, market analysis, plus money-saving tips with our free twice-daily newsletter
Don't miss the latest investment and personal finances news, market analysis, plus money-saving tips with our free twice-daily newsletter
Firstly, we are still waiting for the evidence. We have just been through a year-long, forced experiment in working from home. In the short term, it has gone surprisingly well. Most white-collar workers have managed to get their jobs done and there is even some evidence that productivity and job satisfaction may have increased. If that can be maintained while companies cut back on the expense of an office, then it may well be an improvement. And yet, working from home during a pandemic is a different prospect to being permanently perched on the end of your kitchen table. Staff may feel differently when half or more of the workforce is heading back to the office. We will see. In reality, it is far too early to draw any real conclusions on whether it works or not.
Secondly, we still don't know what the impact will be on city centres and on the suburbs as well. Official reports fret about what will happen to all those office blocks and the jobs in the sandwich bars that surround them. But it may well turn out that office rents fall dramatically and businesses decide it is more attractive to rent space again. Alternatively, it might be so easy to turn that space into housing that prices go up and up, making offices ever less attractive. We will find out over the next year or so. The important point is that most companies will let that settle down before making any long-term decisions. It would certainly be a mistake to rush to a judgement.
… but it's help we could live without
Finally, official guidance won't reflect the reality experienced by the bulk of the economy. A commission appointed to examine the issue will largely be driven by the views of the public sector, big corporations and the trade unions, and the think tanks they fund. But it will ignore small businesses and entrepreneurs, few of whom have the right contacts, or the time, to lobby ministers and officials. But they are the people who will matter most. It is the millions of people working for small and micro enterprises who will determine whether working from home is part of a new mainstream, or reverts to something restricted to a few freelancers. And it is those businesses that will struggle to meet the cost if the right to work from home is made mandatory in law.
The market is perfectly capable of figuring out who can work from home, who can hot-desk, and who needs to spend 50 hours a week at their desk on the 30th floor. One thing is certain: the answer that businesses and their employees come up with by themselves will be far better than anything mandated by the government.
Matthew Lynn is a columnist for Bloomberg, and writes weekly commentary syndicated in papers such as the Daily Telegraph, Die Welt, the Sydney Morning Herald, the South China Morning Post and the Miami Herald. He is also an associate editor of Spectator Business, and a regular contributor to The Spectator. Before that, he worked for the business section of the Sunday Times for ten years.
He has written books on finance and financial topics, including Bust: Greece, The Euro and The Sovereign Debt Crisis and The Long Depression: The Slump of 2008 to 2031. Matthew is also the author of the Death Force series of military thrillers and the founder of Lume Books, an independent publisher.