Universal Credit comes good
The government's benefit reforms have been plagued with disasters since their introduction in 2013. The Covid-19 crisis, however, has revealed a positive side.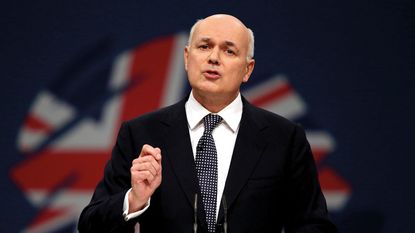 (Image credit: © Oli Scarff/Getty Images)
What is Universal Credit?
It's the Conservatives' flagship welfare reform, rolling up six existing forms of state welfare payments – including jobseekers' allowance, housing benefit and child tax credits – into one single monthly payment. The aim of the reform, first announced in 2011 and still not completed, is to simplify the welfare system in order to help claimants and cut fraud, and to encourage work. The basic principle of the UC system is to cut out incentives for people to stay on benefits rather than accept work, and make it easier for them to access what they are entitled to. In February, more than 2.8 million people were in receipt of UC, which is being phased in over a period of years as people's individual circumstances change.
Just how many years?
It's been a painfully slow business. UC was first introduced in 2013 and was originally supposed to be fully rolled out by April 2017, but it has been plagued by a series of technical problems and widespread concerns – across the political spectrum – over some of its unintended consequences. Championed by Iain Duncan Smith (the Tory work and pensions secretary 2010-2016), it was originally conceived as a more generous scheme than those it's replacing. However, its introduction crashed into George Osborne's austerity cuts, making it less attractive overall, and less effective at incentivising work. In addition, a succession of embarrassing failures of management and IT caused years of delays and endless examples of claimants treated harshly under the new rules. Most recently, in February this year the government delayed the full rollout by a further nine months to September 2024, adding a further £500m to the costs of transitioning claimants to the new system over the next five years.
What went wrong?
In particular, the five-week wait between claiming and receiving money proved disastrous, given that many low-earners have no savings or other resources, and are paid weekly. The areas where UC was brought in typically saw surges in the use of food banks, spikes in rent arrears and evictions. Landlords, who once saw claimants as ideal tenants, now refused to let to them. But rather than adapt the system, a 2018 report by the National Audit Office found that the Department for Work & Pensions had failed to react to the mounting evidence of hardship and systemic failure, and instead became "defensive, insensitive and dismissive". The spending watchdog concluded, witheringly, that "the larger claims for universal credit, such as boosted employment, are unlikely to be demonstrable at any point in the future. Nor for that matter will value for money."
Subscribe to MoneyWeek
Subscribe to MoneyWeek today and get your first six magazine issues absolutely FREE
Get 6 issues free
Sign up to Money Morning
Don't miss the latest investment and personal finances news, market analysis, plus money-saving tips with our free twice-daily newsletter
Don't miss the latest investment and personal finances news, market analysis, plus money-saving tips with our free twice-daily newsletter
What's happened this year?
Despite all this, the UC system – faced with a sudden and dramatic surge in demand – has held up astonishingly well. In early March, there were around 2.8 million people claiming UC, around a third of the projected total once the transition is complete. But within four weeks of lockdown that had leapt 40% to four million. By 9 July the UC system had doubled to 5.6 million claimants. The peak of the technical and staffing challenge was the night of 26 March, when Rishi Sunak announced his income support scheme for the self-employed, which helped basic-rate taxpayers, but not until June. In a normal week, the UC system handles 12,000 new claims. That night alone, it handled 136,000.
And the system didn't crash?
No, it did "remarkably well", says Rosie Kinchen in The Sunday Times. More than 90% of payments due were paid in full and on time. Most advances were paid within 72 hours. "It was like laying tarmac in front of the traffic while it was moving very fast behind us," says Neil Couling, director of UC. "The old system would just have collapsed." From March, the government boosted weekly payments by £20 and (until August) removed the stipulation that UC claimants must be seeking work – thereby encouraging take up, and arguably turning universal credit into a kind of emergency universal basic income. A survey by the Resolution Foundation shows that 46% of the new claimants were still in work, and another 12% earning while furloughed, and 27% self-employed. New claimants were typically better off (pre-pandemic) than the usual claimants and were far more likely to be private renters or homeowners.
What went right?
Agile thinking and a can-do attitude, says Kinchen. Within weeks of lockdown, the DWP reallocated 10,000 staff from other sections such as the Passport Office; they supplied 20,000 laptops so staff could work from home; and they shifted to a "don't call us, we'll call you" system of calling people back, not leaving them on hold. They also softened security checks to speed up the system (while admittedly increasing the risk of fraud). The result is that 74% of new claimants report a positive experience of UC. Compared with mounting fury over the government's inability – six months on – to organise a coherent testing system, the performance of the UC system is one of the bright spots of the pandemic.
So what happens now?
Flaws remain, but the pandemic has shown a positive side to the new system. The question is whether public appreciation will prove durable once the furlough scheme ends, which is expected to lead to a spike in unemployment, leaving many dependent on benefits for the first time. "Coming into the crisis, the UK's social-security system provided fairly low levels of income replacement, the logic being that, given the UK's fast-moving jobs market, jobseekers would be able to find work quickly, and indeed would have a strong incentive to do so," says Karl Handscomb of the Resolution Foundation. The Covid crisis has upended that assumption. If the pandemic's effects do prove deep and damaging, this Covid bright spot may turn into a running sore.
Simon is the chief leader writer and columnist at The Times and previous to that, he was at The Wall Street Journal for 9 years as the chief European commentator. Simon also wrote for Reuters Breakingviews as the Executive Editor earlier in his career. Simon covers personal finance topics such as property, the economy and other areas for example stockmarkets and funds.