Eric Schmidt: seeing off the robot takeover
Former Google boss Eric Schmidt is concerned about the dangers of artificial intelligence and has set up a $125m philanthropic venture to help steer the technology in safe directions.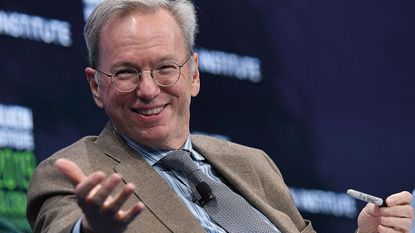 (Image credit: © Michael Kovac/Getty Images)
When the "father of the atomic bomb", Robert Oppenheimer, witnessed the first nuclear weapons test in New Mexico in 1945, he famously quoted a line from Hindu scripture: "Now I am become Death, the destroyer of worlds." In a recent book, The Age of AI and Our Human Future, Eric Schmidt makes a similar point about artificial intelligence, says the Financial Times. The threat is less obvious than with nuclear bombs, but AI has the potential to be equally destructive in unpredictable ways. There are far more "uncomfortable questions" than "comforting answers".
The former Google boss, himself "a key AI power broker", now hopes to fill the gap with a new $125m philanthropic project, AI2050, that will fund research into "hard problems" ranging from "deep fakes" – convincing faked video footage – to AI's use in geopolitical conflict and its effect on economies. The broad remit is to advance AI technology "that everyone can generally agree is beneficial to society". A tough ask.
Adult supervision at Google
Schmidt, 66, can certainly afford the loose change, says Wired. When he stepped down as chairman of Google parent Alphabet in 2017 he was "almost $14bn richer" than when he joined the start-up, co-founded by Larry Page and Sergey Brin. Schmidt was brought in as "a hired gun CEO" in 2001 – famously supplying the "adult supervision" that drove its transformation to global titan.
Subscribe to MoneyWeek
Subscribe to MoneyWeek today and get your first six magazine issues absolutely FREE
Get 6 issues free
Sign up to Money Morning
Don't miss the latest investment and personal finances news, market analysis, plus money-saving tips with our free twice-daily newsletter
Don't miss the latest investment and personal finances news, market analysis, plus money-saving tips with our free twice-daily newsletter
It was a shotgun wedding, imposed by the outfit's backers, Kleiner Perkins and Sequoia Capital. And although Schmidt was deemed a more acceptable candidate by the founders than others put forward, many doubted the "loveless marriage" would last. History said otherwise. That the Google "troika" lasted nearly 20 years in various forms was partly down to Schmidt's character. Described as "calm and unflappable", he had no particular need for the limelight and bowed to Page and Brin's technical instincts. In a previous role as CEO of the networking giant Novell, notes Fast Company, Schmidt wrote the treatise on "managing geek gods".
Schmidt's interest in tech began in 1970 when his father hired a computer and he precociously rewrote its software, going on to take a degree in electric engineering at Princeton. His first job out of school was at the Xerox research centre in Palo Alto – then the leading incubator of tech talent. From there, he joined Sun Microsystems and led the development of its ground-breaking Java programming language. Made CEO of Novell in 1997, he fought a losing battle to maintain the company's market share against Microsoft NT.
A bevy of billionaires
Schmidt's lofty international connections, his public backing of Hillary Clinton in the 2016 presidential race, and attendance at elite gatherings such as the World Economic Forum and the Bilderberg group, have long made him a target of far-right conspiracy theorists – not helped perhaps, says The Verge, by his reinvention, post Google, as "a technology adviser and investor in the US defence community".
In November 2020, eyebrows were raised when it emerged that Schmidt had applied to become a citizen of Cyprus via its controversial "passports-for-sale" programme, says Vox, potentially joining a bevy of "borderless" billionaires, mainly from the former Soviet Union and Middle East. More recently, he has spent $65m buying former Microsoft co-founder Paul Allen's Enchanted Hill estate in Beverly Hills.
Whatever the challenges ahead, Google's former "elder statesman" looks to be keeping his options open.
Jane writes profiles for MoneyWeek and is city editor of The Week. A former British Society of Magazine Editors editor of the year, she cut her teeth in journalism editing The Daily Telegraph's Letters page and writing gossip for the London Evening Standard – while contributing to a kaleidoscopic range of business magazines including Personnel Today, Edge, Microscope, Computing, PC Business World, and Business & Finance.
She has edited corporate publications for accountants BDO, business psychologists YSC Consulting, and the law firm Stephenson Harwood – also enjoying a stint as a researcher for the due diligence department of a global risk advisory firm.
Her sole book to date, Stay or Go? (2016), rehearsed the arguments on both sides of the EU referendum.
She lives in north London, has a degree in modern history from Trinity College, Oxford, and is currently learning to play the drums.