Sam Bankman-Fried – the "Crypto King's" staggering pile
Sam Bankman-Fried, still under 30, shot from obscurity to a $24.5bn fortune by spotting arbitrage opportunities in the cryptocurrency markets.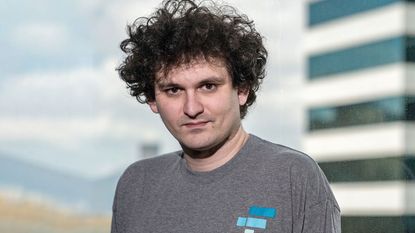 (Image credit: © Lam Yik/Bloomberg via Getty Images)
It isn't often that the 18th-century English philosopher Jeremy Bentham gets a shout out from the frontiers of finance. But Bentham's intellectual stock is soaring thanks to a youthful disciple, Sam Bankman-Fried, who has shot from relative obscurity to becoming one of the richest people in the world under 30, with a vast $24.5bn fortune. His sudden prosperity, as Yahoo Finance notes, "appears to constitute one of the fastest accumulations of self-made wealth in history".
Fuelled by hype
Known by his initials SBF, Bankman-Fried, 29, runs the trading firm Alameda Research and the cryptocurrency exchange FTX, which was valued at around $32bn in a funding round last month – up from $1.2bn in 2020. A high-volume, low-fee platform for trading crypto derivatives and leveraged tokens, fans describe FTX as "the most innovative exchange out there". It might be the third-largest after Binance and Coinbase, but it is growing fast (user numbers have jumped by 60% in six months, taking daily trading volumes to around $14bn), and the brand has become mainstream. FTX featured heavily in last weekend's Super Bowl – dubbed the "Crypto Bowl" for the prevalence of crypto advertisers buying America's most expensive air time, says the Financial Times. Blue-chip backers, meanwhile, include the world's largest asset-manager, BlackRock; a measure of the "voracious appetite of traditional investors" for companies operating in this "hype-fuelled sector".
Investors looking to bolster their environmental, social and governance credentials, such as BlackRock's Larry Fink, might consider they're getting the best of both worlds – an outfit described by The Economist as "the hottest firm in crypto", run by a charismatic founder, who also brings a studiedly mature attitude to the party. A self-disciplined, vegan workaholic, Bankman-Fried is a "Benthamite" committed to the moral theory of utilitarianism: the promotion of the greatest good for the greatest number of people.
Subscribe to MoneyWeek
Subscribe to MoneyWeek today and get your first six magazine issues absolutely FREE
Get 6 issues free
Sign up to Money Morning
Don't miss the latest investment and personal finances news, market analysis, plus money-saving tips with our free twice-daily newsletter
Don't miss the latest investment and personal finances news, market analysis, plus money-saving tips with our free twice-daily newsletter
What that has meant in practice, says New York magazine, is a commitment to donating a percentage of FTX's profits to charity, and a starring role as the "mysterious crypto magnate" who helped bankroll Joe Biden's presidential campaign. Bankman-Fried says the $5m donation was motivated less by policies and more by Biden's team's "generic stability and decision-making process".
Effective altruism
The "mathy" son of two Stanford law professors, Bankman-Fried grew up in a household of educators but hated school. He took a degree in physics at MIT, where he stumbled upon the Effective Altruism movement, which promotes pursuing a lucrative career in order to be able to give more cash away. To that end, he took a job at the quant trading firm Jane Street Capital, before jumping into cryptos in late 2017 after spying an "arbitrage opportunity" that took advantage of the higher price of bitcoin in Japan and Korea compared with the US, says Forbes. Having founded Alameda, he followed it up with FTX, which launched in Hong Kong in 2019.
Bankman-Fried recently moved himself and the three-year-old company from Hong Kong to the Bahamas, mainly, he told CNBC, because it's "one of the only countries in the world that has a comprehensive licensing regime for crypto-currencies". And therein lies the rub, says Yahoo Finance. From the point of view of the current US regulatory framework, much of "what he's doing is dicey". It's hard to tell "whether Bankman-Fried's growing wealth and stature will give him greater credibility and bargaining power with regulators, or just paint a more vivid target on his back".
Jane writes profiles for MoneyWeek and is city editor of The Week. A former British Society of Magazine Editors editor of the year, she cut her teeth in journalism editing The Daily Telegraph's Letters page and writing gossip for the London Evening Standard – while contributing to a kaleidoscopic range of business magazines including Personnel Today, Edge, Microscope, Computing, PC Business World, and Business & Finance.
She has edited corporate publications for accountants BDO, business psychologists YSC Consulting, and the law firm Stephenson Harwood – also enjoying a stint as a researcher for the due diligence department of a global risk advisory firm.
Her sole book to date, Stay or Go? (2016), rehearsed the arguments on both sides of the EU referendum.
She lives in north London, has a degree in modern history from Trinity College, Oxford, and is currently learning to play the drums.