Hu Xijin: the silencing of China's troll king
Hu Xijin had been described as the only man in China who could speak his mind – not least because his mind was as one with the ruling party – and what he said moved markets. Now, his heyday is over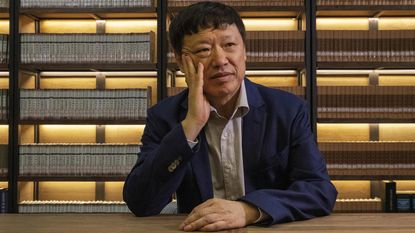 (Image credit: © Getty Images)
It's the end of an era for Chinese media. The country's most prominent (some would say infamous) journalist, Hu Xijin, has "resigned" from the Global Times – the nationalist tabloid owned by the People's Daily, mouthpiece of the ruling Communist Party (CCP).
Within China, "the troll king" had become an institution. He is credited with transforming the national conversation since taking over the paper in 2005, inspiring a generation of "Wolf Warriors" and "Little Pinks" (see below) with a drumbeat "China first" rhetoric. But it seems the authorities have decided to decommission an increasingly "loose cannon", says China Media Project.
A Trumpian Twitter strategy
One can see why. Of late, Hu's never-diplomatic social-media posts and newspaper columns have become ever more incendiary, notes The Guardian. He has hyped up the prospects of military confrontation between the US and China over Taiwan; warned Britain that it will be treated like "a bitch… asking for a beating" if it infringes Chinese sovereignty in the China Sea; compared India to a "bandit"; and likened Australia to "chewing gum stuck on the sole of China's shoes".
Subscribe to MoneyWeek
Subscribe to MoneyWeek today and get your first six magazine issues absolutely FREE
Get 6 issues free
Sign up to Money Morning
Don't miss the latest investment and personal finances news, market analysis, plus money-saving tips with our free twice-daily newsletter
Don't miss the latest investment and personal finances news, market analysis, plus money-saving tips with our free twice-daily newsletter
Hu, who has millions of followers on Weibo and WeChat (and broadcasts to the West on Twitter), has always occupied "an ambiguous space in the Communist Party's efforts to communicate its plans to the world", says Bloomberg. But the perception that he was the voice of the Chinese state often had the power to move markets – particularly during the country's tense negotiations with Donald Trump in 2019, when many traders viewed him as "a key policy oracle" of Beijing's next move in the trade war. Hu rattled bond markets by suggesting that "many Chinese scholars are discussing the possibility of dumping US Treasuries and how to do it specifically"; and he sent shares in Boeing tumbling by predicting that China would reduce its orders for planes. Larry McDonald, of the investment newsletter Bear Traps Report, described Hu's Twitter feed as "a Chinese Communist version of Trump's", and an important "negotiation tactic".
Beijing-born Hu, 61, grew up in "a poor, Christian, but otherwise traditional family", says The Guardian. At 18, he joined the People's Liberation Army and enrolled in its foreign-language college in Nanjing. His claim that when student demonstrations erupted around China in 1989 "I went to Tiananmen Square every day, chanting slogans like everybody else", was regarded with scepticism by some. Shortly after the protest's violent repression, he joined People's Daily. Hu's career was transformed when he was dispatched abroad to cover the Bosnian war. On his return to China, he took the role of editor at the Global Times, a racy and plain-talking publication by Chinese standards that was reined in, in line with the CCP's increasingly repressive stance following the rise of president Xi Jinping in 2013.
The fall of the Frisbee-catcher
Hu's domestic critics have nicknamed him "Diaopan", or "Frisbee-catcher" – a reference to his "nimble grasp" of whatever narrative is being handed down from Beijing, says Bloomberg. And his public reputation can't have been helped by a 2020 report in Hong Kong's Apple Daily (since shut down) claiming that the Party's unofficial "mouth-piece" enjoyed "sky-high" earnings – he was paid ¥570,000 (£66,000) a year by the Global Times, but pulled in revenues of ¥12m a year from digital-media platforms such as TikTok – and had shipped his family to Canada. Last year, he was mocked by an army of mainland "netizens", using virtual private networks to jump China's internet firewall, for his "flip-flopping standards" and nonsensical logic, says Nikkei Asia. Perhaps his masters took note. Hu once observed that "the authorities have absolute control over me and can take me down easily". It seems he has been proved right.
Xi's red lines close around Chinese media
One reason for Hu Xijin's ubiquity over the past decade is that he has "unparalleled license to speak bluntly about politics", says Han Zhang in The Guardian. Indeed, opponents have described him as "the only person with freedom of speech" in mainland China, although that freedom is partly a reflection of his adherence to the Communist Party line. "He's willing to be quoted…when huge numbers of others – especially liberal commentators – have grown too nervous to go on the record," says Evan Osnos of The New Yorker: a measure of the steady repression of the Chinese media in the era of president Xi Jinping.
The aim is twofold: to quash internal dissent and counter the perceived "Western-dominated narrative" about China elsewhere in the world. "Tell the China story well and build China's soft power," Xi urged party delegates in 2017 – a challenge taken up with alacrity by an aggressive cadre of "Wolf Warrior" diplomats and millions of internet-savvy young nationalists who "prowl social media to rebut criticism of their homeland", as Yuan Yang puts it in the Financial Times. Originally known as "50 cents", or "wumao" (for the ¥0.5 they were said to earn for each patriotic post), in recent years a new "volunteer troll army" has emerged, some of whom call themselves "Little Pinks".
Of late, Beijing has been stepping up its use of the news media as a propaganda weapon – "especially in countries directly linked to larger infrastructure projects such as the Belt and Road Initiative", says Raksha Kumar of Oxford University's Reuters Institute for the Study of Journalism, a think tank. Tactics include conducting exchange programmes for compliant foreign reporters and "paying for entire supplements in respected foreign newspapers".
"China's press has never enjoyed more than a small modicum of freedom," says The Economist. But Xi relentlessly continues to toughen controls, ensuring that "reporters and editors deemed politically wayward have been disciplined, fired or jailed". In October, a draft regulation reiterated "a ban on private investment" in most news operations, alongside "new instructions about what news could be republished online". Notably absent from the list of approved sources was the "popular and trusted" business-news website Caixin Media – perhaps the most telling signal yet, to the average Chinese citizen, of how the "red lines" are tightening.
Jane writes profiles for MoneyWeek and is city editor of The Week. A former British Society of Magazine Editors editor of the year, she cut her teeth in journalism editing The Daily Telegraph's Letters page and writing gossip for the London Evening Standard – while contributing to a kaleidoscopic range of business magazines including Personnel Today, Edge, Microscope, Computing, PC Business World, and Business & Finance.
She has edited corporate publications for accountants BDO, business psychologists YSC Consulting, and the law firm Stephenson Harwood – also enjoying a stint as a researcher for the due diligence department of a global risk advisory firm.
Her sole book to date, Stay or Go? (2016), rehearsed the arguments on both sides of the EU referendum.
She lives in north London, has a degree in modern history from Trinity College, Oxford, and is currently learning to play the drums.