Larry Fink: the undisputed king of Wall Street
Larry Fink survived two big financial crises and went on to build a massive asset manager, doing for investing what Henry Ford did for cars. He has his critics, but his reign seems as secure as ever.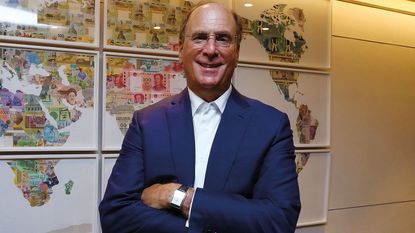 (Image credit: © Jonathan Wong/South China Morning Post via Getty Images)
In 1976, fresh from taking an MBA at UCLA's business school, Larry Fink "strutted off to Wall Street" without a firm idea of what he wanted to do "except make money", says the Financial Times.
Taken on by First Boston as a bond trader, Fink proved "a rare talent" and, within a decade, had become the youngest managing director in First Boston's history. "My team and I felt like rock stars," he later recalled. The sky seemed the limit.
But then it all came crashing down. In 1986, Fink's desk suddenly lost $100m when interest rates unexpectedly fell. "He went from CEO-in-waiting" to "outcast" overnight.
Subscribe to MoneyWeek
Subscribe to MoneyWeek today and get your first six magazine issues absolutely FREE
Get 6 issues free
Sign up to Money Morning
Don't miss the latest investment and personal finances news, market analysis, plus money-saving tips with our free twice-daily newsletter
Don't miss the latest investment and personal finances news, market analysis, plus money-saving tips with our free twice-daily newsletter
The making of a legend
The episode was a key staging post in Fink's journey to become the undisputed "king of Wall Street" when he built BlackRock – "the biggest money manager the planet has ever seen", with almost $10trn under management. To put that in context, "it is roughly equivalent to the entire global hedge-fund, private-equity and venture-capital industries combined".
One of the biggest shareholders in virtually every major company in America – and quite a few internationally – BlackRock is also one of the biggest lenders to companies and governments around the world.
Born in 1952, Fink was raised in Van Nuys, California, going on to complete a political theory degree, and then his MBA at UCLA. He quickly emerged as "something of a legend on Wall Street": credited, along with Lew Ranieri of Salomon Brothers, with transforming bonds from "a sleepy backwater" into a multi-trillion debt-securitisation market, says Vanity Fair.
Fink's particular expertise was mortgage-backed securities. After leaving First Boston in disgrace, he began a new venture bankrolled and housed by Blackstone – a rising star of the private-equity industry. When the two companies "divorced" in 1994, BlackRock was born.
Fink, now 68, has always chafed at being listed among "the big swinging dicks" immortalised in Michael Lewis's account of the origins of the financial crisis, Liar's Poker. He attributes the characterisation to "the snobbery of Wall Street's Wasp investment bankers, who looked down on Jewish and Italian traders who were allowed to succeed in the mortgage-bond business only".
But if his innovations eventually brought "the economy to its knees", BlackRock profited mightily from the clean-up – emerging as "the financial fulcrum of Washington and Wall Street", says Vanity Fair. Who else, after all, was better placed to advise on analysing toxic securities?
The purchase of Barclays Global Investors in 2009, with its "mountain" of exchange-traded funds (ETFs), propelled BlackRock to the front of the equities world, says Fortune. Indeed, Fink has "supercharged" the world of passive index funds, says the FT. "BlackRock has, in effect, done for investing what Henry Ford did for the car, constructing a financial assembly line that churns out products for investors more efficiently than virtually anyone else." Alongside Vanguard, Fink's firm now enjoys a virtual "duopoly".
A sea change in the industry
When Fink announced early last year that BlackRock would put sustainability at the heart of all its investment decisions, it was seen as a sea-change for the finance industry. Critics accuse him of "greenwashing" and worry about the concentration of power in one firm.
To some critics, BlackRock is "the new Goldman Sachs", says the FT, and that puts Fink in the cross-hairs of agitators and reformers who argue the firm is too big to fail. But "barring an epic shift in the political or financial winds", it's hard to see what could throw BlackRock's growth. Fink's reign "at the top of the financial ecosystem" shows no sign of ending.
Jane writes profiles for MoneyWeek and is city editor of The Week. A former British Society of Magazine Editors editor of the year, she cut her teeth in journalism editing The Daily Telegraph's Letters page and writing gossip for the London Evening Standard – while contributing to a kaleidoscopic range of business magazines including Personnel Today, Edge, Microscope, Computing, PC Business World, and Business & Finance.
She has edited corporate publications for accountants BDO, business psychologists YSC Consulting, and the law firm Stephenson Harwood – also enjoying a stint as a researcher for the due diligence department of a global risk advisory firm.
Her sole book to date, Stay or Go? (2016), rehearsed the arguments on both sides of the EU referendum.
She lives in north London, has a degree in modern history from Trinity College, Oxford, and is currently learning to play the drums.