Gabe Plotkin and the online mob's unfinished business
A social-media pile-on nearly wiped out hedge funder Gabe Plotkin back in January. The fight is not over yet.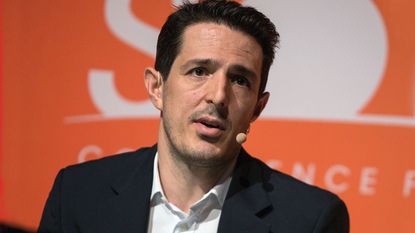 (Image credit: © Alex Flynn/Bloomberg via Getty Images)
Since the start of February, Gabe Plotkin's Wall Street hedge fund, Melvin Capital, has put on 25% – a pretty respectable showing, says Hedge Buster. All the more so given its near-death experience during the GameStop trading furore in January, when Plotkin and his fund looked like being wiped out by what some have dubbed "the greatest short burn of history".
A stockmarket insurrection
It was certainly one the ugliest, says the Financial Times. In a few frenzied weeks, an army of amateur traders, coordinating their actions on the social-media platform Reddit, ruthlessly took their target down – piling into the languishing video-store chain's stock (at one point up 120-fold in a year), putting a lethal squeeze on those who had bet big on its collapse. Melvin lost billions, forcing a desperate Plotkin to seek a bailout from peers. But what shocked Wall Street most was the implied violence. "Consider it the first head on a pike," was one of the more printable quotes in a venomous outpouring which, as Plotkin later noted, was "laced with antisemitic slurs". To some, the timing of the attack – barely a fortnight after the Trump-inspired march on Capitol Hill – seemed no coincidence, says Institutional Investor. According to one hedge funder, Plotkin's tormentors were "the stock version" of the "insurrectionists".
The view from the other side was that a reckoning was way overdue, says The Sunday Times. Long before being cast as a "pantomime villain" in the GameStop saga, he was in the sights of Wall Street opponents due to his close connection with one of its most famous "Wolves" – the notoriously extravagant hedge-fund titan, Steve Cohen. Talked up as "a young man on the make" in the years before the financial crash, Cohen put Plotkin in charge of a $500m pot at SAC Capital, where he generated hundreds of millions in profits while recession "laid waste to the economy" – betting on, and often against, well-known stocks.
Subscribe to MoneyWeek
Subscribe to MoneyWeek today and get your first six magazine issues absolutely FREE
Get 6 issues free
Sign up to Money Morning
Don't miss the latest investment and personal finances news, market analysis, plus money-saving tips with our free twice-daily newsletter
Don't miss the latest investment and personal finances news, market analysis, plus money-saving tips with our free twice-daily newsletter
In 2010, the SEC regulator opened an insider trader investigation against SAC. But while some traders were "perp-walked" into prison, Cohen paid $616m (barely a dent in his multi-billion fortune) to settle charges without admitting guilt – becoming, to many, a symbol of "Wall Street's impunity". Plotkin, though mentioned in the trial, also escaped charges. When he left to set up his own firm, Melvin Capital, in 2014, "Cohen wrote his protégé a $200m cheque to get him off the ground".
The fallout from the blow-up
Publicity-shy Plotkin named his firm in honour of his grandfather. It's one of the few details about his private life on the public record beyond the bare bones that he was born in Portland, Maine, graduated in economics from Northwestern university and (together with his wife Yaara) is a keen supporter of Jewish causes, notably the Chabad Israel Centre.
Ironically, it was a slip-up by the ultra-private Plotkin that led to the downfall of his $13bn fund, says Institutional Investor. He used "listed put options" to bet against GameStop which, unlike most short positions, must be disclosed on SEC filings. That was picked up by a Redditor called Stonksflyingup, who kickstarted the campaign last October by posting a video using an explosion scene from the TV show Chernobyl to show how Melvin would blow up. Within three months it had become a self-fulfilling prophecy.
Yet while his fund is still down by more than 40% this year (having more than halved in January), it appears that Plotkin is steadily clawing his way back, thanks in part to a $2.75bn rescue package involving Cohen's Point72 firm and Ken Griffin's Citadel fund. Indeed, that deal – which saw the pair receive a "three-year minority piece" of Melvin's revenue, reports Bloomberg – already appears to be paying off. Citadel is now reportedly planning to withdraw about $500m of its original $2bn investment from Melvin and the cash infusion "has turned profitable".
Jane writes profiles for MoneyWeek and is city editor of The Week. A former British Society of Magazine Editors editor of the year, she cut her teeth in journalism editing The Daily Telegraph's Letters page and writing gossip for the London Evening Standard – while contributing to a kaleidoscopic range of business magazines including Personnel Today, Edge, Microscope, Computing, PC Business World, and Business & Finance.
She has edited corporate publications for accountants BDO, business psychologists YSC Consulting, and the law firm Stephenson Harwood – also enjoying a stint as a researcher for the due diligence department of a global risk advisory firm.
Her sole book to date, Stay or Go? (2016), rehearsed the arguments on both sides of the EU referendum.
She lives in north London, has a degree in modern history from Trinity College, Oxford, and is currently learning to play the drums.