The story of Wise, a multi-billion fintech started by accident
If you grow up in a situation where a whole country has to be made from scratch, creating a game-changing financial technology start-up such as Wise doesn't seem so outlandish.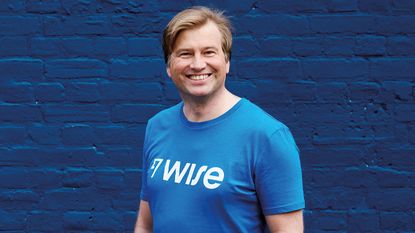 (Image credit: © Wise)
For a fintech company, Wise – which has just completed London's blockbuster float of the year – "had a refreshingly analogue birth", says The Economist. It all began when co-founders Kristo Käärmann and Taavet Hinrikus, two Estonians living in London, met at a party in 2007 and discovered they had a gripe in common: rip-off currency exchange rates when moving cash to and from their home country. They hatched a plan to fix the problem.
A simple idea and a big break
Hinrikus, an early Skype employee, was being paid in Estonian kroon that he exchanged for pounds each month; Käärmann, then working as a finance consultant for Deloitte, was converting his sterling salary into Estonian kroon to pay his mortgage back home. The "workaround" they devised was simple but ingenious. "Every month, Käärmann topped up Hinrikus's British account and Hinrikus did the same for Käärmann's Estonian one, setting the amounts according to the mid-market exchange rate – naturally fee-free."
"Neither of us wanted to start a company, that wasn't the goal," says Käärmann. But the idea quickly spread to other Estonian expats (via Skype chat) who also made big savings. In 2011, the money-exchange forum morphed into TransferWise. Käärmann says he realised the fledgling business would fly after an article appeared on TechCrunch explaining it. Within 15 minutes of publication, a customer had started using the service to send money to France from the UK. "That was cool," he told The Sunday Times. "It was a dozen in the first couple of days and it didn't stop."
Subscribe to MoneyWeek
Subscribe to MoneyWeek today and get your first six magazine issues absolutely FREE
Get 6 issues free
Sign up to Money Morning
Don't miss the latest investment and personal finances news, market analysis, plus money-saving tips with our free twice-daily newsletter
Don't miss the latest investment and personal finances news, market analysis, plus money-saving tips with our free twice-daily newsletter
The pair quit their jobs and self-funded for a year before landing a seed funding round of $1.3m, says Forbes. Their big break came a year later when the godfather of disruptors, billionaire Peter Thiel, led Wise's $6m series C funding round. That triggered interest from other big guns, including Richard Branson who invested in a $26m round in 2014 for an undisclosed stake. "Today, Wise processes $6bn in cross-border payments every month for ten million customers, claiming to save users around $1.5bn a year in bank fees."
Growing up in Estonia as it regained independence from Russia influenced Käärmann's entrepreneurialism, says The Mail on Sunday. He was 11 when the Soviet Union crumbled, prompting a "national awakening" in the tiny Baltic state. "I saw a country being built from scratch. We didn't have any companies, we didn't have banks – there was no structure in the economy." Most of the jobs vanished. It meant, he told The Sunday Times, that "all of a sudden, if you needed your car fixed, you had to find someone who could do it – and it's probably your neighbour. This week he will have opened a little garage … the next thing you know, he is probably going to be buying used cars from Finland, and then he's the BMW representative for Estonia. That's kind of what happened to everyone." Käärmann himself cut his business teeth early, planting spruce trees for his forester uncle.
Black swans are an omen
Wise's explosive debut, valued at £8.75bn ($11bn), saw Käärmann scoop $2bn for his nearly 18.8% stake. He has already become a good deal richer on paper. The shares surged by a solid 10% on the first day of trading last week, notes Motley Fool, and haven't lost their momentum – by Monday of this week, Wise was valued at closer to £13.5bn. Some are sceptical about the investment case. But others, such as the Danish fintech entrepreneur Jeppe Rindom laud a business that has always "challenged boundaries" – so far, "without making enemies". The timing of the initial public offering (IPO), he told Forbes, has a kind of resonance. Wise was born during a "black-swan event": the financial crisis. "It feels fitting that it would IPO following a second."
Jane writes profiles for MoneyWeek and is city editor of The Week. A former British Society of Magazine Editors editor of the year, she cut her teeth in journalism editing The Daily Telegraph's Letters page and writing gossip for the London Evening Standard – while contributing to a kaleidoscopic range of business magazines including Personnel Today, Edge, Microscope, Computing, PC Business World, and Business & Finance.
She has edited corporate publications for accountants BDO, business psychologists YSC Consulting, and the law firm Stephenson Harwood – also enjoying a stint as a researcher for the due diligence department of a global risk advisory firm.
Her sole book to date, Stay or Go? (2016), rehearsed the arguments on both sides of the EU referendum.
She lives in north London, has a degree in modern history from Trinity College, Oxford, and is currently learning to play the drums.