Chamath Palihapitiya: the social savant leading the Spac revolution
Chamath Palihapitiya is credited with sparking the current market mania for Spacs and mob investing. He says his aim is to bring down the establishment from within.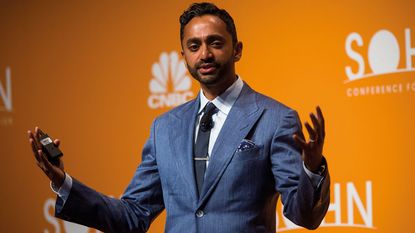 (Image credit: © Michael Nagle/Bloomberg via Getty Images)
"Wall Street has always had its rock stars," noted The Wall Street Journal in March. But no one has marshalled the twin forces reshaping markets – the "blank-cheque" boom and the retail-trading surge – quite like Chamath Palihapitiya. The former Facebook executive belongs to "a new class of market influencers – social-media savants who've figured out how to take shots at the establishment while taking its money". Amateur traders hang on his every word for clues about his next target "and for the insults he hurls at the high-finance elite".
The bandwagon starts rolling
The founder of tech-investing firm Social Capital is credited with creating the template for the "Spac" bandwagon. Although they've been around for decades, these special-purpose acquisition vehicles "exploded in popularity in 2020" after Palihapitiya teamed up with Richard Branson to bring his space-tourism outfit, Virgin Galactic, to market in late 2019 via a blank-cheque company, originally known by the ticker symbol IPOA. The stock price tripled in four months. Last year, Palihapitiya raised more than $4bn for five more Spacs – known as IPOB, IPOC, IPOD, and so on, says Bloomberg. "He says he'll eventually do 26 deals, one for every letter of the alphabet."
The boom has made Palihapitiya a billionaire and a social-media star: the "Spac king" has 1.5 million Twitter followers and a popular weekly podcast, All-In, where he discusses technology, politics and investment strategies. His catchphrase, "Wet your beak!", was once gangster-speak for extortion; he uses it to mean "make tons of money on the stockmarket and feel good about it". At 44, Palihapitiya is "cocky, blunt and seems like the kind of guy who'd take pleasure in calling BS on the current stockmarket hype – if he wasn't the one behind it". Instead, he's prone to calling traditional value investors "morons". During the GameStop mania in January, when the brokerage Robinhood temporarily suspended trading in the stock, he said: "These motherf***ers should go to jail". He is also a poker player and "a vocal bitcoin investor", says Forbes: he used the cryptocurrency to buy an undeveloped property in Lake Tahoe.
Subscribe to MoneyWeek
Subscribe to MoneyWeek today and get your first six magazine issues absolutely FREE
Get 6 issues free
Sign up to Money Morning
Don't miss the latest investment and personal finances news, market analysis, plus money-saving tips with our free twice-daily newsletter
Don't miss the latest investment and personal finances news, market analysis, plus money-saving tips with our free twice-daily newsletter
The child of Sri Lankan immigrants to Canada, Palihapitiya grew up on welfare in Ottawa. In high school, he worked at Burger King and ran a blackjack game in the cafeteria for cash. After studying electrical engineering at the University of Waterloo, he joined the Bank of Montreal before moving to the US during the dotcom era. Palihapitiya's first tech job was at AOL where he gained a reputation for his "chutzpah" – and for stealing his boss's parking space. In 2007, he joined Facebook and persuaded Mark Zuckerberg to make him head of growth. Within four years, "the company had added almost a billion users".
Biting the hand that feeds
Palihapitiya has a habit of slagging off groups who have furthered his career – including Facebook, venture capitalists and the hedge funds that bought into his Spacs. But his line is that he's a social reformer in the business of making money to enact sweeping change, says The Wall Street Journal. He left Facebook in 2011 to found Social Capital "with a mission of backing young start-ups that want to solve the world's toughest problems" – such as climate change and social inequality – and once vowed to buy up the Hamptons and turn it into affordable housing. In 2007, he outlined his intention to join the establishment and "do my best to completely explode it from the inside". Of late, he has toyed with running for governor of California. Could be interesting.
Palihapitiya faces a "Reddit reckoning"
It's no wonder the Spac boom gained such traction on Wall Street, says Bloomberg. The way deals are engineered makes it "almost impossible" for backers to lose. Not only do sponsors get to keep 20% of the stock for themselves "as a kind of fee", but because listings are structured as mergers, they can sidestep initial public offering rules preventing them from talking openly about a business before its shares start trading. Thus "even an unprofitable company can make ambitious projections about all the money it's about to make" – manna for someone with the hype skills of Palihapitiya. Spacs were also low-risk bets for hedge funds because of rules enabling them to redeem their investments at the $10 level at which shares in blank-cheque companies are priced "if they don't like the deal that gets announced".
At the peak of the frenzy, everyone was muscling in, from space cadets to celebrity basketball players. But the boom that raised more than $180bn since the start of 2020 is now threatening to turn into "Spacopalyse now", says The Sunday Times. Anxious regulators have played a part. After warning the public "against buying into deals fronted by celebrities", the SEC, the US regulator, "pulled the handbrake" in April with an accounting change that will force "many Spacs to restate their financials" – prompting the rush to come to a screeching halt. Instead of "popping", shares in Spacs "now typically slide on takeover announcements", says the Financial Times. "The retreat of retail investors has been particularly bad," according to one Spac sponsor. The market is "dead, dead, dead".
Palihapitiya's acolytes have been hit hard by losses: shares in Virgin Galactic, for instance, are down nearly 75%. But it was concern surrounding another of his blank-cheque deals – the insurance company Clover Health – that may have done most to prompt the rout, says Bloomberg. In February, short-seller Nate Anderson of Hindenburg Research published a damning report entitled "How the 'King of Spacs' Lured Retail Investors into a Broken Business". The stock plummeted and the SEC is now investigating. Anderson reckons the Spac boom "has given the market more frauds to expose than at any time in the past decade". Indeed, "a Reddit reckoning" may be in store for Palihapitiya and fellow market prophets such as Elon Musk and Cathie Wood of ARK Innovation. Certainly, "Palihapitiya's ambition to create an alphabet of Spacs may have to wait a while".
Jane writes profiles for MoneyWeek and is city editor of The Week. A former British Society of Magazine Editors editor of the year, she cut her teeth in journalism editing The Daily Telegraph's Letters page and writing gossip for the London Evening Standard – while contributing to a kaleidoscopic range of business magazines including Personnel Today, Edge, Microscope, Computing, PC Business World, and Business & Finance.
She has edited corporate publications for accountants BDO, business psychologists YSC Consulting, and the law firm Stephenson Harwood – also enjoying a stint as a researcher for the due diligence department of a global risk advisory firm.
Her sole book to date, Stay or Go? (2016), rehearsed the arguments on both sides of the EU referendum.
She lives in north London, has a degree in modern history from Trinity College, Oxford, and is currently learning to play the drums.