Will Shu: Deliveroo CEO and its first delivery rider
City analyst Will Shu was sick of working long hours at Canary Wharf and having to make do with what was left on the shelf in Tesco for dinner. So he set out to solve the problem himself.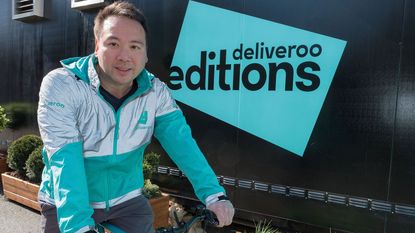 (Image credit: © Deliveroo)
Only the most stony-hearted could have failed to feel a touch of sympathy for Will Shu as he floated his food-delivery company in London last week. After a triumphant "explosion of turquoise confetti and balloons", says The Times, Deliveroo served up "one of the steepest one-day falls on record". Talk about a kitchen nightmare.
Shaken but undeterred
In an internal memo, chief financial officer Adam Miller moved to calm any jitters among staff. "We have a simple message today: don't underestimate Deliveroo," he wrote. Shu himself was reported to be "shaken but undeterred", notes the Financial Times. And by all accounts, he's made of the right stuff to withstand such a big hit to the ego. According to a long-standing colleague, Shu, 41, is "really humble and down to earth", qualities that are "quite rare" in other founders. He might have brought "Silicon Valley-style ambition to London", but, as one of the company's early seed investors observes: "Will is not some kind of megalomaniac Silicon Valley, 'I wanna make money at all costs' kind of guy".
Born in 1979, the son of Taiwanese immigrants, Shu grew up in New Haven, Connecticut. His mother, a scientist, and father, who worked in insurance, "passed on thrifty habits". After graduating from Northwestern University, Shu took a job with Salomon Brothers in 2001 before moving to London in 2004 as an analyst at Morgan Stanley. Within a week, the seeds of Deliveroo were sown. In New York, long working-hours were fuelled by a smorgasbord of late-night takeaway choices; in Canary Wharf, he had to settle for what was left on the shelf in Tesco.
Subscribe to MoneyWeek
Subscribe to MoneyWeek today and get your first six magazine issues absolutely FREE
Get 6 issues free
Sign up to Money Morning
Don't miss the latest investment and personal finances news, market analysis, plus money-saving tips with our free twice-daily newsletter
Don't miss the latest investment and personal finances news, market analysis, plus money-saving tips with our free twice-daily newsletter
"In true tech founder fashion," that dispiriting experience inspired Shu to solve the problem, says The Daily Telegraph. Quitting the finance industry, he returned to the US to study for an MBA at the University of Pennsylvania and, on return to London, joined forces with an old school friend, Greg Orlowski, who had been working as a software engineer. Together, they built the first version of the delivery app in 2013, focusing at first on "upscale Chelsea". Deliveroo, notes the FT, was almost called "Boozefood" – based on Shu's fond memories of ordering out when drunk.
"I was the first Deliveroo rider," Shu told CNBC. "I did that job for an entire year, every single day." There were moments of embarrassment. He recalls knocking on one door, sweaty from his bike ride, and coming face-to-face with a former hedge-fund colleague, who "just thought I was nuts". Until a few weeks ago, Shu was still delivering the odd order – mostly unrecognised – so that he can talk to riders and restaurants "to see what's going on".
The consummate brand ambassador
Deliveroo grew fast – buoyed by pent-up demand for the service and eager backers. It took Shu less than four years to propel his start-up into the ranks of the $1bn-plus tech unicorns. Indeed, beneath the company's laid-back style, there's always been a slick operation, says the Evening Standard. Visit the company's HQ near Bank, and you'll see "millennial staff in hoodies" fist-bumping each other as they swig "Jägermeister on tap" in a breakout area that looks like a basketball court. But "you have to sign a non-disclosure agreement on an iPad before entering".
Shu is the consummate brand ambassador – subsisting mainly off Deliveroo food. He admits his own culinary repertoire extends no further than "a very good omelette". Perhaps that's apt. As he contemplates last week's humiliation and steels himself to prove the doubters wrong, he might find comfort in the old adage about the necessity of breaking a few eggs.
Jane writes profiles for MoneyWeek and is city editor of The Week. A former British Society of Magazine Editors editor of the year, she cut her teeth in journalism editing The Daily Telegraph's Letters page and writing gossip for the London Evening Standard – while contributing to a kaleidoscopic range of business magazines including Personnel Today, Edge, Microscope, Computing, PC Business World, and Business & Finance.
She has edited corporate publications for accountants BDO, business psychologists YSC Consulting, and the law firm Stephenson Harwood – also enjoying a stint as a researcher for the due diligence department of a global risk advisory firm.
Her sole book to date, Stay or Go? (2016), rehearsed the arguments on both sides of the EU referendum.
She lives in north London, has a degree in modern history from Trinity College, Oxford, and is currently learning to play the drums.